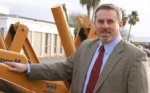 IRON Solutions and StarVest Partners, a VC with a new warchest, seem to have found more than they bargained for in Nashville.
IRON Solutions, a leading data-services provider, had already allowed CEO Darwin Melnyk and new CFO Gary Meisner to remain based in Middle Tennessee, despite the fact most of the company is in Missouri and Canada; its latest capital infusion came from New York; and, its biggest technology ally is in San Mateo.
In an interview yesterday with VNC, Melnyk explained that IRON Solutions is the foremost online and print-media publisher of North American listings of used farm and construction equipment, valued at more than $3.5 billion annually. The company's flagship product, The Farm Equipment Official Guide, is analogous to the Kelley Blue Book for autos.

Until last week, there'd been little serious discussion of moving IRON Solutions' headquarters to Nashville from the St. Louis ex-urb of Fenton, Mo.
However, on Dec. 11, Melnyk brought his board of directors to town for a meeting, and used a reception at the Hermitage Hotel to introduce the directors to the city and its entrepreneurs and investors.
StarVest General Partner Jeanne Sullivan (at right) told VNC yesterday that she and General Partner Larry Bettino had looked forward to

the reception, as part of networking efforts they've launched in Tennessee and other markets StarVest has identified as underserved by VCs.
Sullivan said Nashville's extraordinary hospitality and the city, itself, made a striking impression on board, management and investors who visited the city. Sullivan volunteered that while it's far too early to tell whether any action will result, IRON Solutions is now seriously "taking under advisement" the case Melkyn has been making for Nashville becoming the company's headquarters.
Sullivan explained that StarVest has nearly completed raising $250 million for a new fund and "has a lot of cash on the prowl" to buy into "best of breed" companies. She said StarVest is proud that Vanderbilt University is among its newest fund's limited partners.
Sullivan continued, saying, "I will unabashedly say...we welcome deal flow that hits our investing sweet spot," a reference to the company's interest in the software-as-a-service and data-as-a-service sector.

Sullivan explained StarVest would avoid life sciences, but is receptive to health IT and informatics companies. She said StarVest favors companies with $2 million to $15 million in topline revenues that are looking for an investor to lead B or C rounds, as part of small syndications of two or three investors. Typically, but not always, she said, StarVest secures a board seat with its investment.
In an interview earlier yesterday with VNC, Melnyk's description of IRON Solutions' footprint seemed to translate into very tough-sledding for any proposal to relocate IRON Solutions headquarters from Missouri to Nashville.
For example, most of IRON Solutions tech development is based in a government-supported incubator on the campus of the University of Saskatchewan, at Saskatoon. Over half the company's 55 employees are based there, Melnyk said, and most of the rest are in Fenton, Mo., near St. Louis. In addition, beyond the current offices, IRON Solutions' numerous strategic relationships with agricultural equipment manufacturers and dealers, ag-media publishers and others would seem to suggest an upper Midwest, rather than Mid-South center for operations.
On the other hand, the success of last week's board meeting and Melnyk's personal advocacy could eventually tilt the scales in Nashville's favor.
Melnyk has apparently been a linchpin for several years in redirecting IRON Solutions, and was instrumental in recruiting StarVest to relaunch the company. Moreover, Melnyk made clear in conversation with VNC that he believes he can more easily recruit talented employees from the Coasts to Nashville, than to the St. Louis area. He said that despite having recently failed to land a much sought-after MBA graduate of the Vanderbilt Owen Graduate School of Management. Melnyk said the grad joined Amazon.com, instead.
Further strengthening his argument for a Nashville anchorpoint, Melnyk also recently hired 7-year Nashville resident Gary Meisner
(at right) as his chief financial officer. Meisner has held similar roles here, with Healthways Inc. and Progeny Marketing. Melnyk indicated he may hire several more employees here in the coming year, whether there's a headquarters move, or not.
Melnyk also plays a key role in the triangular relationships among IronSolutions, Starvest and NetSuite, the San Mateo-based software-as-service company that had a high-profile $1.2 billion IPO in 2007. The NetSuite-IRON partnership provides NetSuite greater capacity for selling applications – such as customer-relationship management (CRM) tools – to "Fortune 5000" customers, Melnyk said.
Melnyk was hired in 2006 to set new strategy for the company, coincident with recapitalization through investments by StarVest, Dublin Capital Partners and others. He was named CEO about 18 months ago.
IRON Solutions had previously been controlled by Canada's Central Communications, in collaboration with 18 nonprofit agribusiness associations. Today, Melnyk shares in ownership with StarVest, Canada's Glacier Media and others.
Melnyk, 44, migrated from Portland, Ore., to Nashville in 2003 to support his wife, Adrienne Corn, in her now-continuing pursuit of a Ph.D. through the Leadership, Policy and Organizations department of Peabody College at Vanderbilt University.
Prior to joining IRON Solutions, Melnyk had sold his co-founder's stake in Consonos Inc., an e-business consulting, technology hosting and applications development company, based in Portland. His undergraduate and graduate education is from Friends University in Wichita and Emory University, in Atlanta. He was reared in Canadian farm country, near the North Dakota border. ♦