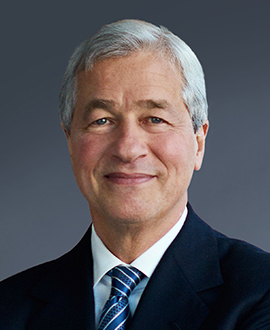 BUNKER LABS, the Chicago-based nonprofit serving veterans, active-duty military personnel and military spouses who seek to start and grow businesses, has recruited JPMorgan Chase & Co. Chairman and CEO Jamie Dimon to anchor its nationwide Muster event Aug. 8, at the Metro Nashville Downtown Library.
This week's event is co-hosted by Bunker Labs Nashville and includes a veteran-owned business Pitch session and several breakout sessions, a reception and entertainment.
In addition to Dimon, more than 20 other speakers, moderators, judges and panelists will share the dais, including Jumpstart Capital Managing Director Dave Vreeland, Menud Cofounder Neil Whitney, JPMorgan Chase VP Punita Patel, Pathway Lending's Courtenay Rogers, and Bunker Labs Detroit's Monica Alexander.
Registration for the event is here and is open to the public, as well as to veterans and active-duty military.
The event's national sponsors, in addition to JPMorgan Chase, include USAA and Ford Motor Company Fund, with local sponsors WeWork and Dell.
Bunker Labs recently received a multiyear $3MM philanthropic commitment from Chase. In 2016, it received a $1.5MM commitment from JPM, according to information online. Additional background on JPMorgan Chase's Veterans initiatives here.
There are Bunker Labs-affiliated programs in Memphis, Clarksville, Knoxville and Chattanooga, as well as in Nashville.
This week's event is but the latest of Bunker Labs' efforts to increase military community members' direct involvement in business formation and entrepreneurship, at a time when U.S. startup entrepreneurship generally and particularly Post-9/11 military veteran engagement in new businesses stand proportionally much lower than, for example, after World War II.
"The reality is that we are in the midst of a thirty-year decline in entrepreneurship activity. Although entrepreneurship is discussed a lot, Americans are starting new businesses at about half the rate they were a generation ago," Bunker Labs warned in its recently published whitepaper on the need to rebuild and strengthen the U.S. veteran entrepreneurship ecosystem locally, regionally and nationally.
As outlined in its white paper (PDF), Bunker Labs has urged communities and jurisdictions to consider actions including, among other things (paraphrased):
Expanded government procurement contracting set-asides and other benefits for veteran-owned businesses
Efforts to expand veterans' access to capital, particularly via credit facilities
Introduction of tax incentives, reductions and credits that encourage veteran-owned businesses
Creation of state and city-wide annual Veterans Business Week and Veterans Business Fairs
Celebrate and promote veteran-owned businesses
Create local Veteran Business Stakeholder Meetings
Bunker Labs also declares that its goals include establishing its core competency as an "ecosystem builder" for veterans, thereby producing expansive "network effects" that help veterans start and grow their businesses.
Dimon and an accompanying JPMorgan Chase team will soon arrive town for the Bunker Labs event.
Their visit to Nashville is the culmination of Dimon's latest tour of his firm's U.S. regional expansion markets.
JPMorgan Chase currently offers asset and wealth management and middle-market banking services in the Nashville area, and has signaled it plans to have at least two consumer retail banking offices in Davidson County by the end of 2020.
As he has done during other regional sorties, the CEO of $353BN market-cap JPMorgan Chase is traveling via tour bus to the Bunker Labs event here, according to Greg Hassell.

Hassell is a Nashville native who happens to be JPMorgan Chase's executive director for regional media relations, based in Houston. He is helping to advance Dimon's trip.
Heretofore, many Nashville executives, particularly those working in or reporting on the healthcare services industry, have probably been more likely to hear Dimon speak in person during the annual J.P. Morgan Healthcare Conference in San Francisco, which attracts thousands.
The session with Dimon is to be moderated by Bunker Labs Founder Todd Connor, who is based in the Chicago area.
Nashville-based Blake Hogan is a Bunker Labs co-founder and is the regional executive director of Bunker Labs.
Bunker Labs Nashville's City Leaders are Tellis Gary and Dan Collins. VNC
.
---