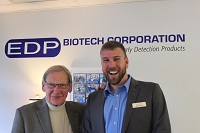 Updates - May 19, 2021 - EDP announced investment of undisclosed magnitude by Sheltowee Angel Network, Sheltowee Medical Device Fund, and Boone, N.C.-based High Country Impact Fund, per Teknovation. May 5, 2020 - EDP working to develop COVID-19 antibody test. More here. VNC's 2019 story is below.-Ed.
KNOXVILLE's EDP Biotech, which was chartered to commercialize assays for early detection of disease and is now focused on its blood-based ColoPlex™ test for colorectal cancer, is pursuing a $5MM raise to propel its work alongside strategic partners.
The Series A preferred capital raise was confirmed today by CEO Eric Mayer, the 35-year-old who leads the company, the board of which is chaired by Knoxville serial entrepreneur Tom Boyd.
The company has raised $17.5MM previously, mainly through friends, family and high net worth individuals. Some of its raises are represented in SEC Form D filings here.
Mayer said the Series A funding should be sufficient to allow the company to prepare for and support ColoPlex validation studies in some hospitals in Europe, its aim being to complete its CE (IVD) Mark application, and then take the assay commercially into the European Union market.
Working in collaboration with the company's recently announced strategic partner, Luminex Corporation (Nasdaq:LMNX), the CE work could probably be undertaken after the full A-round or a tranche within it is complete, he said.
Mayer said the company is also in late-stage discussions with another potential strategic partner, which he was not free to disclose.
The CEO noted that strategic interest has grown as the company has reported its progress in the past four years. VNC research showed that the company has, for example, won mentions as a competitor in the filings of public companies with offerings in the sector, including Israel-based Check-Cap and Wisconsin-based Exact Sciences Corp.

Chairman Boyd holds the largest individual share of the company, though members of a family centered elsewhere in Tennessee collectively hold the greatest interest.
Mayer confirmed that beyond working to get ColoPlex to market in the EC within the next 12 months or so, and subsequently seeking FDA clearance for marketing in the U.S., the company's next few years could bring an exit to a biopharma strategic partner, or fresh efforts to advance its assays for diagnosis of ovarian and-or lung cancers.
"If we don't get bought-out, we'd fire up the pipeline using the same platform" to address those and possibly other solid tumors, he said.
VNC research suggests that current or logical future competitors include Berlin-Seattle-based entrant Epigenomics AG (OTCQX: EPGNY); Palo Alto-based DiscernDx (backed by Khosla Ventures, et al); and, Secaucus, N.J.-based Quest Diagnostics (NYSE:DGX).
The company's advisory board includes Bergein F. Overholt MD., chairman; and, Herbert A. Fritsche PhD, retired M.D. Anderson tenured professor and chief of clinical chemistry.
The company has filed a provisional patent application related to its ColoPlex assay, with publication as a regular patent application expected in July, Mayer confirmed.
Named inventors on the provisional application are the aforementioned Fritsche and Ligett, the CEO added.
Boyd, 82, is founder and chairman of Knoxville's BioPet Labs and owner of Boyd Hollow Resorts, which recently announced plans to develop, build and begin operating a chain of at least five Ancient Lore Village resorts in the next few years, beginning with one in South Knoxville.
Mayer said the company's outside advisors include relies on local attorney John Brock of Gentry Tipton (corporate) and with Minneapolis-based attorneys with Merchant & Gould (IP). Ongoing accounting and quality/regulatory functions are inhouse. The company consults ad hoc with both Knoxville-based LBMC and with Gilford, N.H.-based Lakeside Life Science. Commercial banking is through First Citizens and First Bank (formerly Clayton Bank).

VNC research shows that Fritsche has been associated with a number of successful patent applications, including several related to breast cancer detection. Mayer said a breast cancer assay is not currently among its priorities, given reports of rising success of other breast-cancer detection means.
Several years ago, EDP applied for a patent on an earlier "ColoMarker" assay, with its application citing inventor Tommye Jordan. According to earlier reports, she was founder of JCL Clinical Research in Knoxville, from which Tom Boyd in 2005 acquired IP and other assets useful to both EDP and BioPet Labs. After that deal, Jordan served with the company and then on its advisory board for several years.
Tom Boyd's son, Randy Boyd, in 1991 created Radio Systems Corporation and is now that company's executive chairman. The younger Boyd is now also Interim President of the University of Tennessee. He served as economic development commissioner during the Administration of former Gov. Bill Haslam; he ran for Tennessee governor in 2018; and, he occasionally makes angel investments. At times in the past, the two Boyds each served for intervals on the other's boards of directors.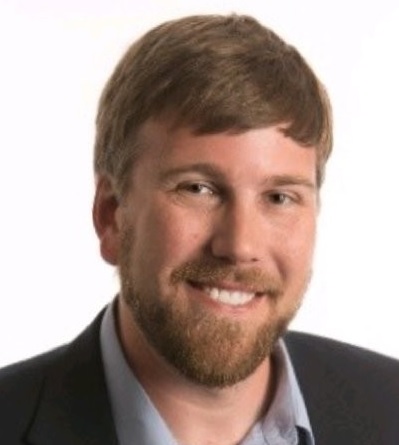 Eric Mayer
The CEO, who relocated to Tennessee from his native North Carolina in 2011, said he takes pride in being part of the expanding Knoxville-area biotech scene.
He noted other local bio-entrants include Arkis Bioscience (surgical tools, catheter technologies); Provectus Biopharmaceuticals (development-stage pharma); JointView (3D bone modeling); Pronova Solutions (Provision Health Alliance); and, Siemens Molecular Imaging.
Mayer earned his MBA-BioSciences and his professional science masters in microbial technology at North Carolina State University. He earned his bachelor's in chemistry at the University of North Carolina-Chapel Hill.
In 2017, he completed Kauffman Fellows and Techstars joint Venture Deals executive education offering. His LinkedIn is here.
Mayer, his wife and their two toddlers reside in Knox County. VNC
. last edited 1419 18 June 2019
---