Updated: Dec. 11, 2017 - Austin, Texas-based Planview, backed by PE Thoma Bravo, announced it bought LeanKit on undisclosed terms, with undisclosed plans for the company. Nov. 2, 2015 - LeanKit told NashvillePost it might do capraise in 2017, and COO Jon Terry will be stationed in London. Sept. 30, 2015 - LeanKit announced it acquired software devco Firefly Logic, on undisclosed terms, bring FTE to about 100.-Ed.
LEANKIT, the Franklin-based Lean-techniques-based project and work-delivery platform, has received a $16MM equity investment from New York-based PE Insight Venture Partners.
The growth capital will be used to expand marketing and sales operations globally, and to accelerate product innovation, Co-founder/CEO Chris Hefley told Venture Nashville.
"This is definitely a signal from us that we are raising this money to grow the business and grow a sizable company that matters for the Nashville area," said Hefley, who cofounded LeanKit in 2009.
In an interview with VNC, Hefley reiterated his satisfaction that LeanKit had been able to raise $10.5MM in Angel capital over a three-year period, allowing the company to be better positioned for its first institutional round. VNC previously reported that Angels with Nashville-based NueCura Partners Angel group were among LeanKit investors. Earlier full VNC coverage of LeanKit is here.
There are now about 109 Angels on the cap table and controlling interest is still in the hands of the four co-founders, said Hefley. Prior to raising Angel capital, LeanKit was 100% bootstrapped, he confirmed.
Chris Hefley
The company's next institutional round is not scheduled, but could come within 18 to 24 months, when the company hits the $25MM threshold, Hefley told VNC. As previously reported, the company's goal is $100MM revenue, which could make an IPO more attractive than a strategic buyer, he said today.
"Working with Insight Venture Partners accelerates our ability to scale operations to serve this rapidly growing market. Their deep experience and expertise from working with other high-growth SaaS companies is already proving to be invaluable to us," Hefley said in a press release this morning. The Insight portfolio page is here.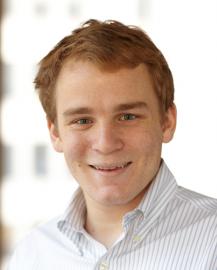 Dan May
Insight's Dan May a senior associate with the firm, was cited in this morning's press release. May is now LeanKit's board member from Insight, Hefley confirmed.
VNC has confirmed that Insight's Dan May is a Nashville native and a Princeton University and University School of Nashville alumnus, as well as the son of Andrew May, CFO of Truxton Trust; and, a nephew of Josh May, principal of Medley Global Advisors. Both those firms are headquartered in Nashville.
Commenting after announcement of its first institutional round, Hefley said this afternoon his workforce is about 80 persons, about 25% of whom work remotely. He told VNC he's begun looking for more space.
LeanKit's standing advisory relationships were reported in 3Q14, and are found here.
Now, his biggest challenge is making sure that the company's current growth trajectory is extended, with accompanying product development and talent recruitment, Hefley said. As previously reported, part of that growth will come from a widening presence in the Construction vertical.
LeanKit's products and services are used in IT, software and product development, operations, sales, marketing, HR, legal and finance, and its offerings readily scale to meet the needs of large enterprises in a variety of industry verticals, the company said.
LeanKit said in its release it is becoming a sector leader among Lean-based enterprise solutions, and that its compound annual growth rate was 118% during the past three years.
LeanKit says it serves more than 2,100 customers globally, including companies such as Kimberly-Clark, Rockwell Automation, Xerox, IBM, CarMax, Honda, Target, PayPal, Rolls-Royce, Verizon, Cisco, EMC, Microsoft, Adobe and Siemens. VNC
---