TED TOWNSEND, who is now in his second term as chairman of the board of Life Science Tennessee Inc., recently told Venture Nashville that the time is ripe for new plans for the trade association's funding, strategy, and related matters.
Townsend spoke with VNC shortly before the annual LSTCON event he convened in downtown Nashville, on Nov. 14. The event drew nearly 200.
By the time Townsend adjourned LSTCON, there was an unmistakably heady feeling among many in attendance.
The enthusiasm seemed to be spurred by evidence of a fresh buildup of steam within the 21-year-old industry group, as well as by the day's sessions and keynote addresses, which seemed to draw rapt attention.
One of the sessions that whetted audience appetites included an update on an assessment that is now underway regarding the comparative and competitive standings of Tennessee's lifesciences sector with those of other states.
A preliminary report on Tennessee's strengths, weaknesses, opportunities and threats (SWOT) was delivered by Jennifer Ozawa, a senior economist with Washington, D.C.-based RTI International.
Notably, Ozawa was previously associated with TEConomy Partners, which has previously studied Tennessee innovation and economic development for Launch Tennessee (Tennessee Technology Development Corporation).
Ozawa said research shows that Tennessee probably needs more than one high-growth component of its lifescience sector -- a reference to the state's existing medical devices industry, which has a heavy presence in the Memphis area.
She also underscored Memphis advantages in medical devices, including what she described as a robust orthopedics industry base that includes orthopedic product OEMs, contract and component manufacturers, logistics and distribution, and an an energetic startup ecosystem.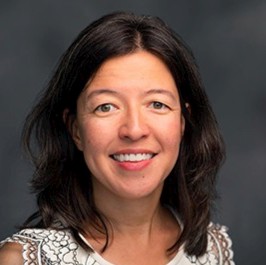 Jennifer Ozawa
In addition, Ozawa stressed that data show Tennessee underperforms against national averages in certain growth segments, including research testing and medical labs; and, drugs and pharmaceuticals.

Ozawa also illustrated the reality that otherwise comparable states -- such as Indiana and North Carolina -- regularly surpass Tennessee on the basis of key metrics, such as aggregate patents granted to each state's top four research universities.
At one point, she added softly that Tennessee's level of patent success is "very distressing."
(That's not an exaggeration: Several Tennessee governors and some of their Cabinet members have been aware of this deficiency for at least a decade. Related VNC coverage during the Haslam Administration here.)
In delivering these findings, Ozawa said that Tennessee needs "more intentional" life sciences strategy and innovation programs, as well as by cultivating richer deposits of talented business founders; lifescience R&D workforce; lifescience-focused venture capital firms; and, in-sector manufacturing and support services, among other assets.
Rep. Robin Smith
During another LSTCON panel later that same day, State Rep. Robin Smith (R-26-Hixon, Hamilton County) declared -- albeit with a competitor's smile -- that while she was recently happy to receive an invitation to visit the impressive Hudson Alpha Institute for Biotechnology in Huntsville, Alabama, she has since wondered more than once 'why she had to go to Alabama' to see such progress, rather than hearing more from similar groups in Tennessee.
Later in the discussion, Rep. Smith also observed that while there is inevitably some competition among Tennessee's Grand Divisions, she believes that if the state addresses the lifesciences opportunity by "thinking forensically," good things will result across the board.
When asked by VNC for further comment today, Rep. Smith said that while others might harbor hopes of creating something like Hudson Alpha in Memphis or another single market, she suspects that broader gains can be realized through state and local initiatives that foster lifescience and biotech expansion in both both urban and rural communities statewide.
She added that further strengthening lifescience workforce development programs and encouraging existing and relocating businesses to do more bio research and development within Tennessee should probably among priorities, she added.
Rep. Smith was once a registered nurse in the heart-transplant surgery field. Her current career with River's Edge Alliance has for years been focused on policy and public affairs project management, with emphasis on issues associated with healthcare and medical devices.
Townsend told Venture Nashville that a final report from RTI will be rendered in 1Q 2020, and will enable advocates to define what "success" could look like for Tennessee life sciences.
Townsend said LifeScienceTN currently has no plans to ask for direct state funding for its programs, though the association does earn some revenue under contracts from Launch Tennessee (Tennessee Technology Development Corporation, TTDC), a nonprofit that is directly funded by Tennessee Economic and Community Development.
We note also that LifeScienceTN and its allies will be hosting a Day on the Hill in February, bringing their members and allied grassroots resources face-to-face with legislators and General Assembly staff.
Regardless of the extent of progress made in 2020, inevitably Life Science Tennessee must soon consider one or more "new capital sources" to accelerate development of the lifesciences sector, in both near and longer-range terms.
Townsend's dayjob is that of chief economic development and government relations officer for the University of Memphis.
That role, plus his previous experience as a biotech industry executive and as assistant commissioner of Tennessee economic and community development, doubtless influence his measured comments on science and technology entrepreneurship, state budgeting, regional rivalries and other topics.
More than once during interviews for this story, Townsend emphasized that in pursuing additional public and private support for advancement of the life sciences industry, all recommendations for partnership efforts, capital formation and recruitment, distribution of taxpayer dollars and recommendations of policy must be framed within the context of economic benefits for all Tennesseans.
Townsend said LifeScienceTN constituents fully understand the imperatives of state funding for education, TennCare, the Rainy Day Fund and much more.
At the same time, there's a compelling case to be made for investment in lifesciences as contributing to those and other goals.
At every step, said Townsend, the responsibility for asking for public and private support includes the imperative of "holding everyone accountable for return on that investment."
He also stressed the fact that many jobs within the life sciences sector provide compelling compensation -- including jobs in some segments paying an average of more than $80K per year.
Creating more such higher-paying jobs is a goal that is synergistic with both Gov. Bill Lee's push to improve rural economic development in Tennessee, as well as with efforts to expand statewide workforce preparation and science, technology, engineering, mathematics (STEM) education.
Asked whether or not the model of the state's often controversial TNInvestco capital formation program might be modified to help spur investment in the sector, Townsend said it's too early to discuss pro's and con's of particular options.
He nonetheless added that there is agreement in many quarters that "TNInvestco [seemed to foster] rigor, awareness and new disciplines statewide" and "oriented the market to more investment and entrepreneurship."
He also noted there have been reports that some of the 10 venture capital firms formed through the TNInvestco program have "gone on to subsequent rounds of raising capital."
During a board meeting Nov. 15, LifeScienceTN's directors confirmed newly appointed and continuing directors, as well as ex officio members and observers. The list is here (jpg).
Life Science Tennessee currently has 102 rank and file member organizations, down slightly from the 107 members reported in spring 2018.
Here is the current list of LSTN members (pdf) and their primary interests, based on research by VNC. At least superficially, Nashville and then Memphis seem to be homebase for the greatest shares of member organizations, followed by Knoxville and then Chattanooga.
That current tally of LifeScienceTN's members probably represents about 6.7% of the state's life sciences employers and proprietorships, though such estimates vary significantly.
Townsend said he believes the association "has ample opportunity" to expand its membership. A LifeScienceTN spokesperson told VNC the association is continually working to develop firmer estimates of such the universe of potential members.
According to the association's website today, the sector contains 1,547 life-sciences entities, with roughly 34,000 workers, whose jobs on average pay markedly higher wages than most jobs pay in Tennessee and in the U.S., overall. Additional related research here and here.
The industry is defined in general terms as including Agricultural Feedstock and Chemicals; Drugs and Pharmaceuticals; Medical Devices and Equipment; Research, Testing and Medical Laboratories; and, Biologistics (logistics, warehousing and distribution of biomedical products).
The association's objectives are achieved through industry advocacy, including partnerships, and its work is aligned with economic and workforce development efforts of other industry, government and non-governing organizations at state and federal levels, according to its website.
In early 2018, LifeScienceTN support was a factor in creation of the Life Science Caucus by members of the Tennessee General Assembly.
Other resources in-place: The association's industry mentoring network is described here and its policy agenda is here.
In addition, LifeScienceTN recently formed a strategic alliance with nonprofit BioTN, to support advancement of STEM education and lifescience businesses in Tennessee. BioTN's website also notes that it aims to be home to Cofactory Nashville, an incubator for science businesses.
The BioTN website shows that the nonprofit is backed mainly by the biotech entrepreneurs Sam Lynch DMD DMSc, who is a former chairman of LifeScienceTN; Leslie Wisner-Lynch DDS DMSc; and, by BioTN Executive Director Eric Elmquist PhD.
According to the group's 2017 Form 990, it operated that year with a slight deficit and roughly $303.6K total revenue. It ended that tax year with about $69K assets.
In contrast, VNC research shows that in 2016 Georgia Bio (Georgia Biomedical Partnership Inc., GaBio) reported revenue of just over $900K (Form 990).
Notably, GaBio's workforce program has been focused mainly on only 13 (of Georgia's 159) counties, which have been dubbed the Innovation Crescent, stretching between Atlanta and Athens.
Also notable is the fact that GaBio is augmented by other north Georgia actors. For example, the Technology Association of Georgia's (TAG) affiliates include a TAG Digital Health society, which held its Health Innovation summit earlier this month.
In addition, GaBio is effectively augmented by the Georgia Research Alliance (and its GRA Venture Fund sub), which harnesses research commercialization units of the state's research universities, with emphasis on launching new ventures. All these and other efforts are also linked to programs of the Georgia Department of Economic Development.
LifeScienceTN has no payroll staff. Administration of the association is outsourced to Nashville-based Hall Strategies LLC.
Hall Strategies Partner Abby Trotter serves as executive director of Life Science Tennessee and as lead LSTCON organizer. In 2019, she was registered as LifeScienceTN's lobbyist, according to state records online.
The Hall firm was paid $144K in 2017, according to that year's IRS Form 990. That amount was roughly equivalent to Life Science Tennessee's total Member dues collected that year.
The nonprofit now known as Life Science Tennessee was formed in 1998 as The Tennessee Biotechnology Association. In 2010, the association adopted its current name, better reflecting its range of interests. VNC
.
---