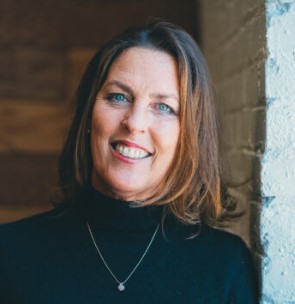 JANE ALLEN JD, the successful lawtech/HRtech entrepreneur who became president and CEO of Nashville Entrepreneur Center nearly four years ago, today joined NEC Chair Janet Miller in announcing Allen's plans to transition from her role at the helm after following an executive search for her successor, which has just begun.
Allen, herself, was selected after a national search by the NEC board and took up the role on Oct. 21, 2019.
Since then, whenever she was asked by VNC what span her tenure might have, Allen invariably explained that she naturally aimed to discuss such things periodically with the board, as the NEC's future plans evolved.
She told VNC more than once that at the 3- to 4-year-mark an entrepreneurial CEO of such a nonprofit might consider an exit. Allen is also exiting her NEC board seat.
In a brief VNC interview today, Allen praised the NEC board and the EC team for their skill and personal commitment to the advancement of the NEC.
She added that she remains particularly keen to continue helping to advance the NEC's emerging Project Fintech while simultaneously following-through on a balanced set of roles and goals she has identified as priorities in both the professional and family domains of her life.
She also underscored that her work at the NEC has been materially supported by both her husband and fellow entrepreneur, Greg Allen, as well by others in her immediate and extended family.
Allen, age 59, remains an active member of the board of business advisors of New Canaan, Conn.-based Gridiron Capital, which recapitalized her startup Legility (fka Counsel on Call) in 2014. The business is a tech-enabled provider of out-sourced legal services. Gridiron sold Legility to D.C.-based Consilio in 2021, according to its press release at the time.
The Grant Partners, led by Alpharetta, Ga.-based Founder Ryan Grant, a Vanderbilt University and Georgia Tech alum, has been signed for the CEO search. His LinkedIn here. Earlier search processes suggest a new CEO could be announced by Labor Day.
Janet Miller
In an NEC press release today, Chair Janet Miller, market leader and partner within Colliers-International, described Allen as "an inspiring leader, a pioneering female entrepreneur, and a market disruptor herself who has played a key role in building a vibrant entrepreneurial ecosystem in Nashville. Her contributions to entrepreneurship and the business community have made a lasting impact, particularly to the many thousands of emerging entrepreneurs that have benefitted from the NEC over the last several years. I look forward to working closely with Jane as we recruit a new CEO."
In what may be a surprise to some, today's release makes no reference to Allen having also led the NEC through what was, so far, the worst of the COVID19 pandemic.
The NEC release listed here a number of metrics reflective of the NEC's strong performance with Allen's leadership, including the fact that the NEC "NEC serves 2000+ founders through membership, networking events, and dedicated programs that serve founders from idea stage to high growth businesses that are ready to scale, such as the new launch of Project FinTech this year."
The NEC release continued, saying, in part, "InFlight program founders experienced an average 62% revenue growth and 83% full-time employee growth while in the program. The Project Healthcare 2021-22 cohort founders raised a total of $31.6 million capital, generated $60 million in revenue, and employ more than 600 people. To accelerate growth for Black and Latine Founders, Twende, scaled statewide and narrowed its focus on B2B and B2G tools and skills.
"With 85% of businesses who have gone through NEC programs still in operation today, the increase in founders with successful exits reflects the growth and increasing maturity of Nashville's entrepreneur community. Last year alone, the NEC saw seven successful exits from program founders, a few in the nine-figure range," according to the release.
Further, Allen, who moved to the Nashville area in 1994, said in today's EC release that successful exits by founders participating in NEC programs position the NEC "for continued growth and I am committed to continuing to support our programs and founders, especially as we launch Project Fintech. It's been an honor to serve as the leader, to work with our strong team and board, and we are grateful for the many business partners who join us to serve our amazing Nashville entrepreneurial community."
"I am confident in the Board's ability to conduct a thorough search for my successor as I support them in this process every step of the way, ensuring a smooth transition of leadership and continued success for the NEC," Allen added.
Allen succeeded venture veteran Michael-Brody Waite, who had succeeded Stuart Mcwhorter. McWhorter is a veteran of local VC circles and now Gov. Bill Lee's commissioner of economic and community development and, thus, chairman of the board of TNECD's Tennessee Technology Development Corporation dba Launch Tennessee.
The NEC's founding CEO was Michael Burcham, who manned the NEC helm for five years, the longest NEC CEO tenure to date.
Two other now-former NEC execs have played pivotal roles during transitional periods, John Murdock, now with Shore Capital Partners; and, Sam Lingo, both of whom held president-COO-level duties.
John Murdock
Murdock served 11 years with the NEC, and is now Shore Capital's VP, strategic planning. His LinkedIn here.
Responding to a VNC query, Murdock said today, "Jane Allen was a tremendous leader of the EC. She brought experience, acumen, and enthusiasm to the role each day. She genuinely cares about Nashville, entrepreneurs, and the EC's mission. She will be missed, but she served her term and did what she set out to do. We should all be grateful for her service and wish her well. I know I am and I do."
► Fun fact: VNC estimates that Allen is the first NEC CEO to be a television news source for the UK's BBC newsfeeds to this nation's public broadcasters.
The BBC-produced item is archived here (Allen appears throughout, but mostly after 1:48); and an excellent related podcast is archived here.
Jane Allen's comments in the podcast begin at 10:44, but the whole thing is so upbeat and well done, readers are advised not to miss it. Regulars will recognized some other familiar voices, each with their regional mark.
Steve Case
Today's NEC release says Allen "was sought out and interviewed by the BBC to explain why our city has more CEO's per capita than any other state and she brought in globally recognized speakers like AOL Founder Steve Case and Square Founder Jim McKelvey. She built a team that is on a mission to provide critical resources to help founders at every stage of business which, during the pandemic, resulted in two new programs, Pitch for Good competition, and a city-wide collaboration, Renew Nashville. During this time, they saw the need to elevate the entrepreneurial community and with the support from the board and committed volunteers were able to secure funding for a video and podcast studio while elevating NEXT Awards to a black-tie event and incorporating the Entrepreneurs' Hall of Fame into one spectacular night to celebrate entrepreneurs and their successes in front of 600+ business leaders."
The NEC also describes Allen as "A dedicated voice for entrepreneurs, she created ways to tell their stories and provide the next generation of founders with education and connections through one such creation, Circle Back Podcast, a platform for honoring Nashville's entrepreneurial history that captures the stories of founders who helped build this city."
Though the NEC board of directors has more than once been chaired by women, Allen is the first woman hired to serve as CEO of the NEC.
At this moment, women now lead management teams of a range of prominent programs in the Tennessee venture ecosystem, including, but by no means limited to, The Company Lab (Tasia Malakasis, Chattanooga); EpiCenter (Jessica Taveau, Memphis); Tricia Martinez-Saab (Techstars Industries of the Future); Tennessee Advanced Energy Business Council (Cortney Piper); BioTN and LifeScienceTN (Abby Trotter); Stacie Pawlicki of the Center for Entrepreneurship at VU's Owen School of Management; Elizabeth Gortmaker (Belmont University's Center for Entrepreneurship); and, Tennessee Technology Development Corporation dba Launch Tennessee (Lindsey Cox).
The search that landed Allen began at mid-summer 2019, supported by Brentwood-based Focus Search Partners.
VNC's coverage-to-date of the NEC is here. VNC coverage of Allen is here. Project Fintech and other fintech coverage is here.
See also two related stories: Jane Allen's interview with entrepreneur, VC and #RiseoftheRest advocate Steve Case here on YouTube; and, reporting on Case's visit to the EC here. Her LinkedIn is here. More on Allen's background here.
CircleBack podcast here and Twende podcast here. VNC's Twende coverage here. Today's EC press release is here. VNC
. last edited 1757 28 April 2022
---