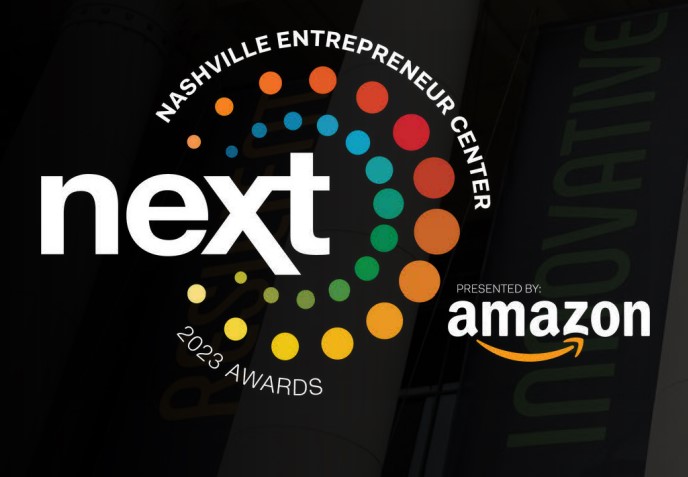 NASHVILLE ENTREPRENEUR CENTER (EC) earlier this evening recognized winners of its 2023 NEXT Awards competition during ceremonies before an estimated crowd of 750 at Schermerhorn Symphony Center.
The EC is often described as supporting "visionaries from every background, in any industry, and at all phases" of growth and development, by connecting them to "critical resources and championing their desire to change the world." As it does every day, the world awaits.

The nonprofit EC is led by Board Chair and Colliers Nashville CEO Janet Miller and CEO Sam Davidson, the latter having taken the helm in July, succeeding Jane Allen.
Nearly two-dozen teams and individuals were recognized tonight for their business achievements and contributions to this region.
Each group of Sector winners below is structured in the
same three revenue ranges (with other finalists
listed in brackets following the winners):

● Startup (with revenue up to $1MM)
● Market Mover (annual revenue between $1MM-8MM)
● Market Leader ($8MM or greater revenue)
Financial Services
● Workloop, Katy Schmitt [Raise Financial, Wesley Belden; Baker Bookkeeps, Joy Baker]
● Wealth Access, David Benskin [Excelsior Capital, Brian Adams; Adams Wealth Partners, David Adams]
● Core10, Lee Farabaugh & Jeff Hanson [Wesley Financial Group, Chuck McDowell; Celero Commerce, Kevin Jones]
Healthcare
● Thrive Therapies Group, Kristin McGraner & Liz Malugen [Care Sherpa, Jessica Walker]
● RxGenomix, Brad Tice [Thalamus, Jason Reminick; Winnow, Paul Vernich]
● ObjectiveHealth, Colleen Hoke & Don Lazas [Archimedes, Brenda Motheral; Spero Health]
Technology
● Azra AI, Chris Cashwell [Calm Waters AI, Joe Ferro; Deanna Meador, Couture Technologies]
● Possip, Shani Dowell & Christine Fisher [Orange Thread LIVE, Luke McElroy; Pivot Technology School, Joshua Mundy]
● FreightWise, Chris Cochran, Scott Samuelson & Phil Forte [Acklen Avenue, Colin Callahan; BluWave, Sean Mooney]
Music, Sports, and Entertainment
● TuneHatch, Inc., Christal Hector, Nathan Youssef & Reece Franklin [Wagr, Mario Malave; Grayscale Marketing, Tim Gray]
● Genni & Co, Johnny Cloherty & Louis O'Reilly [The Climb Gyms, Drew Sloss; Absolutely Ridiculous, Kyle Mauch]
● Moo TV, Scott Scovill [Soundstripe, Travis Terrell]
Products, Services, and Retail
● Trace Femcare, Inc., Claire Crunk, Olaf Isele & Megan Galaske [InnerG Juice & Yoga, Nielah Burnett; Blueprint Expansion, Krissy Manzano;
● Daily Crunch, Laurel Orley & Dan Stephenson [Covert Results, Robert Young; Southern Domestic Diva, Allie Williamson]
● Turnip Truck, John Dyke [pH-D Feminine Health, Deeannan Seymour; Archangel Protective Services, Ken Thomas]
Real Estate, Construction, and Hospitality
● AGB Real Estate, Adam Rosenberg [Comma Designworks, Eric McGinnis; Pillars Development, Edward Henley]
● Holladay Ventures, Evan Holladay & Jined Lamata-Holladay [Eshelman Construction, Andrew Eshelman; Adroit Restoration, Gabe Chrismon]
● Strategic Hospitality, Benjamin Goldberg, Max Goldberg [Hardaway Construction, David Frazier; The Clear Blue Company, Nicholas Ogden]
In addition to the sectoral awards, two individuals were honored for their "vision, grit and ability to overcome challenges." Those two honorees are:
Entrepreneur of 2023
Brenda Motheral, Archimedes
Emerging Entrepreneur of 2023
Luke Benda, Healing Innovations
Announced in September, the EC also welcomed four inductees into the 2023 Entrepreneurs' Hall of Fame, on the basis of their decades of significant contributions to Nashville's entrepreneurial community.
The newest Hall of Fame members previously announced:
Legendary banker Jim Ayres; Eddie George MBA of Tennessee Titans fame; real estate entrepreneur Shirley Zeitlin; and, Emids Founder Saurabh Sinha. Release here.
The NEXT Awards program this evening was supported by major sponsors: Presenting Sponsor (HERO): Amazon; Champion: Hudson Lee Carter; Pathfinders: Dell Technologies, Evolution Event Solutions, LBMC, and EA Music.
The co-chairs of this year's event have been Sherry Stewart Deutschmann and husband and fellow businessperson (and fellow author) Mark Deutschmann, the latter a member of the EC's board of directors.
Over the past 10 years, the EC recently said, it has helped more than 14,000 entrepreneurs, including EC alumni who have raised over $319MM in capital, have generated $417MM in revenue, and have experienced $100MM in aggregated exit transactions.
The EC team is listed here. VNC
. last edited 2100 23 October 2023
---