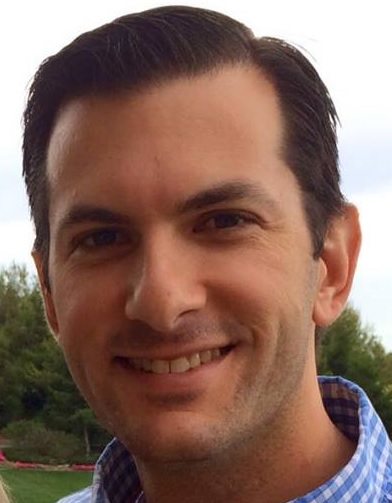 ROB GOLDIEZ, co-founder and manager of Hirebotics LLC, says his robots-for-hire startup is likely to get a further boost from last weekend's NBC Nightly News coverage of his firm.
Hirebotics, which rents robots to manufacturers on an hourly basis, has seven fulltime and mostly virtual team members and is headquartered on Armory Drive in Nashville. The company registered in both Florida and Tennessee in December 2015.
As Venture Nashville reported Dec. 6, it was The Washington Post's coverage that prompted entrepreneur and now-Hirebotics investor Mark Cuban to invest in the startup's $2.4MM capital raise. The company has nine equity-holders, altogether.
Mark Cuban
Goldiez told VNC this week that he's not currently raising capital, though he noted Hirebotics is in a capital-intensive sector and he believes at this time that Cuban and eight other current investors would participate in another round, if one were called.
Goldiez, 42, is not saying how many customers they now have using how many robots, in how many states -- but, he made clear that growth has been strong and demand from manufacturers large and small has created a robust backlog of business.
He added that major corporations are typically "patient" in such growth-related backlog situations, keeping their eye on obtaining the optimal solution for their requirements.
For now, inbound interest and referrals are so robust, he said, the company is skipping attending trade shows and other traditional marketing tactics.
Thanks largely to word of mouth, referrals and media coverage, Goldiez said "people find us," with prospects large and small filling-out a query form on the Hirebotics website.
He did, however, acknowledge that, while the company has installed manufacturing robots elsewhere in Tennessee, at the time of our interview Hirebotics had no renters in the immediate Nashville area.
The company maintains zero inventory of robots, but owns robotics it places in customer sites. Customers pay an hourly rate for actual hours of robotic work.
Major manufacturers these days have a widely reported shortage of skilled workers, as well as a need for increased production accuracy and quality assurance -- and a need for someone to help them assess how and where among their processes new robotics installations can produce the returns they seek, while preserving corporate agility and capital.
Once an agreement is in-place, Hirebotics staff model robotization options available to a manufacturer. Then, they identify options that fall into Hirebotics wheelhouse, ensuring that the startup can execute effectively, producing customer value and satisfaction, Goldiez explained. There's no fee for options modeling, he said. All Hirebotics revenue is currently from renting.
Once equipment is spec'd, installed and ramped-up, Hirebotics typically can use its cloud-based proprietary software capabilities to make adjustments to robotic operations, remotely.
Beyond conducting on-site assessments for eager customers, Goldiez's priority is on opportunistically hiring further talent -- particularly for mechanical, electronic or software engineering. Hirebotics is likely to have 25 or more workers companywide, 12 months from now, he said.
Finding talented techies with true personal knowledge of robotics and with demonstrated personal capacity for working in the inherently unpredictable startup environment will be a priority far into the future, he said. Even though coverage such as NBC's brings welcomed exposure, Goldiez noted that such coverage also often triggers a wave of calls from, e.g., "headhunters and body shops" the company is not presently eager to hear from.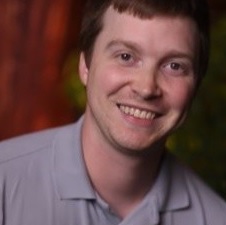 Zach Boyd
This week, for example, former Asurion Director of Software Engineering Zach Boyd took up his duties as Hirebotics' VP-Platform.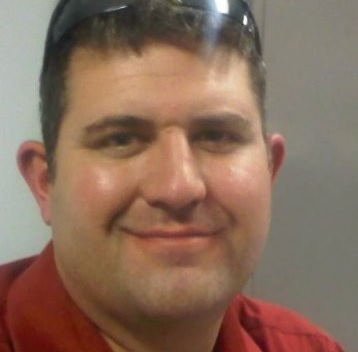 Matt Bush
Co-founder with Goldiez is Matt Bush, an MBA-, MA- and BSME-wielding patent co-inventor and veteran of manufacturing operations, automation and related. Bush's Linkedin is here.
Goldiez was on-camera for a hefty news story on the Nightly News on Aug. 4. You can find the piece here and/or here. It centered on a Michigan-based Pioneer Metal Finishing's signing-on with Hirebotics.
This week, the company is installing Hirebotics equipment for Stryker, Goldiez said. Its other clients include Toyota, Dana Corp. and Domino's, among an undisclosed number of others.
Though the company is aware of cross-border opportunities to expand sales -- particularly in Canada and Mexico -- Goldiez said the immediate massive opportunity in the U.S. takes international new-market entry off the table, for now.
Notably, Odense, Denmark-based Universal Robots (UR) is among Hirebotics' key suppliers. UR is well established in the U.S., Canada, Mexico and other regions.
Asked whether there is much concern among factory workers about introducing of robotic machines, Goldiez said he finds that arises occasionally, even though in large advanced manufacturing companies there are ample unfilled jobs to which workers can move.
Some line workers have an emotional response to the appearance in the workplace of a robot that can operate in six axes. "They get nervous and uncomfortable with things that 'look like them'."
Asked about competition at this point, Goldiez said there is currently no company that he views as a direct competitor, with a work-for-hire business model.
This past April, Assembly Magazine told the Hirebotics story, and provided an excellent update on trends in robotics renting, rent-to-buy and related matters. That article is here.
The company's advisors include attorney Alex Davie with Riggs Davie in Nashville, and accountants with Spoor Bunch Franz in St. Petersburg.
Goldiez's LinkedIn profile notes his prior experience with IBM, Berkshire Hathaway-backed Scott Fetzer Group, Permco, Gencor and Edgeview Partners (later acquired by Piper Jaffray). He holds an MBA from Duke University's Fuqua School and a bachelor's in electrical engineering from the University of Florida.
Goldiez, an Orlando native, lives in Williamson County with his wife, son and daughter. VNC
. last edited 0916 8 Aug 2018 CT
---