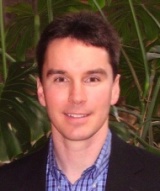 Corey Cleek, the CEO of Uloop Inc., told VNC yesterday his two-year-old venture has links via students to more than 1,000 colleges and universities.
That's up from the 50 campuses Uloop was reportedly touching, back in May. Uloop is an online classified-notice platform, helping students connect with one another, as well as with potential employers or internship sponsors and with nonprofits offering service opportunities.
Cleek said Uloop has scheduled its first venture-forum presentation during the 3rd Annual Southeast Venture Conference, in Atlanta March 11-12. Venture Nashville Connections (VNC) is among media sponsors for SEVC09, which is presented by TechJournal South.

Nashville-based Uloop boasts 12 full-timers, in an operation funded largely by Cleek and other owners, and reinforced by a

strategic investment from Gannett Co.'s digital-media division, as well as by investments by angels whom the company does not identify.

Apparently, the company has also gotten a foothold in organic growth, by hiring part-time campus reps and fulltime salespersons, and by partnering with such companies as edo Interactive, the Nashville-based provider of debit and gift cards.

Consequently, Cleek, a 36-year-old veteran of stints with eBay and Franklin-based PassAlong Networks, said current resources are adequate to bootstrap the company's continued growth, at least until valuations offered by private investors tilt back a bit toward entrepreneurs.
At the same time, he said, if in Atlanta the company finds an investor who shares their "passion" for the business, and who is willing to "come alongside" current owners, fresh money could always help accelerate growth and development. He said winning a spot at SEVC has also spurred him to scout for additional forums for Uloop.

A second Nashville company, Pathfinder Therapeutics Inc., which has been on the fundraising track for some time, will present during SEVC.
Pathfinder describes itself as "the pioneering company in the field of navigated abdominal surgery (NAS)," and currently focused on image-guided liver surgery, employing its flagship SurgiSight Linasys™ technology.

Pathfinder COO Jim Stefansic told VNC his "pitch will be focused on attracting further investors in Pathfinder (for a future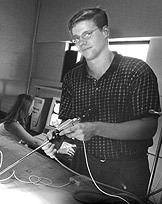 Series B round)."

That's Stefansic at right, circa 1999, when he was already doing related work. Pathfinder won a key patent in 2003.

In October, Pathfinder announced it had secured $5.2 million in A-round funding, led by Hatteras Venture Partners of Research Triangle Park. At the time, the company said investors also included Florida Gulfshore Capital, Clayton Associates, Nashville Capital Network, Lumira and Vanderbilt University.

As a Vanderbilt spinout portfolio company, PTI has been supported by the university for years. In addition, infusions such as a $1.9 million SBIR grant via the National Cancer Institute, in 2006, have kept PTI's development work advancing. There have been earlier SBIR grants and investments from such groups as Discovery Life Sciences Fund, as well.

Reached during the past weekend, Stefansic would not comment on "C-level staffing" at Pathfinder. Former CEO Paul MacDonald quietly left the company, last year, and while an executive search has been mentioned, no information has been released regarding whether that search continues, or not.

Uloop and Pathfinder were among 20 first-round presenters recently announced for SEVC. Of the 20 starlets, seven are from Virginia. ♦