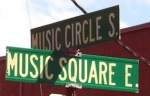 PROJECT MUSIC of Nashville today announced the eight members of its 2015 music-and-technology accelerator program, which convenes Jan. 18 in the Nashville Entrepreneur Center, where it will run 14 weeks. For earlier coverage, click here.
The eight Project Music cohort startups are:
On The List - Provides comp tickets and other benefits for fans headed to live events, and supports tech-enabled sponsorships. CEO/Founder Jack McCann. Nashville
DART - Online distribution platform for creators of Classical music. CEO/Founder Chris McMurtry. Nashville.
Jammber - An open collaboration platform and digital record label with built-in talent development. CEO/Founder Marcus Dwayne Cobb. Chicago.
HiVolume Media - App designed to support social music experience. CEO/Founder Michael Amburgey. Nashville.
Ear IQ - App for premium headphone market to improve sound quality. CEO/Founder: Stephen Davis. Nashville.
Ripple Music - Cloud-based social network with monetization model for music/sound contributions. CEO/Founder Chad Marcum. Tullahoma.
What's Hubbin - [Changed name to EVAmore] Online platform for local music showcases, with data licensing. CEO/Founder Channing Moreland
Nashville
RMXHTZ - Platform and service for remixing works and derivative works. CEO/Founder Sam Brooker. Nashville. VNC
---