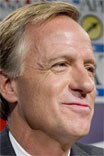 Gov. Haslam
Gov. Bill Haslam's move to shift some Tennessee Economic and Community Development resources toward helping existing TN businesses grow profitably has been viewed in many quarters as a "pragmatic" step, according to a Knoxville News Sentinel editorial. Not yet revealed are the details of the Administration's complementary plan for the high-growth "innovation" sector, though the Administration says it will reveal those on May 5, the day Gov. Haslam and ECD Commissioner Bill Hagerty take turns at the podium during an annual TTDC event. The News Sentinel editorial emphasized that in these economic times, the Administration's economic-development approach "must deliver." During the Tennessee Technology Development Corporation board meeting earlier this month, TTDC leaders made clear they were deferring finalizing TTDC's own research and program prioritization to ensure complete alignment with the Haslam Administration's priorities. ECD is TTDC's primary funding source and the two partners have, although at times uneasily, collaborated to spur tech commercialization, investment, capital formation and entrepreneurship. TTDC was chartered in 1998 under former Gov. Don Sundquist (R-Memphis), and eventually won the direct support of the Bredesen Administration. The Haslam Administration has not yet said publicly what responsibilities it might assign TTDC as ECD implements the innovation program that will be unveiled May 5.
► The Georgia Music Partnership today announced the economic impact of music in Atlanta and Georgia, suggesting the state and city deserve recognition on a par with Nashville, Los Angeles and other hubs. There's also what seems mild complaint about subsidies given the film industry. The site's here.
► [3:14 p.m. update] Lt. Gov. Ron Ramsey and former Bredesen Administration ECD Commis. Matt Kisber meet today to discuss State incentives awarded Electrolux and Amazon in the final days of Bredesen's tenure, says the Commercial Appeal. Ramsey supports infrastructural and other traditional incentives, but is less certain about tax concessions for relocating firms, says the CA. NBJ reported this afternoon Kisber cancelled the meeting with Ramsey.
David Corts
David Corts, 36, is VP-product management within for the AOL Content Platform, based in Nashville. Corts and at least 51 others have been tapped as mentors and dubbed "the brightest entrepreneurial minds around" by Nashville's JumpStart Foundry, which is an incubator and microfund allied to varying degrees with Solidus Co. (a VC), Solidus-TNInvestco, Seed Hatchery (Memphis), Venture Incite, CoLab (Chattanooga), the TechStars network and others. Corts reports to SVP David Mason, who founded Nashville-based StudioNow, which sold to AOL for $36.5 million. The AOL demand-content platform supported by Corts has more than 100 staff, including "30 and growing" in Nashville, Corts told VNC.
► A $23.5MM raise for commercial real-estate development through Dollar Texas Properties V is the goal of entrepreneur and private equity investor David Wilds, plus executives associated with GBT Realty (George Tomlin, et al) and others, according to an April 21 SEC filing. Dollar General has been a major client of GBT, over the years.

Seamons
► EmergeMemphis has expanded its incubator facilities and will soon be home for 45 startups, up from 27. The Commercial Appeal interviewed EmergeMemphis Chairman Andrew Seamons and president Gwinn Scott.
► [Updated 1:41 p.m. CDST] Blackstone, it turns out, commited $3.5MM to help mentor 30 startups per year through the new Blackstone Entrepreneurial Network, leveraging four NC universities. The Blackstone release is here. Original post: Blackstone-funded LaunchPad initiative is likely to be announced in North Carolina this morning, where state government, legislative and university officials will join Blackstone Charitable Fund executives for an as-yet undisclosed announcement. According to media reports, after the announcement there may still be three regional launchpad slots reserved for thus for other "distressed" states or regions. Related: VC investments kept a NC life-sciences venture from leaving the state to accept Midwest states' economic-development subsidies, the TBJ reported.
► GeoPublishers.com, a new trade association for owners of geodomains has been launched with a boost from the ubiquitous Castello brothers, who own Nashville.com and a myriad of other properties. Pulcrano-owned Boulvard owns Memphis.com and is also a member of the association, according to VNC research.
► Healthcare Provider and caregiver communications are hot: Vanderbilt Medical Center's 'Wizard' technology is penetrating healthcare delivery there; Knoxville-based PerfectServe has added a Chicago office to support growing clientele; and, local Dalcon (recently allied with Vanguard) believes its prospects are bright. Efforts to strengthen communications in order to lower healthcare costs, achieve better outcomes, fewer readmissions, etc., are also influencing such startups as Parental Health.
► Lifecycle: Times Free Press reporter Ellis Smith's profile of the nearly 100-year history of prosthetics manufacturer Fillauer Companies in Chattanooga is an interesting glimpse inside a family-controlled business, now global in scope.
Tennessee and ECOtality may have an important relationship as the company aims to support Nissan and Chevrolet e-cars, but their recent S-3 reminds just how risky is the entire venture.
► VC or No VC? TechCrunch columnist Mark Suster gives some straight talk on why you should "stop effing around" trying to excite venture capital with tech products, and use technology to enable and differentiate your core service business.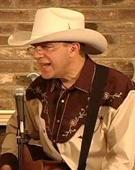 Shayne
cum Hazard
► In truth, troubador Merle Hazard doesn't invest. That's left to his alter ego, Jon Shayne of Shayne & Co., which recently made a required filing regarding $102MM in holdings.
► Solar: Nashville business owners see value in the Tennessee Solar Institute, which has been a conduit for grants that help advance the solar-power installation sector, NashvilleLedger has it.
► Corporate social responsibility should "create shared value" for both the business and society, "rather than simply acting like a good corporate citizen," says a blog from the firm owned by Tennessee-based Mike Saint, expert on the NIMBY wars. When we checked-in before the full force of the Recession hit, Saint Consulting Group was approaching $30MM in annual revenue.VNC