NICHOLAS HOLLAND has handed the reins of CentreSource to his management team and is launching his Populr venture using the first-ever investment by Nashville's Bullpen Ventures seed-stage partnership.
The Populr online service will enable customers to make "published one-pagers" (POP's) -- single-page websites with unique Web addresses -- available to target small businesses quickly and affordably, without requiring a designer. Many small businesses don't have websites or, therefore, the Web addresses they need to leverage Groupon and other marketing tools, Holland explained.
Holland and Bullpen spokesman Landon Gibbs confirmed that the Bullpen-Populr transaction closed Dec. 16. Gibbs said Bullpen views the decision by Holland, a seasoned entrepreneur at 32, as validation for Nashville's robust entrepreneurial environment, as well as for the Bullpen mode.
The pact allocates to Holland an initial $25,000 in capital and a seat at the Nashville Entrepreneur Center (NEC) that is reserved for Bullpen portfolio executives. If mutually agreed, Populr and Bullpen may execute one or more subsequent $25,000 convertible-debt financings. In future rounds, as previously reported by VNC, Populr may warrant later-stage investment by Bullpen cousins, including Triple Play Ventures. In keeping with Bullpen's model, Bullpen immediately receives 12% equity in Holland's company. In turn, Bullpen's agreement with the NEC calls for 15% of Bullpen's equity in Populr to be conveyed to the NEC.
Bullpen's support is typically for 90 days. Holland expects to reside in the NEC for three to six months, during Populr's accelerated proof of concept stage. When he emerges from POC stage, he explained, he expects to be able to approach next-round investors "coming from a position of strength, rather than desperation."
S. McWhorter
Bullpen is led by partners who include Stuart McWhorter, who is chairman and co-founder of VC Clayton Associates. (McWhorter's father, Clayton, is chairman of the NEC board of directors and a former president of HCA, among many other credentials.) Bullpen investors in addition to Stuart McWhorter, include John Ingram, who is chairman of both Ingram Industries and Ingram Content Group; Music Row veteran Joe Galante; Gulch-development backer and philanthropist Steve Turner; and, entrepreneur Mark Montgomery, who is developing a digital consultancy called FLO Thinkery and is entrepreneur-in-residence (EIR) at Claritas Capital.
Meanwhile, at CentreSource headquarters [Corrected 10:05 a.m.]: Evan Owens is now CEO of Centresource, stepping-up from his role as director of consulting; Chip Hayner is CIO at CentreSource and Chris Wage is COO at CentreSource. Daniel Nelson is chief technology officer at Populr and Jared Scheel is the firm's chief product officer, said Holland, adding that he told his staff about his Populr decision on Dec. 7.
In an apparent reference to his own bootstrapping experience in building 8-year-old CentreSource, Holland said, in part, "A lot of entrepreneurs can build a company successfully through sheer grit and willpower, but it doesn't mean you're an amazing business person."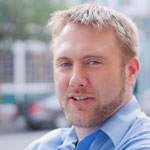 Nick Holland
"Everyone needs a boss," he continued, explaining that he'll be accountable to Bullpen, to NEC CEO Michael Burcham and others who aim to help Populr succeed. Having earned his entrepreneur's stripes in a service business, he's eager to take-on the challenge of a product-centric startup, he added.
He welcomes the Populr experience partly because he's learned that there are both science and art involved in successful startups, Holland said. He realized that even the most successful entrepreneur "can get good at learning how to build businesses, just like building a machine," he said.
Entrepreneurs who are continually improving their skills are among those he most admires, Holland noted, adding that he finds complacency or laziness are ever-present threats to success. (In a self-critique, Holland recently expounded on that theme at JumpStart Foundry.)
In a 2004 interview with VNC sister publication News of Nashville Technology, Holland, then 25, explained that his persistence is partly fueled by a desire "to provide a service of value and leave a legacy" in his hometown. Noting at that time that he was regularly receiving job offers, he urged entrepreneurs not to abandon their dreams, easily.

Landon Gibbs
Bullpen is in earnest discussions with several other prospective portfolio companies, but each is "hand-picked" individually and no class or cohort of portfolio companies will be created, Gibbs explained. (In their own programs, the NEC and Solidus-linked JumpStart Foundry and SeedHatchery in Memphis operate on the cohort model.)
Bullpen has previously stated its objective is to do 8 to 14 transactions per year; it is likely to do four deals in 2012, its first full year of operation, said Gibbs. Bullpen is likely to see about 200 seed-stage proposals per year, Gibbs estimated.
While it took Holland and Bullpen months to wrestle their deal to the ground, Gibbs explained that the process also produced Bullpen's first fully vetted set of contractual agreements, which will shorten the deal-making cycle considerably, going forward.
A version of Populr was developed by Holland before separating from CentreSource and it is now in the hands of some Populr board members for examination. Letters of intent are in place with a number of future beta users and an alpha version is likely to be available on limited basis this week. A broader invitation-only user base will be recruited during the next 90 days; and, a formal launch is likely by April 2012, Holland said. Populr may also seek a berth at South By Southwest (SXSW 2012) in March, he added.
The POP sector has a competitive field, including Smore and OnePager. Developments in the sector are tracked by OnePageLove and WebDesignLedger, among others, VNC research shows.
Echoing some of his previously expressed themes, Holland said that there is little doubt in his mind that Populr might be more easily understood and supported in more mature tech-venture communities.
However, as a native Nashvillian, a family man and an entrepreneur who is delighted to make a splash in a small-but-dynamic pond, Holland said he's glad that Bullpen and the rest of the region's entrepreneurial ecosystem is coming to life, just when he needs it.
Holland is married to Brandi Holland, an associate with Bass Berry & Sims and they have two children. He is a member of the board of the Nashville Technology Council and is, himself, a mentor with JumpStart Foundry. He has previously won an INC. Magazine ranking and local accolades for his entrepreneurship. Prior to forming CentreSource, he worked as a tech contractor for Education Networks of America (ENA) and was a financial risk analyst for Houston-based Reliant Resources. He double-majored in Finance and Computer Sciences at Tulane University. Holland's father, Joel, is founder-owner of Holland Medical Equipment in Nashville.
Holland's advisors for the Bullpen transaction included attorneys with Bass Berry & Sims and KraftCPA's, he said. Sherrard & Roe is counsel to Bullpen, said Gibbs. VNC