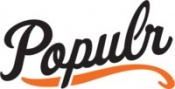 Updated 28 April 2015: Holland sold Populr to Kindful, on undisclosed terms, NBJ's Eleanor Kennedy reported today.-Ed.
NASHVILLE entrepreneur Nicholas Holland, who drives both the Centresource interactive agency and Populr, has reached a fork in the road.
Owner-operator Holland confirmed for VNC that he's under a nondisclosure agreement with an East Coast strategic player about possibly selling Populr.
Three-year-old Populr's technology quickly generates single-page web presences with social and analytical tools onboard.
Holland declined to provide further details about discussions with the strategic, other than to indicate that the discussion is early-stage. Another source said the potential bidder is probably in the Boston area. VNC also understands that Populr was approached by Scottsdale-based GoDaddy.
Holland, 35, who has previously declared his ambition to demonstrate that a Nashville-based Tech firm can become a world-class player, said that he still believes "there is definitely something here in Populr, but we still have a journey to go."
Holland said that earlier this year he launched TouchstreamApp.com, an auto-scheduling application for sales and marketing "drip campaigns" that maintain steady contact with potential customers. Its URL was registered through Project10K, the official name of Populr.
In addition to creating another sales-tech tool for Project10K's portfolio, the twinning of TouchstreamApp and Populr presences is intended to help cultivate the sales pipeline for Populr, which is an up-sell from TouchstreamApp, Holland explained.
The move also reflects the need to lower Populr's lead-acquisition and advertising costs, hoping to mitigate future capital needs. Though capital for operations goes farther in Nashville than in major Tech centers, GoogleAds "doesn't care where you are, they charge everbody the same."
Nicholas Holland
Given his personal goal of putting Nashville on the SaaS map, Holland said that if he gets "a fair and decent offer" for Populr, he may take it.
"I want to win with Populr," whether that's by having a Nashville Tech company realize an "awesome" exit, or by grinding-out a national footprint from Music City, he summarized.
Either way, "plenty of work still needs to be done," he continued, adding that when unsolicited outside interest appears, it's inevitably the occasion for reflecting on what is the best path toward success. "The proof is in the pudding," he said.
In June, Holland told participants in LaunchTN's Southland's conference that Populr was likely to consider a $2MM Series A round. Holland provided no update on a possible raise, other than to indicate that if one happens, it is likely to be early in 2015.
No investment banker has yet been engaged, though he "may go down that path," said Holland.
Populr has previously raised $825K from Bullpen Ventures, Solidus, Martin Companies and a dozen individual Angel investors, Holland said. In June, at Southland, Holland said Populr was generating about $7K per month.
His advisors currently include attorneys with Bass Berry & Sims and accountants with KraftCPAs. The company banks with Avenue Bank.
Asked whether he'd consider selling if it required relocation, Holland, a Nashville native, stressed that with both himself and his wife well established here, with young children, plus real-estate holdings, "it would take something huge to get me out of here."
He then acknowledged that during the past couple of years "97%" of the VCs he has spoken with from San Francisco, New York or Boston have said they would require his business to be "in their backyard," particularly given that it is early in its development.
"It's a gamble," Holland said they told him, explaining that they could best address pivots and other strategic opportunities, including portfolio synergies, if he were close at hand. Consequently, he said, "it's been a constant struggle to figure out what to do about location."
He acknowledged that, by digging-in in Nashville, he's "definitely felt the 'friction' [inertial drag] of not having a lot of peers and mentors" available to him here, as he might in a larger, mature Tech center. This sense was heightened by his tour as part of 500 Startups, in Mountain View, California.
Yet, he said he also believes Populr has "already done more in a 'left-of-center' company" that's not in-line with Nashville's long-established strengths than most people would have expected.
"But, it's not enough for a startup to be cool, advanced and forward-thinking -- it has to actually get people to pay for it," and Populr may need a strategic partner, rather than press-on toward for growth from Nashville, he said.
He told VNC for this story that Centresource is meanwhile projecting north of $3.5MM revenue for 2014.
Holland, who is CEO of Populr, will soon name a managing director of 11-year-old Centresource, when he converts the agency from C-corp to LLC status, he said. [We originally reported Holland would himself be the MD, but no.] Holland's LinkedIn is here. VNC