American Sentinel University, the online university that includes prominent Nashville investors among its leadership, has launched its fourth capital raise, with a goal in the "$5 to $10 million range," according to Founder, President and Interim Provost Richard W. "Rick" Oliver.
Oliver (left) told VNC in an interview yesterday that parent American Learning Solutions has raised more than $10 million across three previous rounds. He declined to provide financial details, but said with a smile, "we're not now profitable, but we're slowly, but surely inching our way toward that point."
Then, in a move perhaps inevitable for a man sometimes described as a "rabid" Predators hockey fan,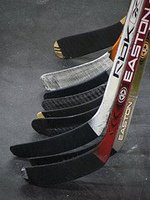 Canadian-born Oliver illustrated his point by drawing a hockey stick on a napkin, and putting a big black revenue spot just before the junction of blade and shaft.
Conversation with Oliver makes clear that forces driving him forward include his belief that the same sort of transformation that HCA ignited in healthcare delivery 40 years ago is already underway and accelerating in education.
In addition, nearly a decade ago, while he was teaching e-commerce strategy to MBA students at Vanderbilt's Owen Graduate School of Management, a student suggested that the ramifications of digital commerce that Oliver was then describing seemed likely to transform education, as well. Oliver explained yesterday that he had harbored the same thought for some time, but had been "scared to death to actually vocalize it," because he had known that if he did so, he would then challenge himself to "go do it."
And, he did. He soon formed the company, which was originally chaired by former Tennessee Governor Lamar Alexander. That role was then filled by Vanderbilt Chancellor Emeritus Joe Wyatt, for whom Oliver had once served on a VU committee studying technology and education, a known Wyatt passion the past 20 years, or so.
Oliver explained that fresh capital for ASU will fund, among other things, additional staffing to intensify student recruitment, advance development of new curricula and course offerings, and pursue additional accreditation of ASU degrees via U.S. regional education commissions.
Oliver, who has published seven books with McGraw-Hill on business trends and related matters, said that because of changes he sees rapidly emerging in the U.S. and global economies, he plans to use some of the new capital to begin taking from drawingboard to classroom his plans for new courses for technicians and others who are in short supply in biotechnology, medical and other life sciences fields.
Much farther out, he said, he has his eye on nanotechnology occupations. Oliver uses his trend-following skills to design and launch new offerings, as he did not long ago by offering the first online business-intelligence master's degree. A few competitors have since followed suit.
ASU is the primary asset of 8-year-old American Learning Solutions, a Denver-based, Delaware-registered company, with a small headquarters staff in Colorado, plus five full-time academics and about 70 adjunct faculty. The company offers nearly 30 degree programs and currently has about 1,100 students now actively enrolled, including about 100 in China, and nearly 2,000 alumni. Oliver said more than 70 percent of ASU's enrollees receive reimbursement for payments to ASU from either corporate employers or through programs available to U.S. military personnel.
ASU studies are currently heavily weighted toward information technology and computer science, with expanding offerings related to healthcare services, general business and other fields.



The ALS board of directors includes Oliver; Vanderbilt University Chancellor Emeritus Joe Wyatt (at left); Ben Rechter, president of Rogers Group Investments; former Predators owner Craig Leipold (now owner of the Minnesota Wilds); Solidus Company Co-Founder and CEO Townes Duncan; Germain Böer, professor at Owen Graduate School of Management and director of the Owen Entrepreneurship Center; Dan Coholan, managing director for communications and media at Royal Bank of Canada (RBC) Capital Markets; and, Chris McKinney, director, technology transfer and enterprise development, Vanderbilt University.
He said ASU's major investors, in addition to himself, include Böer, Solidus, Rechter, Leipold, Vanderbilt University and "others, mostly angels."
Looking ahead, Oliver said he thinks it highly likely that we'll see "a dramatically positive education market next year," which
may be spurred by "an Obama bounce," if the new Administration fosters expanded adoption of healthcare information technologies; and, if education reimbursement for military personnel increases.
In what may have been a preview of his pitch to investors, Oliver explained that despite the stock market cataclysm, key publicly traded companies who share his niche are doing pretty well.
Indeed, competitor Minneapolis-based Capella Education Company and others seem to have experienced some runups since Election Day, although Capella has settled a bit, since lunch yesterday.
The prospective bounce might explain why, as Oliver told it, he receives each week inquiries from other companies interested in buying American Learning Solutions.

Instead, he's "out in the market" raising capital. He explains that the timing is good from his perspective, in that a weak economy typically prompts workers to seek more education and training, to increase their hiring or retention value -- thus making education a countercyclical play. The company's prospects may also be helped, he said, by the fact that state postsecondary institutions seem headed toward dramatic hikes in tuiton and fees.

In addition to the parent company's board, the University has a board of trust, which includes Dr. Colleen Conway-Welch, dean of the Vanderbilt School of Nursing; and, Bill Jenkins, a consultant and former vice chancellor of Vanderbilt University. Welch's husband is frequent Alexander fundraiser Ted Welch.

Oliver resides in Nashville, as does ASL Chief Financial Officer Mary Howard (left), who was previously CEO of Nashville-based Frontline Group and executive vice president of Corporate Child Care (now Bright Horizons), both of which companies had been founded by former Nashville resident Marguerite Sallee Kondracke, with substantial support over the years from Lamar Alexander, in whose Administration Sallee had earlier served as commissioner of the state's Department of Human Services.♦