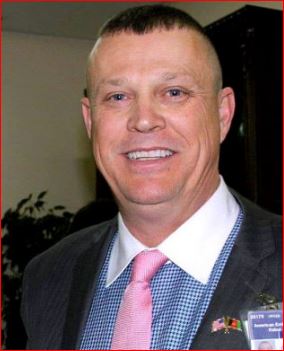 NASHVILLE-based tech entrepreneur Robert Adams, founder and majority owner of Global e-dentity™, a multi-modal biometric identification startup on which Venture Nashville reported seven months ago, confirmed that he continues to seek satisfactory response from Apple Inc. regarding complaints he has lodged with the Cupertino-based company.
Two weeks ago, San Francisco's KRON4 TV (Nexstar) reported that Global e-dentity, officially registered as YouaretheID LLC, had asserted that after the company honored what he described as Apple Inc.'s 2017 request for access to key elements of its intellectual property in furtherance of on-going discussions of a potential business transaction between the two companies, Apple Inc. took steps to break-off those discussions.
Adams asserted that after that earlier round of discussions ended and after Apple Inc. viewed Global e-dentity's provisional application, patent filing and its trade secrets, Global e-dentity learned that Apple Inc. had submitted two patent applications that Adams insists should have been cited as prior art Global e-dentity's patent 10,135,822, awarded in 2018.
According to Adams, Apple Inc. representatives have recently reengaged to some extent with Global e-dentity's legal counsel regarding the matter, including potential settlement options, though there has thus far been no resolution.
Exchanges with Adams also suggest that he has engaged in substantive ways with executives with authority to investigate his complaints within Apple Inc., itself, as well as within the U.S. Department of Commerce and the U.S. Patent and Trademark Office, among other venues. Adams' company has for some time been publishing some documents and commentary related to these matters on the company's website.
Among other initiatives, Global e-dentity has via USPTO channels requested third-party reviews of this matter, and Adams said he expects findings from a USPTO examiner in the near future.
Apple Inc. media-relations staff have not yet responded to email and voicemail requests placed yesterday by VNC, asking for an opportunity to discuss this matter.
Adams told KRON and later confirmed for VNC that employees of the Federal Bureau of Investigation have several times requested documentation directly or indirectly related to this matter.
Reached this afternoon by VNC, an FBI spokesman for the Memphis District's Nashville office cited long-standing policy in declining to comment on any investigations or potential investigations, whatsoever.
As VNC previously reported, Adams has previously raised $3MM in Seed capital, and continues to consider a Series A round, modeled with a $38MM target. As he did in November, Adams again confirmed he continues to receive interest from both institutional investors and potential strategic bidders.
The company's 16 team members include a core group in the Bay Area and other remote workers. Between travels, Adams said he spends most of his time at his home in the Nashville area. He said he aims to establish permanent offices in San Francisco, Las Vegas and Nashville.
A 56-year-old native of Ohio, Adams continues to undergo Mayo Clinic treatment for Glioblastoma, a brain cancer, diagnosed in spring 2016, well ahead of his formation of the company. He said he has made his condition clear to Apple Inc. and other parties.
Edgar Rabano
A formal search for a permanent CEO for the company is planned for later this year. Co-founder and CFO Edgar Rabano will assume CEO duties, should that become necessary, said Adams.
Later this month, Adams plans to travel to England. There, he said he will present during TEDx Norwich his technology for novel use within the healthcare industry. For more on Adams, the company's technology and advisors, please see our earlier report.
In a series of conversations this week, Adams would not specify all firms and individuals that are directly advising him in the Apple Inc. matter.
However, he did confirm that, among others, he continues to rely on San Jose-based patent attorney Dorian Cartwright; and, on Atlanta-based attorney William Shawn Yeager, among others.
For more on his technology and advisors, see our earlier story here and the company team page, here.
Prior to forming Global e-dentity in January 2018, Adams' LinkedIn says that he was a commercial officer for the U.S. Department of Commerce, U.S. Embassy, Afghanistan; CEO of a unit of OTG Group, in the Middle East; chief operating officer for a unit of MENA Consulting, Dubai, UAE; executive director for a U.S. Department of Defense program centered in the United Arab Emirates and Afghanistan; and, an Operations Security specialist for the U.S. Navy.
The veteran retired from the Navy in 2006, after many years of Active and Reserve service. He declined to describe his former military duties, rank or specialties, citing security reasons.
Prior to serving with Defense, he was co-founder of Optima Technology and VP-Marketing for Linksys, both companies based in Irvine, according to Linkedin.
His undergraduate major at California State University at Fullerton was in computer science. He earned an MBA at the University of Southern California, with emphasis on business and development economics. VNC
. last edited 1955 3 July 2019
---