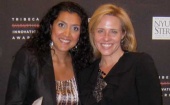 POPVOX, the California-, DC- and Jackson, Tennessee-based legislative-action platform created by a Tennessean and her co-founder, could prove to be a case study for the state's high-growth advocates, particularly Launch Tennessee.
The startup is preparing to pursue further capital and plans to do some hiring, but 37-year-old co-founder and CEO Marci Harris told VNC that it remains to be seen whether needed tech talent ("the coders") can be found in or recruited to Tennessee. Otherwise, the company is "location-neutral" when it comes to hiring, she said.
A native of Lexington, Tenn., Harris has just been named to the board of directors of LaunchTN (related story here) and is visiting Nashville for several weeks, before another jog home to Redwood City, Calif.
Her co-founder and Chief Marketing Officer Rachna Choudhry operates from Washington, D.C.; and, said Harris, there are two staff in Maryland and two in Jackson, Tenn. (where her brother Ben Harris serves as the startup's chief operating officer and William Donnell is chief designer).
The company's technology and services enable individuals to explore advocates' opinions on key issues and then express their own opinions on congressional legislation directly to Members of Congress (with accurate targeted delivery); and, POPVOX professional tools provides lobbyists and other paid advocates the white-labeled widgets and other tools they need to drive grassroots participation to shape legislation and the policy agenda.
The venture seems a natural step for Harris, who holds a law degree from the University of Memphis and an LLM from American University's Washington College of Law. She is also former counsel to U.S. Rep. Pete Stark (Dem.-Calif.-13). Co-founder Choudhry holds degrees in policy and political science from Georgetown University and UCLA.
It would be good for POPVOX to have a presence in Tennessee, because a company that exists to serve the needs of advocates and other stakeholders in every state simply must not be associated only with DC and California, Harris explained. New training initiatives and the creative entrepreneurial climate of Tennessee could lead to a broader POPVOX tech presence in the state.
POPVOX has established impressive traction, since it was formed in 2010 and its beta site launched 18 months ago.
The site already has registered organizations as users that are located in every congressional district, she said, adding that more than 1,800 organizations are registered with POPVOX.

Tim O'Reilly
In addition, as a consequence of their shared interest in grassroots political processes, she met and enlisted as founding investor and advisor West Coast tech influential Tim O'Reilly, the owner of 34-year-old O'Reilly Media, the publishing and events company. That led her to move from DC to California. POPVOX is a Delaware-chartered company.
The company now has about a dozen shareholders and contemplates raising further capital early in 2013. It will be highly selective in accepting capital only from investors who understand the company's nonpartisan civic mission, and who aren't looking for an early exit, Harris emphasized.
She's begun networking with Angels, high-net worth individuals and VCs, here and elsewhere, she said. Meanwhile, the always-pivotal decision on legal advisors had been made, with Orrick, Herrington & Sutcliffe getting the nod and Silicon Valley denizen Don Keller on the case.
Also, POPVOX now banks with Silicon Valley Bank, and it is using individual accountants in both Tennessee and California, Harris confirmed.
Little wonder that the startup has attracted wide attention, as its press clippings attest. It won the 2011 SxSW BizSpark competition, won a disruptive-tech award from the TriBeCa Film Festival, and won kudos! from FastCompany and ReadWriteWeb for its role in creativity and open-government, respectively.
Harris explained that her name bubbled-up for the LaunchTN board as a result of getting to know folks associated with the Entrepreneur Development Center of Southwest Tennessee (EDCST), she explained. The Jackson-based center officially opened two weeks ago.
Harris told VNC she'd very much love to expand POPVOX's presence in Jackson, where her brother and parents live and she has other personal ties; but, POPVOX faces the same talent challenge that confronts tech startups here and elsewhere.
Ultimately, she made clear, the company's going to grow in centers where it can sink deep roots in a substantial tech community. VNC