UPDATE 1:14 P.M. 28 June: ECD issued a request for information (RFI here) from potential bidders representing regional business accelerators, with responses due by July 15. The RFP is expected to lead to release by October of an RFP for state INCITE accelerator grants, with funds awarded subsequently. The Governor's release. The Startup America Partnership release. EC CEO Mike Burcham will also lead Startup Tennessee, which will, among other duties, help accelerators in nine economic districts. Burcham comments in a video here. This story as it originally appeared June 27 follows:

STARTUP TENNESSEE, recently unveiled online by Startup America Partnership, is to be formally celebrated tomorrow at the Nashville Entrepreneur Center.
Gov. Bill Haslam is scheduled to join Startup America Partnership CEO Scott Case, EC CEO Michael Burcham and others tomorrow morning at the EC on Broadway for StartupTennessee's official coming out, an aide to the governor confirmed June 24.
Case and Startup America Chief of Staff Kathleen Warner touted tomorrow's launch of Startup Tennessee during their June 23 webinar, in which they provided an update on progress and fielded focused questions from viewers. StartupAmerica is mainly funded by the Kauffman Foundation and the Case Foundation (no relation to Scott Case).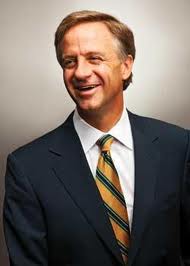 Gov. Bill Haslam
The initiative is expected to complement INCITE Tennessee, a $50 million program launched May 5 by the governor to promote "innovation, commercialization, investment, technology and entrepreneurship."
Gov. Haslam pledged in launching INCITE that the state, led by ECD Commissioner Bill Hagerty, would "create or support" a statewide entrepreneurship network. The Haslam Administration has also been preparing to activate INCITE's planned co-investment program, its support of the Memphis Research Consortium and its promise to directly support formation of at least four new incubators in state regions that do not yet have such facilities, among other Haslam initiatives on a broad front as part of a campaign also known as Jobs4TN. A source said an ECD briefing for invited Startup/INCITE stakeholders is planned for tomorrow morning, but Hagerty staff have not yet responded to questions about that.
Though details of the Startup America collaboration with the EC have not yet been released, Startup Tennessee seems likely to contribute further momentum to the Entrepreneur Center.

Burcham
The EC's Burcham has made clear for months its interest in expanding its footprint statewide, while working locally to attract philanthropic and other support fuel its expansion and relocation to its planned spacious quarters at Rolling Mill Hill. "I love doing things that scale," Burcham told VNC earlier.
Burcham's aggressive move to align with Startup America followed announcement in January of local JumpStart Foundry's joining the TechStars network, which is nationally affiliated with Startup America.
During the webinar, Warner cited Burcham and entrepreneurs Jackson Miller (Bizen) and Mark Harris (NextGXDX) as among entrepreneurs introducing her team to Nashville, which she referred to as being among the nation's "emerging innovation centers." VNC research indicates Jason Moore of HealthDataSource and others were also involved in Scott visit in May.
Startup Tennessee is the apparent successor to the Tennessee Entrepreneur Network, which had been developing during the past two years as an offshoot of Tennessee Technology Development Center (TTDC). In the past year, TTDC has focused more heavily on technology transfer and other functions.
Scott Case
Case and Warner explained during the webinar that by August their organization will have unveiled more platform services and strategic partnerships; apparently, Startup Tennessee is expected to be organized along similar lines to provide a broad array of local resources, services and connections for entrepreneurs, investors, partner sponsors and customers for startups' goods and services.
Startup Tennessee and its national counterpart accommodate startups that have become businesses; individuals with "ideas" that are little past the "whiteboard" and napkin-jotting stage will be granted access to resources, but will get little hands-on support, reflecting the need to apply resources and energies toward accelerating growth of jobs-producing companies, Case explained last week.
Startups that are ready to accelerate and begin producing jobs will get most of the attention, because of the jobs orientation of Startup America. Companies that become Startup members will be expected to qualify as businesses with two or more participants and will provide sales and employment data to the nonprofit, to enable progress tracking on an anonymized basis.
Case said the universe of companies ready for full Startup support is probably just north of 100,000 nationwide in a given year, or about 20 percent of all business formations. (The United Kingdom, Chile and Italy, Case noted June 23, are among nations that have begun creating their own startup-focused initiatives.)
In addition to state-level partners like Startup Tennessee and previously launched Startup Illinois, Case said Startup America is allying with Startup Health, Startup Weekend, Vencorps, Demo Fall, Small Business Administration (which has launched programs to support SBICs), TechStars, Startup Hire, IndieGoGo, National Venture Capital Association (NVCA), Angel Capital Association (ACA) and other initiatives.
Its corporate sponsors include Intuit, Microsoft (Bizspark), Ernst & Young, Cisco and numerous others. Additional alliances are being formed in industry verticals, including education, energy and life sciences. VNC