SINCE 2008, when Venture Nashville broke the news that TCRS, the Tennessee Consolidated Retirement System, had gained authorization to invest in private equity and other alternative assets, TCRS AUM have grown from $26BN in recession year 2008 to $48.1BN a/o March 25th, 2020 (the latter mark down from $55.2BN Dec. 31, 2019).
Recent TCRS PE commitments include $150MM to funds affiliated with General Catalyst (Bay Area, Cambridge, New York). In 2019, TCRS commitments included $40MM to Drive Capital (Columbus, Ohio) and $100MM to the latest fund of New Enterprise Associates (Bay Area and beyond). Each firm is a repeat partner for TCRS.
Michael Brakebill
In his March 25, 2020, briefing before the Board of Trustees of the TCRS, Chief Investment Officer Michael Brakebill noted that after "stellar" performance in 2019, TCRS's public-equities allocations declined in overall valuation as the COVID19 pandemic hit the market.
The CIO noted that while the TCRS fund's "excellent performance" in recent years through 2019 ranked it 12th among pension funds with $1BN or greater assets, that must now be generally regarded as "ancient history."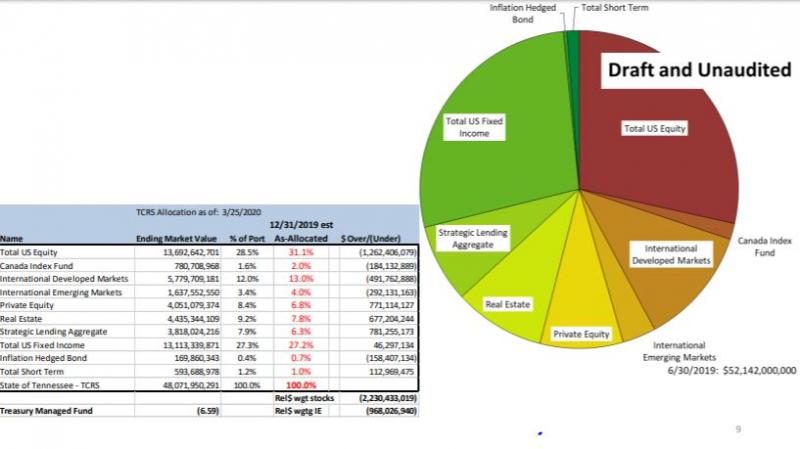 TCRS AUM _ Click above for larger image
That said, in the Alternatives segment (PE, Real Estate, Debt) of its investment portfolio, the CIO noted that valuations have thus far remained stable. Those asset types are less liquid and any value erosion that might occur takes a while to filter-through.
Brakebill said during the board meeting that, after reviewing reports of the current crisis and the historic record of the impact of the 1918-19 Spanish flu, he is inclined to hope that the nation will have "its ducks in a row" and that a seasonal decline in the prevalence of the new coronavirus will allow a summertime lifting of "draconian" measures that are suppressing the economy and markets.
The CIO also said he hopes that if the virus proves seasonal and resurfaces in Fall 2020, healthcare providers and others will by then be prepared to deal with it by means less stringent than currently.
Brakebill told the TCRS Board that the current global economic and financial dislocation is "going to be a huge one," but said he thinks experiences such as coping with the 2010 Nashville flood, are among factors that have left TCRS staff well prepared for operating amid crisis. (Brakebill's briefing begins at 33:10 into the March 25 board meeting, video of which is posted on YouTube here. His slideshow pdf is here.)
Previous VNC coverage and other research shows that since 2009, one or more TCRS PE commitments have gone over the years to funds associated with the following entities.:
Advent GPE
ASF
Bain Capital Ventures
BC Partners Fund
Berkshire
Bessemer Venture Partners
Canaan
Denham Capital
Drive Capital
Foundation Capital
General Catalyst
Harvest Partners
Hellman & Friedman
H.I.G. Co-investment Fund
Khosla Venture
KPS
Lightspeed
Livingbridge
New Enterprise Associates
Oaktree
Pathway Private Equity
Roark Capital Partners
Seventh Cinven Fund
Strategic Partners
TA
Threshold Ventures (team formerly at DFJ)
Truebridge
Venrock
The TCRS board of trustees is next scheduled to meet June 26, 2020.
Reporting to Brakebill, the private equity program is managed by Director Daniel Crews CFA CAIA. Crews succeeded the program's inaugural manager, Lamar Villere, CFA MBA.
State Treasurer David Lillard oversees the state's Department the Treasury, which is administrator of TCRS. The Treasurer's 2019 annual report is here. VNC


.last edited 1544 15 April 2020
---