Updated, Oct. 30, 2009: Randy Gentry, a professor of engineering at UT-Knoxville, was earlier this month named president of UTRF, succeed Fred Tompkins. Our story as originally posted:
The president of the University of Tennessee Research Foundation is resigning and the UTRF board of directors has been repopulated and given a more narrowly defined mission.
Fred Tompkins, Ph.D., who became president and CEO in 2003, recently announced his resignation from the post, according to UTRF Technology Transfer Director John Hopkins, Ph.D., who spoke with VNC yesterday.



Earlier this week, Hopkins confirmed that through a process he characterized as "very amicable" and "consensual," in April the previous UTRF board of directors was "dissolved by written consent" and was, a day later, succeeded by a new slate of directors.

Tompkins has been with the UT faculty and administration since 1974, and was dean of UT's College of Engineering, prior to taking the UTRF presidency. UT information online indicates Tompkins also serves on the boards of several startup technology companies and economic-development organizations.

Nashville-based executives who no longer serve on UTRF governing bodies, according to a list provided by Hopkins, are Joe Cook, a principal of Mountain Group Capital; Glenn Perdue of Kraft Analytics; and, Emily Trader of Lattimore Black Morgan & Cain. Neither Cook nor Perdue has yet responded to queries sent them earlier today by VNC.
Other prominent executives no longer playing governing roles include Steve Bares, president and executive director of the
Memphis BioWorks Foundation. Asked for comment, Bares (at right) said that while he'd gladly serve on UTRF bodies, if asked, he feels he has long had frequent contact with UTRF board and staff, and is "pleased with the changes that UTRF is going through," adding, "these changes sort of help to bring it closer and [make it a] more vibrant partner."

UTRF is charged with managing and commercializing intellectual property; increasing research activity on UT system campuses; marketing research capacity to corporations and governmental or nonprofit agencies; contributing to state and regional economic development; and, fostering an entrepreneurial culture, including support of venture-funding initiatives.


Hopkins (at left) said the future role and structure of any central UTRF office is "still in question," but, in any event, will almost certainly be focused more on "looking up and outward" to identify and develop new opportunities for UT research participants.
Other matters still being pondered, said Hopkins, are how UTRF will relate, if at all, to the Tennessee Solar Institute proposed by Gov. Phil Bredesen, and the related Volunteer State Solar Initiative.

Hopkins said the changes followed a review of UTRF governance and structure. He explained that rather than committees associated with the UT Health Sciences Center in Memphis and UT-Knoxville and other UT campuses reporting directly to a centralized board and CEO, newly reconstituted executive committees associated with the West and East Tennessee institutions will exercise more local control.
Hopkins told VNC recent budgetary austerity has not been a "major driver" in the process; rather, the goal has been to give the
campuses more direct relationships with bodies overseeing the research enterprise in each region. Asked by VNC whether there exists any documentation of the rationale for changes in UTRF leadership, Hopkins said he was unaware of any analyses describing in detail the circumstances and "motivation" driving the recent actions.
Hopkins and UTRF Marketing Director Joy Fisher did, however, provide VNC in writing a statement that said "key objectives" of the reorganization include:
Enhance opportunities for local inputs to and control of UTRF staff and resources. Decision-making related to intellectual property management, licensing transactions, and revenue distribution becomes the purview of the local executive committee.
Retain central policy-making, accounting, reporting, and compliance functions under the umbrella operating arrangement that serves the UT research enterprise andresearch staff.
Maintain the legal separation between UT and UTRF.
Continue central UTRF administration and ownership functions for subsidiaries, such as Genera Energy, LLC. [Genera Energy is a biofuels initiative formed by UTRF in 2008.]"
Hopkins and Fisher further explained via e-mail:
"The governance, structure, and operations of the University of Tennessee Research Foundation were reorganized to create a more decentralized company for fulfilling its mission. The organization consists of a new structure for managing the two separate offices, one in Memphis [Health Science Center (HSC) office] and one in Knoxville [Multi-Disciplinary (MD) office], that both operate under the single UTRF corporate umbrella. The HSC office will focus primarily on technologies generated at the UT Health Science Center, while the Multi-Disciplinary office will support the range of research disciplines represented at all other campuses and institutes within the UT System. Day-to-day operations of each of the two offices will be guided by a separate local seven-member executive committee. Two members of each local executive committee will serve as members of the UTRF corporate Board of Directors. The UTRF President and the UT Trustee Chair of the Research, Outreach, and Economic Development Committee will serve on the UTRF Board and on each of the two executive committees." [Members of these bodies are listed near the end of this story.-Ed.]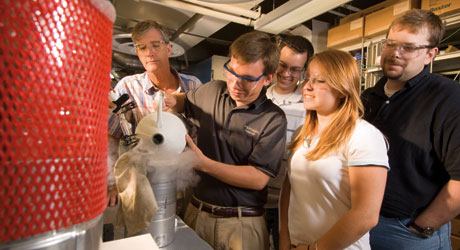 The history of the organization now known as UTRF runs back to its creation in 1935, and reflects a continual shifting of research emphases, increased involvement with venture-capital firms and other allies and a periodic change in interrelationships among UT campuses. In recent years, management of the UT system's research programs and infrastructure has periodically provoked acrimony between faculty and administration, and has factored in the success or departure of a number of senior executives. (At left: Students in UT advanced-materials lab.)

Members of the UTRF corporate Board of Directors who took office April 21 (listed in order provided by UTRF):

Waymon Hickman, Chair - Chairman Emeritus, First Farmers and Merchants Bank
Murray Deal - Vice President, Eastman Chemical Company
Ed Kraft - Chief Technologist, Arnold Engineering Development Center
Tom Ballard - Director of Partnerships, Oak Ridge National Laboratory
Don Stansberry - Chair of Research, Outreach, & Econ. Development Committee, UT Board of Trustees (ex officio)
Charles Wharton - UT Trustee member of the Multi-Disciplinary executive committee (non-voting)
Karl Schledwitz - UT Trustee member of the Health Science Center executive committee (non-voting)
Wayne Davis - Chair of Multi-Disciplinary executive committee, Dean of the College of Engineering at UT, Knoxville
Dick Gourley - Chair of HSC executive committee, Dean of the College of Pharmacy, UTHSC in Memphis
Fred Tompkins - UTRF President (non-voting)(ex officio)
The Board that was essentially decommissioned, April 20, listed as provided by UTRF:
Jan Simek (UT President)
Gary Rogers (UT Senior VP and CFO)
Charles Peccolo (UT Treasurer)
Fred Tompkins (UTRF President)
Thomas Klindt (UT Institute of Agriculture Professor)
Ron Bailey (UT Chattanooga Professor)
Leonard Johnson (UT Health Science Center Vice Chancellor for Research)
Steven Bares (President and Executive Director, Memphis Bioworks Foundation)
Joe Cook (Principal, Mountain Group Capital)
Waymon Hickman (Senior Chairman, First Farmers and Merchants Bank)
Paul Montgomery (VP, Eastman Chemical)
Glenn Perdue (Kraft Analytics)
Emily Trader (Lattimore Black Morgan & Cain, P.C.)
Gary Sayler (Director, Joint Institute for Biological Science)
Corporate officers of UTRF are:

Waymon Hickman, Chairman of the Board
Fred Tompkins, President
John Hopkins, Vice President, Multi-Disciplinary office
Richard Magid, Vice President, HSC office
Bill Mason, Secretary and General Counsel
Butch Peccolo, Treasurer
Ron Maples, Assistant Treasurer
Members of the Multi-Disciplinary Executive Committee are, as provided by UTRF:

Wayne Davis - Chair, Dean of the College of Engineering at UT, Knoxville
Bill Brown - Dean and Director, UT AgResearch
Tom Rogers - Director of Industrial and Economic Development Partnership, Oak Ridge National Laboratory
Jayesh Doshi - President and CEO, eSpin Technologies, Inc.
Charles Wharton - UT Trustee representative
Don Stansberry - Chair of Research, Outreach, and Econ. Development Committee, UT Board of Trustees (ex officio)
Fred Tompkins - UTRF President (ex officio)
Members of the HSC Executive Committee are:

Dick Gourley - Chair, Dean of the College of Pharmacy, UTHSC in Memphis
Karl Schledwitz - UT Trustee representative
Larry Pfeffer, Professor, Department of Pathology, UTHSC in Memphis
David Stevens, Chairman of the Board, Wright Medical Group, Inc.
Frank Chan, Senior Director of Research, Medtronic
Don Stansberry - Chair of Research, Outreach, and Econ. Development Committee, UT Board of Trustees (ex officio)
Fred Tompkins - UTRF President (ex officio)
This story will be updated by VNC, as warranted. ♦

Related Articles