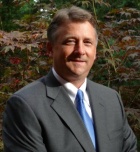 CONSULTANT BAIN & CO. not long ago completed its work at Vanderbilt University, leaving John Lutz, vice chancellor for information technology, and his specially chosen team to contemplate myriad findings and recommendations.
Some of Bain's ideas will make their way into VU's plan for its newly created "One Vanderbilt IT" division, which is tasked with satisfying rising technology demands, as the university's role expands nationally and globally.
On Thursday, June 27, Lutz provided an update on actions that have begun to flow from that assessment to nearly 500 IT division employees assembled for an "all hands" briefing on the launch of the newly formed IT division that Lutz now leads.
Vanderbilt is to announce formation of the IT division today, Lutz said last week. [Vanderbilt's release was posted this morning at this link. See further details below in this story.]
In tones that would resonate in any corporate IT shop, Lutz downplayed the magnitude of tech and organizational issues to be addressed, stressing instead that it is "culture change" that is the paramount challenge, and one that Vanderbilt people, themselves, must now tackle.
Lutz's appointment to the newly created vice chancellorship, reporting directly to Chancellor Nicholas Zeppos, was announced in April. Lutz, 51, was previously president of IBM Canada.
The effort is designed to produce more than organizational re-shuffling, he emphasized. Thus far, the transformative IT initiative has included the academic and administrative areas of the university and its Vanderbilt University Medical Center. Clinical and hospital IT are not operationally integrated into the initiative, the university previously said. Complete collaboration is "where we're going," Lutz told his audience last week.
The news now emanating from VU IT was foreshadowed in November 2012, when Vanderbilt publicized Bain's role and the university's effort to create "a world-class information technology infrastructure" for the institution. Lutz said VU conducted 14 roundtables and dozens of related discussions with faculty, students, administrators and others, since his arrival on campus.
The unprecedented IT unification aligns with Chancellor Zeppos' regular emphasis on the role of technologies in advancing Vanderbilt teaching, learning and discovery, both within the Nashville campus and globally.
The initiative also addresses complaints that have periodically flowed through Vanderbilt for decades regarding the previously fragmented IT organization. A recent survey showed that roughly 70 percent of its campus IT customers felt "we're too hard to deal with," Lutz said last week. On another dimension, 30 percent of respondents said they viewed IT as effective and adequately aligned with overall university strategy, he said.
The time when IT units could hold the "high ground of wizardry," working beyond the view of stakeholders has long past, he said.
Increased transparency, colleagial relationships with customers and broad collaboration are crucially important, he said. The unified IT division will serve every corner of the institution, much as the offices of general counsel, finance and public affairs now do, he added.
Lutz several times expressed confidence in Vanderbilt's "institutional will" toward eliminating fiefdoms and gaining wide buy-in for change.
Many of the changes contemplated focus on vital "inside baseball" issues that are often obscure to non-techies, such as infrastructure, Lutz noted. Urgent infrastructure issues include "network and security," which are being "quickly" addressed, Lutz said.
"Infra" or not, the new division's just-unveiled organizational chart (pdf), showing 11 executive reporting directly to Lutz, will doubtless be closely studied by many. The chart reflects the fact that some of the new unit's talent has recently migrated from Provost, Medical Center and Administration units, Lutz explained. In its release this morning, Vanderbilt said the new division includes staff who previously reported to Enterprise Application Infrastructure, portions of Informatics, Information Technology Services, Management Information Systems, Network Computing Services and local support providers in many of the colleges and schools.
Other changes are likely to attract wider attention. In particular, a fresh approach to pivotal "build or buy" decisions on whether to develop internally or buy off-the-shelf software and systems will doubtless draw close attention from campus customers and technology vendors, alike.
Such decisions have often been "made in a vacuum," said Lutz, adding that when technologies relatively peripheral to the university's core mission are needed, buying may become the default option, with the overall goal "finding the right balance." He cited the example of VU's recent introduction of a commercial travel bookings and expense management offering. (The vendor is Concur of Bellevue, Wash. VU travel is also supported by Brentwood-based Comdata, a Ceridian subsidiary.)
Lutz also listed an array of "Momentum Builders," projects of known importance to the Vanderbilt market that IT serves.
The "momentum" slate bears new and continuing items, including a new IT Leadership Academy, strengthened wireless capabilities in all parts of the campus, a Classroom Technology Task Force, increased training to continually upgrade IT skills and better defined career paths for IT staff campuswide, among what Lutz characterized as "an extensive set" of further reforms.
Nuts-and-bolts targets also include e-mail, firewalls, Web hosting, Sharepoint and data storage topics, he said. A schematic of the VU IT workplan for coming months, as it appeared 30 June, is here.
The steering committee for the initiative that was "facilitated" by Bain, and which was announced in autumn 2012, included Zeppos; Richard McCArty, provost and vice chancellor for academic affairs; Jeff Balser, vice chancellor for health affairs and dean of the VU School of Medicine; Jeff Fife, vice chancellor for administration; Brett Sweet, vice chancellor for finance and VU's chief financial officer; and, John Manning, associate vice chancellor for health affairs and chief administrative officer.
Lutz's June 27 briefing to the VU IT community was posted on the Vanderbilt website, June 28. His slide stack was subsequently posted here. VNC