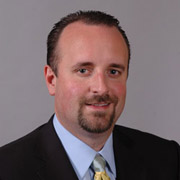 Cliff Duffey
GROWTH COMPANY CYBERA, the Franklin-based provider of hosted IT network, application and event security solutions for retail stores, announced completion of its fourth capital round, led by Spring Capital Partners II, bringing total capital raised in the past 10 years to about $30 million. Former Diner's Club International CEO Peter Rogers recently joined the board. The company has more than 90 employees and serves more than 10,000 sites, the company said. One challenge ahead: Finding enough tech-savvy sales representatives, CEO Cliff Duffey told VNC. The company projects 2011 as its third consecutive positive EBITDA year, he added. (Our earlier report on Cybera on the cusp of the Recession, in 2008 is here.) Clients include Shell Oil, Wendy's, O'Reilly Auto Parts and others. VNC research indicates Cybera annual revenue is about $25 million. Cybera revenue was about $5.4 million in 2004.
Lex Tarumianz
► BLANK SLATE VENTURES has launched in Chattanooga, and is prepared to invest from perhaps $5,000 to $100,000 in good ideas, not limited to any sector at the moment, said founder Lex Tarumianz, an entrepreneur, attorney, investor and real-estate executive. Tarumianz told VNC his son in Colorado is now part of a venture group targeting real estate. The BSV website has not yet been developed and the company was only registered in the past few weeks.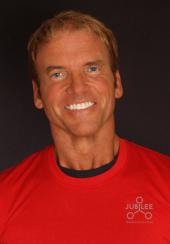 John Jubilee
JOHN JUBILEE, the namesake of CEO JD May's new Jubilation Transformations (JT) venture here, is likely to become as renowned in the health and fitness category as Dave Ramsey is in family finances. At least, that's the plan for JT, which recently exited the Nashville Entrepreneur Center's incubation and mentoring program. While at the EC, May told VNC, the startup's business plan shifted sharply away from corporate wellness offerings to prioritizing individual consumers. Outside capital won't be needed unless acquisitions of other businesses and momentum demand a great deal of growth capital, said May, a former co-founder in Echomusic. The company will find leverage in strategic relationships, perhaps including relationships with physicians and ties to fitness equipment makers, he noted. JT has 5 FTE's now and may have 15 total within 60 days. About $150,000 has been invested by founders, thus far. May isn't ruling-out accepting "smart money" from investors both strategic and financial; but, he believes the company can bootstrap quite a while. He'll soon begin pulling-together an advisory board and other resources. "It's an incredibly crowded and competitive field," May told VNC, but added he believes that with John Jubilee as "the tip of the spear" and other resources built around him, the company will have "what it takes to get above the noise." May's passion for JT was ignited, he explained, by his personal wellness recovery experience with Jubilee, well documented on the JT website.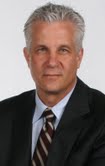 Larry Wahl
COSTPRESS, a startup group-buying site and service based in Franklin, will move into beta phase this summer, entrepreneur Larry Wahl told VNC. Wahl, 50, launched helmet heating and cooling GelCool Systems in 2005. Canada-born and Kansas City-reared, Wahl served in D.C. in the First Bush Administration, as well as with BellAtlantic, Gemini Equities, the Council for American Russian Cooperation and other roles. Wahl said he's had steady investor interest in CostPress, already, though he's keeping his cards close to his vest til he's ready to beta. Currently, the model lets consumers enjoy group-buying power for $1 per product-service category annually. Wahl says only about 30 providers of goods and services are signed-up, so far, and he'll be adding more employees to develop the provider base. He said he'll soon reveal his staff and advisors, all of whom bring strong contacts with providers. A package for the inevitable capital raise has not yet been produced, Wahl said.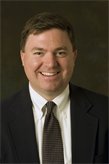 Drew Nord
UNITED TELEHEALTH Services (Tennessee Physician Services) is nearing launch in Nashville, providing telehealth systems consulting and monitoring, and may be self-funded said John Wilter, M.D., CEO of the venture. Wilter and co-founder Sam Ismail, M.D., are both affiliated with HCA/Triad's Centennial Medical Center in Nashville. COO Drew Nord previously provided legal counsel to HCA and was president of a medical surgical supply startup, SourceMark, after a stint with Philips & Brooks/Gladwyn, a telecom manufacturer. Wilters said the venture is likely to be self-funded, though outside capital may be considered eventually. UTS' first regional sales manager is Greg Hensley, who has prior experience with FrontGate Networks, Amgen and Glaxo SmithKline. Wilters said the company will be technology-agnostic. The firm's recent release.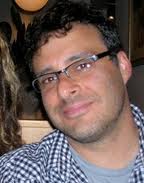 John Pisciotta
MUSICSYNK, based in Nashville, aims to be the "first global sync rights organization," promising to accelerate sync licensing by connecting copyright owners to licensees worldwide, as well as to "music supervisors in film and television, movie trailers, advertising, broadcast and gaming...," according to its website. Founder John Pisciotta says he's funded the venture with savings and sweat equity, but is "having some interesting conversations" with potential strategic investors. MyWerx founder Tim Smith told VNC he's been discussing potential collaboration with Pisciotta. Pisciotta's LinkedIn indicates he's involved with a number of businesses, including MultiplyLive personalized syndication platform; and, Ripcord Entertainment, which he describes as a media holding company. Pisciotta also convenes monthly Innovation Group programs. VNC