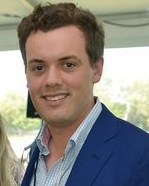 Update: Dec. 17, 2020 - Now they've added Rye. Release. Oct. 9, 2020 - Hank Ingram formally announced O.H. Ingram River Aged Straight Whiskey. Our April 5, 2018 story is below.-Ed.

NASHVILLE-based startup Brown Water Spirits LLC recently filed to raise $1,275,000 to advance a beverage business led by Hank Ingram, the latest of Nashville's Ingram family to undertake an entrepreneurial venture.
As of its March 29 filing, the newco had raised $700K of its target.
Reached by Venture Nashville, Ingram today confirmed his role in the business, and expressed enthusiasm for the challenge he has chosen for himself. He is listed on Brown Water's recent SEC filing as both executive officer and director.
Also associated with the filing is Robert S. Lipman, a director of the startup who is better known as head of Lipman Brothers, the wine and spirits distributor based in Nashville.
Jason McMurray is also shown on the filing as an executive officer of Brown Water Spirits. He is also a partner in the Franklin-based Brindiamo Group, which offers services spanning capital raises, M&A advisory, marketing and branding, liquids sourcing and related functions. His LinkedIn is here.
Hank Ingram told VNC that formal launch of the new liquor line is likely in summer 2019 and production is likely to be in Kentucky.
He added with good humor that he'd prefer that further details remain "a mystery," for now.
The website of Brown Water Spirits' marketing/PR firm -- Berry Hill-based Double Diamond -- lists about 30 beverage brands the firm has supported, including one dubbed O.H. Ingram's River-Aged Bourbon.
Trademark filings retrieved by VNC via Justia show the company has explored using that brand, as well as a number of other descriptors.
The "Brown Water" in the company's name is typically defined as referring to inland rivers and estuaries, whereas "Blue Water" typically refers to oceans and seas.
O.H. "Hank" Ingram was the father of the late E. Bronson Ingram. VNC research indicates that at least one barge was named for O.H. Ingram.
Bronson Ingram 1978 became chief executive of Ingram Industries Inc., which then included Ingram Book Company, Ingram Materials, Ingram Barge Company, Tennessee Book Company, and Bluewater Insurance Company, according to the Tennessee Encyclopedia.
Today, Orrin Ingram II is CEO of Ingram Industries and of Ingram Barge.
Orrin's brother, Ingram Industries Chairman John Ingram, has sponsored numerous entrepreneurial ventures and is the owner of Nashville SC, the Major League Soccer team. John Ingram is also board chairman emeritus of the Nashville Entrepreneur Center.
Another Ingram brother, David Bronson Ingram, is chairman and president of Ingram Entertainment (DVD distribution and related) and is founder and chairman of DBI Beverage, a distributor of beers and non-alcoholic beverages.
Hank Ingram's LinkedIn shows that he is employed at Ingram Industries, where he has in the past few years held analyst positions in both the parent and its Ingram Content Group subsidiary.
He earned his MBA at Vanderbilt's Owen Graduate School of Management in 2016 and his bachelor's at Washington & Lee in 2013.
Brown Water Spirits' SEC filing shows the company's address as 4400 Harding Pike in Nashville, which is the headquarters building owned and occupied by Ingram Industries. VNC
.
---