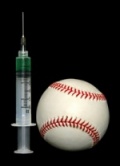 Nashville-based Aegis Sciences Corp. has been quietly expanding its workforce to meet rising demand for its drug- and chemical-testing services.
In a VNC interview Friday, founder David Black, M.D., said 19-year-old Aegis' ranks have jumped from 40 to 178 employees in the past two years, and he believes the count will "easily" hit 200 this year, before reaching 250 during 2010.
Black (at left) declined to detail the company's current finances, but said Aegis is "growing very rapidly, very nicely and we will exceed our budget for 2009. We're blessed to be in a great place," he added. Earlier published reports have pegged Aegis' projected 2009 revenue at more than $30 million.

The seed that became Aegis was planted in 1986, when Black joined Vanderbilt University, where he was tasked with addressing the steroids scandal then sweeping campuses. He was initially an associate professor in Vanderbilt's departments of pathology and pharmacology, with additional responsibilities for both clinical toxicology and the anti-doping program.
Black, 61, recently announced the addition of Bill Frist, M.D. (at right), as a healthcare advisor and Aegis board member. Frist and Black
served together at Vanderbilt University Medical Center, and Black has made clear the duo now sees creating a new strategic alliance with Vanderbilt to be a high priority.
Frist, of course, is the former U.S. Senate Majority Leader and is a Nashville-based partner in Cressey & Co., the private investment firm with headquarters in Chicago.

Black said an Aegis role for Cressey, itself, "has not been discussed." Nonetheless, the emphasis on a VU alliance and a recent Aegis press release regarding Frist's appointment suggest outside capital may yet come into play, if the company follows-through on plans to pursue new toxicology-oriented businesses, including opportunities associated with "...advances in disease treatment with drugs that require compliance assessment; changing patterns of drugs used in medicine that may require changes to existing Aegis services; Federal and state policies governing health care treatment and reimbursement for laboratory based services; and, new laboratory-based services to improve delivery of health care."
Aegis has continually bootstrapped itself since Black left Vanderbilt in 1990, Black said. Aegis has two facilities, one in MetroCenter and one closer to Nashville International Airport.
Black explained that much of Aegis' recent growth has been spurred by client NASCAR's expansion of drug testing to include random testing of drivers, pit-crew members, officials and others associated with the sport. NASCAR's earlier "reasonable suspicion" program required fewer tests.
In addition to supporting NASCAR, the NCAA, public and private high schools and other sports interests, Aegis provides toxicology services for healthcare; post mortem assessments; crime-scene evidence-gathering; criminal-justice testing; workplace testing; and, food testing, mainly focused on supplements.
Aegis and Black, himself, have recently become more visible in the sports world as a result of periodic splashes in media stemming from Aegis' reporting positive drug-test results on high-profile competitors, including Dodgers outfielder Manny Ramirez, who recently earned a 50-game suspension from Major League Baseball, after using performance-enhancing drugs.

Black may hear today whether or not lawyers representing NASCAR driver Jeremy Mayfield (below right, in a Toyota promo shot) will sue him and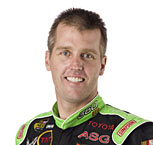 his firm over Aegis' reports that led to Mayfield's recent disqualification from NASCAR racing.

Asked about the litigation Mayfield's camp has threatened, Black indicated he views such matters as an inevitable consequence of his prominent role in sports.

As administrator of NASCAR's program, Black explained, he is responsible for supervising participants' progress along a "roadmap" of requirements and activities that can, but do not always lead to reinstatement. A recent story from The Associated Press said Aegis services have exonerated about 50 athletes who were under suspicion.

In keeping with Black's penchant for maintaining long-term relationships such as that with Frist, Aegis within the past year appointed former Pinnacle Financial executive Jeff Fisher to the post of vice president for finance.

Through Pinnacle, Fisher served Aegis since 1990. In the face of growth, Black also confirmed Aegis is now searching for a controller. ♦