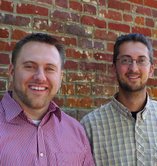 Nashvillian Nicholas Holland believes that, at age 30, with a new baby at home and his business thriving, it's time to take some freshly calculated risks.
Thus, this week, roughly nine months after the project was conceived, Holland and fellow tech entrepreneur Jackson Miller, 31, proudly announced their gpsAssassin game has earned coveted Apple Inc. approval for iPhone users.

The geolocation-based product's initial release has been downloaded by more than 600 users in the past few days, Holland said, despite a $4.95 charge that will soon, according to plan, give way to a refined version that will be offered without charge. A quick move to the "free" basic services will, say the owners, build the user base and, in turn, accelerate growth of the gpsAssassin audience for paying advertisers and others.
gpsAssassin is the first of a series of new products and services Holland and Jackson intend to spawn through their new company, SideHobby LLC.
Holland, whose five-year-old CentreSource interactive marketing agency did $1.8 million in business last year, said SideHobby has put about $10,000 into gpsAssassin, mainly to pay a California-based software developer.
In a series of interviews, Holland acknowledged the odds of a SideHobby creation becoming the next Google are slim. Still, he said, he believes only such an initiative is likely to produce the "big win" that most observers believe Nashville needs in the digital sector, to firmly establish the city's place in the tech world.
Holland also emphasized the online game market is spawning real success stories, including San Francisco-based Zynga, the powerhouse in social gaming that has gained VC investment from Kleiner Perkins Caulfield & Byers, and others.

gpsAssassin will generate revenue, Holland explained, by inducing players to seek higher status and rewards, buy premium services, advertising, product placement and other devices.
Perhaps equally important, Holland notes that his involvement in such undertakings heightens awareness of the brands and credibility of both CentreSource, which now has 22 fulltimers, and its sole owner, Nick Holland.
Holland said that although the gpsAssassin project took about eight months longer to reach fruition than he imagined it
would, "it's been a fantastic learning experience, it's been a fantastic credibility-building experience and it's been a heckuva lot of fun."

Interviews with Miller, who leads SideHobby's technology development, suggest he also sees altruistic benefit for the Nashville tech community. He is also driven by tech challenges, themselves. As evidence: Miller essentially put on hold a venture of his own – Statzen, which is a robust "business intelligence dashboard for content publishers" – so he could drive gpsAssassin toward completion.
SideHobby's first offering now joins a field of thousands of applications in the iPhone App Store vying for user adoption and spending.

Holland said that, in time, gpsAssassin may be modified for other cellular platforms and may be private-labeled for internal use by corporations and other organizations. He said SideHobby is working with students and faculty at Belmont University to adapt gpsAssassin for a kinder, gentler form of social gaming, tentatively dubbed gpsFlagTag.

Other Tennessee developers are following a similar path: Within the past week, Memphis-based Resolute Games and Apps received Apple approval for its latest game.

Holland noted that software can generate nice recurring revenue, with little long-term upkeep. He noted that the Swirbo e-mail security product launched by CentreSource several years ago requires little overhead and generates thousands per month in revenue.

Holland and Jackson have been among the youthful key actors who have spiked Nashville's awareness of the talent and diversity of Nashville's digital-technologies sector.

Despite demands of their own young families – Holland's child is less than a year old and Miller has four children, ages 2 to 7 – both fathers say they're managing to juggle their various roles. It may help that both men were reared in entrepreneurial families, with Holland's parents in the home-health supply business and Miller's in technology and, more recently, in retailing via their Plato's Closet clothing franchises, which they control via L2M LLC.
Both were also among those who shared authorship of last October's first Nashville Startup Weekend, where the gpsAssassin concept first sprang to life, during a weekend of volunteer collaboration among tech-sector professionals. A second Startup Weekend is tentatively slated for this fall.

Though the new game involves playful driveby tweeks or "humiliations" of opponents roaming the GPS-linked cellscape, the marketing of gpsAssassin may fail to amuse nongamers, given its tagline, "Kill Your Neighbor." In the hyperlanguage of the gaming world, the gpsAssassin site declares, "Now you can kill your neighbor from the comfort of your phone! Assassins is a location-based game you play on your mobile device. You earn Blood Money by attacking and assassinating others with any weapon you can imagine. But wait, its not that easy – players can use armor to defend themselves, as well as launch a devastating Counter Attacks!"
SideHobby plans a gpsAssassin launch party June 16, at CentreSource offices, 1313 4th Ave. North(37208). ♦