Updated 10:02 a.m. corrections in italics.
BRIAN PETERSON and Mike Taylor, founders of both Bandbox and its RedRovor widget, have sold both to Social Chutes, a holding company now forming under majority owner Joe Storey, the principals told VNC.
Peterson and Taylor, both 33, have sold all their interests to Chutes, which is controlled by Storey with co-investors Jim Aylward, the CEO of Brentwood-based Sy.Med Development who also has interests in music, film, entertainment and other fields; and, Illinois-based investor Gary LeVar, according to VNC interviews with Peterson and Storey. Terms were not disclosed.

Brian Peterson
Peterson said he's unlikely to focus on music and entertainment, going forward. Prior to co-founding Bandbox he spent more than a decade in new media and entertainment with EMI, Sony Music Entertainment and others.
Mike Taylor
Taylor, Peterson said, plans to relocate this summer to Boulder, Colorado. The two entrepreneurs were undergrads together at Westmont College and friends since grade school in San Diego, Peterson said. (When VNC originated coverage on Bandbox, it was on the occasion of the death of PassAlong Networks.)
Storey did not say he's abandoning music, despite it being a crowded sector; rather, he stressed that within "30 to 60 days" he's likely to be ready to release a new business model for Social Chutes and its holdings. At the core of that model is likely to be something that is "a little bigger umbrella than just music."
The model is likely, he said, to be characterized as a "technology social media e-commerce strategy play." Any "affinity-type" segment could become a target market for selling more goods and services to ensure a viable Social Chutes revenue model, he said.
Storey said the new owners will disclose their plans for Social Chutes and its holdings in the next few months. Aylward, he said, will be lead business development, while majority owner Storey will run the company, Storey said. Storey also controls Franklin-based Simplify4, a software development firm that says it has interest in the entertainment, healthcare and education verticals. Aylward has music, entertainment and film-industry ties, including his Cool Vibe Publishing.
Four-year-old Bandbox offered performing artists free distribution of artists' original content, hoping to make money on sale of physical goods and premium services; RedRovor, a more recent social-gaming initiative, is designed to support sharing of music via Facebook.
Peterson told VNC he'd made a final attempt to raise additional capital during a regional venture conference earlier this year, but had failed to secure commitments. He expressed regret that investors remain difficult to find in the key $100,000 to $1 million bracket. Still, he said, "we're real pleased how it turned out and we're very excited for the artists and all the clients we've had along the way."
"It's a tough go, being an entrepreneur, it's a battle every day...growing something from the ground-up," he continued. Peterson and his family intend to remain in Nashville, where they have homesteaded for a decade, Peterson said.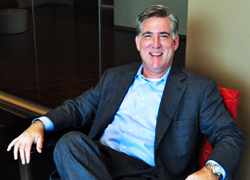 Social Chute's Joe Storey
Storey, speaking in a separate interview, at one point spoke of entrepreneurism in similar terms: "an entrepreneur is in war," he said. With Bandbox four years old, and with Storey and his allies having made what 48-year-old Storey termed "a strategic investment" last fall, it was time for further change -- from an entrepreneurial company to an operating company, Storey affirmed when asked by VNC.
Peterson and Taylor are each married with two young children each, he noted, adding, "it's tough on the family, it's a lot of hard work, it's a lot of late nights... You're pivoting, you're changing. Every day is a kind of a real challenge. It's been one of the toughest environments," adding "we're well pleased with what we've accomplished [from] where we started."
Peterson's LinkedIn page says, in part, "Within a year [apparently, 2008-09], Bandbox had already reached the 10,000,000 impression benchmark and had captured a significant piece of the market and incremental mindshare, boasting clients such as Taylor Swift, Keith Urban and Paula Abdul. In 2010, Bandbox rolled out a SaaS subscription model that has generated 4x-5x the industry standard for yearly revenue/artist. Today, Bandbox continues to be an industry leader in D2C sales and social commerce." VNC