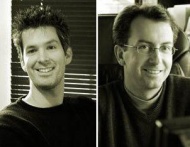 Sitemason, the 8-year-old content-management system developer and hosting services provider with offices up several flights of stairs in Suite 5 at 110 30th Avenue, would like you to know that "our news is we are not hiring."
VNC is providing details about Sitemason's office – in which an overstuffed green corduroyish sofa is a focalpoint – because during our interview the day before Thanksgiving, we found there was no news at Sitemason.

How could that be? Well, first, they still have the same space they've had several years, and there are still just five people working there, including Co-founders CEO Tim Moses and President Thomas Conner. So, no real-estate news. The cofounders made clear they're not looking for the kind of growth that requires hiring and or any kind of sustained management of other human beings. Ergo, no hiring news.

There is also no news about them gnashing their teeth or slitting their wrists about Sitemason ranking at the very bottom (17th) of the Web-developers ranking published Nov. 28 by Nashville Business Journal. They're good with that.

By the way, Sitemason told NBJ they have 350 webdev customers – including a lengthening relationship with Vanderbilt University – who pay them a total $450K annually, suggesting there's maybe another $200K coming from web-hosting income. Moses and Conner told VNC they'd like to say their income is "$500,000 to a million." They also said they think they support a total of about 600 "hot sites." They'll check that number and get back to us.
There was almost some news: At one point, Moses became enthusiastic about demonstrating a cellphone app he's

developed, called "the Premiere Pirate Translator." It generates piratey insults and instant messages for all occasions, with some "Yarrrrr!"-type audio possibly coming later. Unfortunately, Moses is not working on that, right now, so there's no pirate news, either.
Neither is Sitemason in trouble because of the financial meltdown. They've positioned themselves as the "low-cost provider" – "beer versus wine," as Conner put it. So, in this environment they're doing well, according to Moses, who adds that among Sitemason customers, "the Web is probably the last thing they're going to cut."
At the moment, Sitemason's only apparent business "problem" is whether to say, as Conner put it, "we're overwhelmed" with work; or, to follow Moses' advice: "Just say we're extremely busy." Either way, per-employee revenue is growing steadily, they said – meaning, No news about tech guys being overwhelmed.
Moses explained Sitemason can handle a steadily high level of work partly because they only develop new software features that can be used by all their Sitemason content-management customers. They don't accept "one-off" development projects that can run amok in a small company.

In addition, Moses said Sitemason is saving gobs of money by relying on the Amazon.com's Elastic Compute Cloud (EC2), rather than managing its own server farm. He said EC2 gives Sitemason access to thousands of virtual servers, with no hardware costs – all at "a fraction" of what they were previously paying such folks as Hosting.com. So, said Moses, they get "a phenomenal amount of [hosting] business on an ongoing basis," generating that coveted recurring revenue.

Lastly, there's no news, at all, about the Sitemason salesforce. They said they don't "really" have one. They rely mainly on word of mouth and tight relationships with "a couple good-size ad agencies" and about a dozen Web designers who want to offload web content and related services to Sitemason, allowing the designers to focus on design.

Moses said Sitemason likes being "a local business" with customers who know "we're going to take care of them," rather than becoming an impersonal provider, far away from customers. He cited as an example of that ilk GoDaddy.com, the large cut-rate provider based in Scottsdale, Ariz.
Asked if having such a solid business isn't a bit boring, the executive pair responded in unison, "We're not bored!"

Moses, 40, said that in addition to continually refining Sitemason products and services for their local customer base, they spend a lot of time studying emerging technologies and trends, for future use. "I'm amazed," he said, "at how much technology is out there."

Gradually, it became clear in VNC's interview why Sitemason is a relatively news-free zone: They avoid complexity that breeds problems and aren't excessively ambitious. They simply want to ensure the company stays financially strong and manageable, averting the need for extremely rapid growth, recruiting capital or selling the firm.

"We want a stable, growing business," said Moses, rather than a business that lurches and surges with large waves of new products or customers. Said 42-year-old Conner, "We really want to set our own agenda... We see a lot of people get recycled, and people who 'reinvent' themselves all the time. That's their thing, their energy," he said, but it's not the way he or Moses wants to live.

There are even more personal reasons behind Sitemason's paucity of news. Most of it's about personal time. For Moses, being a husband and father of six children is clearly high on the list. He's also a big fan of National Pirate Day. And, both Moses and marathon-running Conner are pretty heavily involved in community and civic activity, individually supporting groups ranging from Belcourt Theater to a Baptist church.

There's also the fact that both Moses and Conner have "done" high growth, and now prefer their more temperate course.

Moses, a 1992 Vanderbilt University School of Engineering computer science graduate, co-founded, led and later sold Nashville's first Internet provider, Telalink Corp., as well as another service provider named Telasar. Conner, a Vanderbilt economics grad (1988), joined Telalink in 1995, and has worked with Moses 13 years. Sitemason, originally known as Monster Labs, was formed in 1999.
Telalink, by the way, was sold in 1999 to a high-growth company – Herndon, Va.-based PSINet – which ran aground and sought bankruptcy protection. Many of Telalink's assets were bought by Nashville's Nexus Group, previously known as ISDN-Net. ►