Bullpen Ventures is warming-up to fund up to 12 start-ups per year, said the VC-backed incubator's co-founder, Stuart McWhorter. Bullpen's home plate is within the Nashville Entrepreneur Center (NEC).
Bullpen Ventures management will select technology-enabled companies, with heavy emphasis on healthcare, but with serious consideration also accorded social media, media, entertainment and sustainable social ventures sectors, said McWhorter.
Funding will begin at $15,000 per company, with additional $15,000 tranches provided some Bullpen startups, when warranted, up to a cumulative $45,000, he explained. The fund's initial capitalization plan is still being "worked-through," he added.
S. McWhorter
As part of Bullpen's business relationship with the NEC, NEC President and CEO Michael Burcham will help Bullpen spot startups that might be a good fit for Bullpen. Bullpen's own deal-sourcing and pipeline-management team, plus its investment committee, will select companies for funding, McWhorter explained. Bullpen portfolio companies will initially reside in the NEC, he said.
McWhorter is also co-founder and president of Brentwood-based Clayton Associates (CA). As previously reported, he is joined in the Bullpen initiative by John Ingram, who is chairman of both Ingram Industries and Ingram Content Group, and a member of CA's advisory board. "John is an investor and will serve on the investment committee," McWhorter told VNC.

Gibbs
Landon Gibbs, who is CA's director of healthcare initiatives, reporting to CA co-founder Clayton McWhorter, has begun spending 2 to 3 days per week on Bullpen business at the NEC, said 42-year-old McWhorter. The widely known elder McWhorter is a former president of HCA and is chairman of the NEC's board of directors, among many other ongoing civic and business roles. CA's site says the company has invested more than $125 million in about 100 ventures in the Southeast.
Bullpen's sourcing, evaluation and investment processes will be highly standardized for efficiency, said McWhorter. Advisors will in due course be retained to support those processes, with multiple law and accounting firms enlisted, as part of an effort to ensure community participation, he added. A partnership with a nonprofit organization may help advance the social-ventures portion of Bullpen's agenda, which aligns with a stated objective of the NEC under Burcham, McWhorter said.
The Bullpen business-intake process will be established within about 30 days and within roughly 60 days McWhorter will increase his initial half-day per week schedule onsite at the NEC venue to a full day per week.
Companies that outgrow Bullpen and are prepared to seek $100K-150K or more in follow-on investment will be invited to pitch other investors, said McWhorter.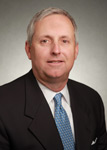 John Burch
Triple Play Ventures, another CA partnership focused on early-stage companies, will be among investors standing ready to vet deals for follow-on investments, but other non-CA funds will also be invited to participate fully at that juncture, said McWhorter. CA executive John Burch is partner and executive vice president of Triple Play, as well as a principal in FCA Venture Partners, CA's fund-management arm. CA, itself, typically invests $1-$5 million in more mature companies, while Triple Play invests up to about $500,000 in earlier-stage companies, according to CA's website.
Bullpen is complementary of, rather than competitive with the efforts of other incubators and investment groups in the community, including JumpStart Foundry, launched within the past year, said McWhorter.
"Bullpen" was actually the name assigned to an area in Clayton Associates' offices when the firm began operations in 1996. From the outset and for about three years afterward, cubicles were reserved at CA for executives looking to start new businesses, McWhorter explained. Often, the executives were beginning or resuming entrepreneurial careers after years with HCA or HealthTrust, he added.
Though he never played baseball, McWhorter said Bullpen communications will probably draw heavily on the sport's lexicon, as when it talks about "pitching" to investors. VNC