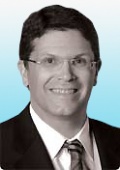 Update 2:45 p.m.: Although e+CancerCare staff have not responded to a query regarding Lang Aston's duties, a contact at Stephens Inc. said today that Aston is e+'s chief financial officer. Our story as originally reported:
Nashville's e+CancerCare has named Bob Kinard the company's chief administrative officer.
Kinard (at right) previously spent more than two years as vice president and chief financial officer with ConnectivHealth Inc., the owner of publisher HealthTeacher.

Prior to joining ConnectivHealth more than two years ago, Kinard was chief corporate development officer for Passport Health Communications, where he spent seven years.

Earlier, he was director of development for Phycor and director of KPMG Health Ventures. He also served as a senior analyst with AmSouth Bank. Kinard's responsibilities have included shaping corporate financial and development strategies, and handling mergers and acquisitions and strategic partnerships.

He may find himself using all those skills in his new CAO job. e+CancerCare creates comprehensive outpatient cancer care centers, by helping providers in urban markets consolidate fragmented services, acquire existing centers, or create and operate centers, de novo.

The company has projects underway in each category, in Colorado, Wyoming and Texas. Services include financial solutions; facility development; operations and management; education and sales; and, marketing.

The cost and efficacy of cancer treatment is a major focal-point for all parties in the healthcare delivery system. A number of national initiatives are addressing efficient and effective delivery of care, with an eye toward improving outcomes overall, with particular attention to some demographic sectors, including urban minorities that typically benefit less from advances in treatment than other segments of the population.
e+CancerCare began in 2002 with backing from Nashville entrepreneur Charlie Martin (at right). The company began

life as E+Healthcare, after its founding by current CEO Timothy Petrikin, and former CFO Jerry Eyler. Both men had worked with Martin in Martin's former OrNda HealthCorp, the publicly held hospital-management company that was sold to Tenet Healthcare for $3.3 billion, in 1997.
Martin is chairman of e+CancerCare. He is also chairman and CEO of Vanguard Health Systems Inc., the $2.8 billion (2008 revenue) company that Martin formed in 1997, coincident with his OrNda exit.

Martin's career as investor, entrepreneur and operator has included serving as president and CEO of HealthTrust Inc. (HCA's rural-hospital spinoff); and, serving as director and executive vice president at Hospital Corporation of America (HCA), and as chief operating officer for General Care Corp.


Martin's numerous investments over the years have also reportedly included Symbion Inc., which is headquartered a stone's throw from Vanguard Health, in the Burton Hills office complex. Symbion is led by CEO Richard Francis, whose resumé also includes a stint with Martin's HealthTrust.

Martin has also invested in HealthStream Inc., the Cummins Station-based healthcare learning and research-service provider (NASDAQ:HSTM); and, in HealthLeaders.com, a publisher than spun out of PassPort Health Communications, in 2000, and which was sold in 2004 to Waltham, Mass.-based Decision Resources. (Kinard worked for HealthLeaders' former CEO Scott McQuigg, now CEO at ConnectivHealth.)
There have been other additions to the "e+" management team, this year: In May, Lang Aston (below right) is reported to
have joined e+CancerCare from the investment-banking team of Stephens Inc.

No details on Aston's duties have been forthcoming from the company. However, VNC research indicates that prior to Stephens Inc., Aston served in senior banking roles with Lehman Brothers, Citicorp and Bear, Stearns & Co., while based in New York and Nashville. His work has often centered on originating underwriting engagements and M&A advisory business in the healthcare services sector.
More visible members of the e+CancerCare management team include President and Chief Development Officer Amy Radcliff, who has a heavy sales background in the broadband and telecommunications fields, with Cable & Wireless, and other companies; and, Chief Operating Officer Robert Rhymer, who has previously served in executive roles with Symbion, HCA and Tenet Healthcare.

Three of the four e+CancerCare corporate board seats shown on the company's website are filled by executives of Chicago-based private-equity investor Frontenac. Frontenac's only known prior investment in Nashville was with Founder/CEO Marguerite Sallee Kondracke's Corporate Family Solutions, which Frontenac exited when CFS merged with Bright Horizons.

Kinard earned his MBA at the Manderson Graduate School of Business of the University of Alabama in 1992, and his finance degree at Florida State University, in 1987. He holds a CPA license. ♦