NASHVILLE is among markets slated for increased attention from the Angel Capital Group (ACG), the investor network originally based in Middle Tennessee, said CEO Eric Dobson.
The ACG network, now based in Knoxville, includes at least 200 accredited investors participating via six chapters in five states. Within four years, it expects to have 25 chapters, and after it has 40 to 50 U.S. chapters it will look at international expansion, said Dobson.
The ACG push is likely to be fueled with fresh capital. Dobson said he is making the rounds of ACG chapter leaders for their input, and is modeling a working-capital raise in the $1MM to $2.5MM range, for possible execution this year. In 2015, ACG could attempt to raise a $10MM sidecar fund, he said.
Eric Dobson
Building out the ACG network will allow the company to widen its deal pipeline and make more seed-stage investments. It currently sees "phenomenal" deal flow of 300 to 500 applications annually, and typically makes eight investments per year, usually in the $100K to $300K range, but sometimes up to $500K, said Dobson. ACG participates in financings through equity investment; convertible debt; and, sometimes via revenue sharing.
In Tennessee, seven-year-old ACG now has about 60 registered Angels, concentrated mainly in Nashville and Knoxville, with nearly half of that total active at any given time. ACG looks to expand its in-state Angel base. Dobson noted that ACG Angels tend to be younger accredited investors, rather than at or near retirement; and, they are thus more likely to stand-down periodically to tend to business and family matters.
ACG has aggregated 32 companies in its portfolio, has had some "positive" exits, and a number of its current holdings are close to returning capital to investors, Dobson told VNC.
He also explained that ACG embraces portfolio diversity: For example, it expects to close soon on an investment in a "revolutionary, patent pending" computer cooling technology; and, its current holdings touch on robotics, medical devices, digital media, cloud-based applications, mobile, analytics, data security, bio-diagnostics, and materials, among other sectors.
Click HERE for its investment criteria and for transactions in the past 24 months. (The ACG website is to be updated this week, to reflect all this.)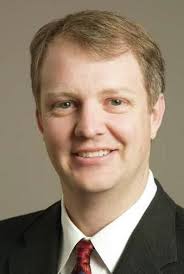 David Vulcano
ACG's Nashville division has been led 18 months by David Vulcano, its local chapter president. By day, 44-year-old Vulcano is an HCA assistant vice president for clinical research compliance and growth.
Dobson runs the ACG network's strategy, financing and back office, and leads ACG interaction with potential syndication partners, such as Nashville Capital Network (NCN) and the recently formed Lighthouse Fund in Knoxville, he confirmed.
ACG and the Lighthouse micro-investment fund have indirect ties, as well. For example, one of ACG's Knoxville members -- long-time entrepreneur Mike Carroll -- is also a director of Tech2020, the Oak Ridge-based economic-development organization that is a Lighthouse champion. Also, former ACG Knoxville chapter President Roger Kiger is among voting members of the Lighthouse Fund, according to a recent media report.
Because Angels nationwide typically take only portions of seed rounds, syndication among Angel groups is more common than competition, Dobson said.
ACG's contemplated working-capital raise would, among other things, allow ACG to hire two executives to drive chapter formation and to oversee operations and infrastructure, Dobson said, adding that he has candidates in mind for those billets.
Dobson has prior capital-raising experience, so ACG may not need additional advisors, he told VNC. Meanwhile, ACG is in talks with at least one Tennessee law firm regarding a corporate-counsel role, and it now relies on attorneys with Denver-based Fortis Law Partners, said Dobson. It banks with Bank of America and with Lead Bank (Kansas City). It currently has no standing relationship with an outside accountant, but relies at times on C1 CFO, based in Charleston, S.C.
Rachael Qualls
ACG Founder and current majority owner Rachael Qualls stepped-down as ACG CEO in 2013, after relocating from the Nashville area to her hometown of Kansas City, Missouri.
Interviewed for this story, 35-year-old Qualls said she is now focused 100% on Venture360, a software-as-a-service (SaaS) offering for venture capital, angel and other firms, in which she also holds majority interest.
More than 300 groups are using Venture360, which competes with such offerings as ProSeeder and Gust, Qualls told VNC. Both Qualls and Dobson gave credit for development of Venture360's software to James Pierce, a 28-year-old member of the Belmont University Arts faculty who has Web, user interface (UX) and software-development credentials.
ACG CEO Dobson doubles-in-brass as ACG's Knoxville Chapter president. Earlier, he served as co-founder, CEO, president, EVP and member of the board of directors of TrakLok, a Knoxville-based startup (and erstwhile recipient of ACG investment); and, he was CEO of an RFID-centric startup based in Charleston, known as Navigational Sciences, according to his LinkedIn. Dobson holds undergraduate and advanced degrees in Geography from the University of South Carolina and the University of Tennessee.
Related: VNC research suggests that further information regarding Lighthouse's recent fundraising -- estimated by some to be in the vicinity of $3MM -- may be released by the time of Knoxville's "Big Idea" business plan competition, June 24th.
The Knoxville Chamber-led "Big Idea" contest is co-sponsored by Tech2020. Tech2020's Center for Entrepreneurial Growth (CEG) helps early-stage companies connect with investors, among other functions. VNC