UPDATED 9 March 2015 - iQuantifi announced today it won Best of Show recognition and has been accepted to the Plug and Play FinTech Accelerator at Sunnyvale, Calif.-Ed.
FINTECH startup iQuantifi is "not a one-app tech company, by any means" and may seek to fund development and growth with a Series A capital raise, later this year, said Co-Founder and CEO Tom White.
A target range for a possible Series A round in 2015 is under consideration. Proceeds would be used to help fund recruitment of sales personnel and other talent, integrate more of its technology into its platform, and other purposes.
White, 43, emphasized that iQuantifi has a "pretty robust" business plan with "six or seven phases" spanning multiple revenue sources beyond its existing "core decision-making engine," which helps users shape short-term goals, make "intent-based purchases of financial products and services" and execute financial strategies for themselves and their families.
iQuantifi offers software-generated recommendations tailored to individual users' profiles, including time horizons and objectives, with no human advisors in the loop, a factor that White says helps make the offering affordable for users. The software is employed for achieving goals in the very short term or for longer periods up to five years. Disciplined debt paydown at a pace consistent with achieving other clearly defined goals is among platform parameters, and the system offers-up options for life insurance, retirement and other objectives.
Tom White and Co-Founder and Chief Product Officer Karen White, who is his spouse, together hold controlling interest in the company, which has thus far attracted 20 Angel investors, the CEO confirmed.
No decision has yet been made regarding mandating an investment banker for a letter-round, and no banker was used for its previous Seed and Angel capital raises, together totaling $1.5MM, White told VNC.
Asked about advisors, White confirmed he relies on attorneys with Palo Alto-based Pillsbury Winthrop Shaw Pittman, as well as Nashville attorneys with Baker Donelson Bearman Caldwell & Berkowitz and accountants with KraftCPA. iQuantifi banks with First Bank. It uses Utah-based MX (fka MoneyDesktop) for automated aggregating of its accounts. Boston-backed BackBay Communications handles its PR.
iQuantifi's core B2B revenue is derived from three primary categories: Integration of iQuantifi's solution with the systems of institutions it serves; annual software licensing fees; and-or, annual tech support fees for services provided in support of clients' inhouse IT staff, said White. The company has not yet announced landing any institutional contracts, though White said he expects announcements regarding some such customers and other partnerships to be made, soon.
iQuantifi is a registered investment advisor (RIA) in all 50 states. It cannot take commissions. VNC understands that the company can, however, earn fees when users of its technology platform buy certain products from iQuantifi's platform customers.
Initiatives in-the-works at iQuantifi include pursuit of opportunities to out-license its technology to banks, credit unions, insurance companies and investment firms; development of a new iQuantifi user dashboard; and, securing one or more partnerships with investment firms, to augment iQuantifi's decision support services with investment execution services.
iQuantifi is pre-revenue, in that it has not yet started generating sales among the prospective institutional clients it has targeted as a priority. A bit of direct revenue is earned from consumers who find their way directly to its website.
VNC research suggests iQuantifi competitors include New York City-based LearnVest and Redwood City, Calif.-based Personal Capital. Those two companies -- five and seven years old, respectively -- have together raised more than $170MM in outside capital, according to CrunchBase.
Among other things, the iQuantifi platform will help institutions and advisors serve the generally less profitable Millenials market segment -- roughly, Men and Women age 25-40, with household income of $40K-$150K. The group includes, among others, young families setting financial goals -- for example, preparing to buy their first home, and often carrying student loan debt.
Emphasizing a balanced approach to personal financial planning, iQuantifi notes on its site, in part, "Solely focusing on debt is not a comprehensive or realistic way to achieve all your financial goals. As a goal-centric planner and investment adviser, iQuantifi does not only look at one piece of the picture, such as debt. It looks at how to best achieve all your goals in the shortest timeframe possible."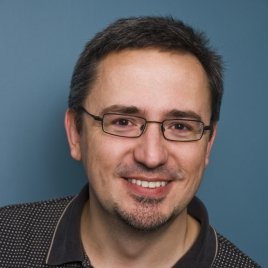 CTO Siegienski
The iQuantifi team totals seven FTEs, including CTO Jim Siegienski, whose LinkedIn says he earned his development chops at Lampo Group (Dave Ramsey), McKesson, UnitedHealth and other stops. Also aboard: Chief Marketing Officer Brian Evans, formerly of WealthAccess; and, General Manager Becca Melton, formerly operations manager for CAP Partners, a company previously owned by the Whites.

The company has 11 patents pending, six of which represent technology that has been coded into its platform, while integration of the balance of its IP is pending or in-process.
A year ago, the Whites sold their CAP Partners business in asset management and financial planning services, on undisclosed terms. (As a result of the 2014 sale, the Franklin-based successor company is CAP Partners LLC, led by Managing Director Brendan Easterday. Susan Easterday, the director's spouse, manages marketing, administration and related functions for that business.)
Looking for a way to automate financial advisory services for younger clients, White had identified the goal-prioritization pain-point as early as 2006. iQuantifi was spun-out of CAP Partners in 2009, with Karen White devoting most of her time to it beginning in 2011. Tom White began focusing on the business full-time following the CAP Partners sale.
Reared in Southern California, in 1993 White earned a bachelor's in theology and psychology from Loyola Marymount University in Los Angeles. He earlier founded White Merrell & Associates, an advisory business he later sold to Fifth Third Bank in 2001, according to the CAP Partners website. His financial career began with American Express Financial Advisors, according to the CAP Partners site.
Though he's no stranger to selling businesses he has created, White said when interviewed for this story that -- while he recognizes that the Fintech sector is very hot and there may be opportunities -- he is focused solely on growing iQuantifi, rather than on selling it.
In autumn 2012, iQuantifi was among 45 finalists in that year's NEXT Awards competition, run by the Nashville Area Chamber of Commerce and the Nashville Entrepreneur Center. iQuantifi is a Delaware-chartered company.
In May 2012, iQuantifi was chosen among seven "Best of Show" startups during the annual FinovateSpring event in San Francisco. VNC