HealthTeacher may have reached a veritable "inflection point" in its 12-year campaign to make a growth business out of improving the health, fitness and physical and emotional safety of America's school-age children.

Scott McQuigg
Memphis-based SSM Partners has just joined the firm's sponsor ranks, alongside majority owner Chrysalis Ventures, based in Louisville, HealthTeacher announced today. SSM's entry via an announced $5.27 million C-round financing led by Chrysalis coincides with the exit of six-year investor Petra Capital Partners, CEO Scott McQuigg confirmed for VNC. Previous rounds had totaled more than $10 million, McQuigg said.
SSM's website states that the firm targets "companies that have reached an "inflection point" – the point at which the company's concept and business model are proven and, with proper execution, significant growth and profitability are achievable within a three to five year period." SSM Partners partner and new HealthTeacher board member Casey West said this morning that seven of SSM's now-10 portfolio companies have strong healthcare themes. (Not shown on SSM's portfolio page this morning are both HealthTeacher and EnableComp, which is led by local entrepreneur Jim Lackey.)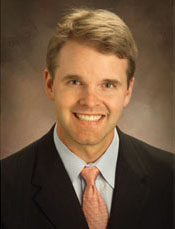 Karleski
No HealthTeacher revenue or profit figures were provided, but in a release issued today Chrysalis Managing Director Koleman Karleski referred to HealthTeachers' "tremendous growth"; and SSM's West described HealthTeacher as "a high growth company." Annual business bookings were up 206 percent 2009-2010 and 172 percent 2008-2009, McQuigg told VNC this morning. Other research indicates the company's 2007 revenue may have been nearly $5 million. It has 20 full-time employees and 11 part-timers, McQuigg said.
Karleski said in today's release, in part, "As child obesity rates reach epidemic proportions, it's more important than ever to have engaging and interactive health and wellness programs in place to help children and adolescents make healthy choices."
The financing just completed will let HealthTeacher build-out the product-development team it recently announced being formed around new Vice President John Herbold, who joined the firm a few weeks ago from Apple, where he was a widely known iPhone OS insider, as reported by VNC. Sales and marketing are also due more resources and, eventually, there may be additional C-level hiring, said McQuigg.
HealthTeacher's assertion in today's release that in 2010 the company "cemented its position as the leader in youth health education" is plausible, VNC research indicates. There are more than 55 million K-12 students, nearly 4 million K-12 teachers and about 133,000 K-12 schools in the United States, according to information online. HealthTeacher materials refer to the company reaching 10,000 schools, 5 million school-age youth and 30,000 teachers.
While the K-12 student health, wellness and safety landscape is dotted with scores nonprofits focused on school districts, an Internet scan turns-up few, if any for-profit competitors pursuing a model that leverages relationships with healthcare providers and other community allies in the manner that HealthTeacher does that to drive subscriptions to its online curricular, instructional and assessment content and tools.
A number of the major nonprofits do produce online educational and curricular materials. Many other nonprofits take the form of market- or region-specific youth-health partnerships.
HealthTeacher is bidding, in effect, to become one of, if not "the" overarching platform for essential content and instructional and assessment tools. HealthTeacher's offerings are heavily influenced by standards created by the Centers for Disease Control and the U.S. National Health Education Standards.
HealthTeacher continues to support classroom education, but has for several years seen hospitals as key allies, along with broad community collaboratives. HealthTeacher's alliance with Orlando Regional Medical Center's Arnold Palmer Hospital for Children is evidence of the company's efforts. The partners recently held their first Upstream conference for C-level hospital and school-district executives, and others. (Chrysalis Founder and Chairman David Jones Jr. is a former chairman of the board of healthcare provider Humana, also based in Louisville.)
Franklin-based Healthways (NASDAQ:HWAY), the wellness and well-being specialist, recently announced it has partnered with BlueZones to launch a Vitality Quest program to award Vital City sm designation to cities that engage 100% of local schools and other market segments in producing lower healthcare costs and higher levels of well-being.
As previously reported by VNC, McQuigg, HealthTeacher and predecessor companies have gone through rebrandings, corporate relocation and numerous other changes, since inception.
Interviewed by VNC, 43-year-old McQuigg, father of two, praised his HealthTeacher management team and board and explained, in part, "I've never been more fulfilled at a company. HealthTeacher is a great opportunity to do good and do well at the same time. We are building a company where a key measure of success is how many young people's lives we positively impact by improving their physical, social and emotional health. Plus, we get to work with progressive hospitals and school districts who are leading in their communities because they know the importance of improving youth health..." VNC