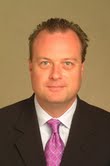 Updated, May 2018: Medaxion filed for $497K raise. 25 July 2016: $950K Form D filing today here, taking total past $7MM since inception. Dec. 29, 2015: CrunchBase: Filing for nearly $1MM raise here. Oct. 8, 2015: NBJ reported Medaxion has raised at least $5MM, to date. Its latest filing was in June, for $1.3MM. Sept. 7, 2012: Medaxion reported to the SEC in August 2012 that it raised another $800K. Our Dec. 14, 2009 story follows. - Ed.

Jeff McLaren is launching Medaxion LLC, which uses the iPhone platform to help on-the-move anesthesiologists capture their charges for billing and reimbursement.
McLaren told VNC in an interview Thursday that Brentwood-based Medaxion "has an opportunity" to become the first-to-market provider of "a charge-capture and practice-communications solution" for anesthesia practices that have heretofore proven resistant to adopting devices for streamlining business processes.
McLaren said he and six friends-and-family investors have bankrolled the work of the past 20 months to bring the company through the "startup in development" phase.

He made clear he continues to seek additional investment as the company transitions from making preliminary sales calls to full-on business development. He described Medaxion's posture as "just on the cusp of rolling the product out to market."

Anesthesia practice management is a field that has long begged a technology breakthrough. It should be noted Medaxion

supports administrative functions, and is not a clinical-alerting and safety system.
According to McLaren, previous attempts to win technology adoption among anesthesiologists have been thwarted by the unwieldiness of laptops in the hands of the nomadic specialists, who are continually shifting from hospital to hospital and from one operating suite to another.
McLaren said he believes the extraordinary popularity and penetration of the iPhone translates into ready adoption by anesthesiologists and their practice teams, many of whom are already personal iPhone users.



He said that while it's very likely that most major healthcare IT companies are "deploying, developing or considering a handheld platform," and "a variety" of players "are going to get into handheld devices," he believes his company has stolen a march on them.

Meanwhile, VNC research suggests that the development and adoption of handhelds for anesthesia charge-capture has been studied closely more than five years, and not-so-large companies - such as Beverly Hills-based Medelix - have also been moving toward market with applications embedded in iPhone and Blackberry platforms.

In addition, potential competitors may lurk among companies that have traditionally targeted clinical support of medication
management, such as Atlanta-based Docusys. Some projects underway within Vanderbilt University Medical Center may eventually focus more heavily on charge capture, and some VU-linked startups, including Birmingham-based Acuitec, may have some capacity for shifting their focus to the revenue cycle.
McLaren, 43, currently wears all the C-level hats at Medaxion. At the moment, he said he relies on some in-state contractors for support, with all Medaxion's tech-development work thus far outsourced entirely to Terralien Inc., a six-year-old open-source applications-development company in Raleigh, N.C.

McLaren said that in the first quarter of 2010, concurrent with the launch of formal sales efforts, Medaxion plans "to expand our in-state staff to include full time resources..." Beyond the company's iPhone interface, Medaxion's Web presence has not been launched, and McLaren has not yet chosen a Web developer for the site.

Currently, most of the business information-systems environment that envelops patients is dedicated to serving the interests of hospital administration. Consequently, itinerant anesthesiologists and their staffs have often been left to rely on paper-dependent processes.
Medaxion's offering is designed to improve the provider's efficiency and productivity, while reducing anesthesiologists' spending on billing operations. McLaren indicated he believes such gains can contribute to improving clinical activities, in part by providing "a real-time status capability to the entire provider team."
McLaren is best known in Nashville for having joined Bobby Frist 19 years ago in co-founding HealthStream, the Nasdaq-listed healthcare education and research company based here. It was during McLaren's ten years with HealthStream as president and chief product officer that the company executed its $55 million initial public offering. He remains a member of HealthStream's board of directors.
Not long ago, McLaren also spent four years leading Tennessee-based Safer Sleep LLC, which acquired New Zealand-
based Safer Sleep Ltd. The acquired company provided anesthesia safety and record-keeping for hospitals in New Zealand and in the United Kingdom; and, managed the U.S. entry and regulatory navigation for the company's suite of online services. McLaren said he led Safer Sleep in recruiting investment totaling $5.1 million, during three rounds of capital-raising.
Among other pursuits, McLaren works with startup companies through his consultancy, Southern Genesis LLC. McLaren earned his bachelor's in business and philosophy at Trinity University.

McLaren was chairman of the board of directors of Nashville Technology Council, in 2000, the nonprofit's first full year of operation. ♦