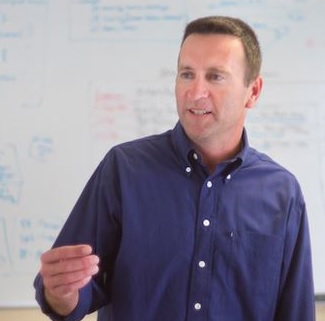 mSIGNIA INC., the software company born in California to avert fraud and combat cybercrime, is nearing the end of its Series A capital raise and "absolutely" will add staff within the headquarters unit it has created in Nashville, Co-Founder and CEO Paul Miller told Venture Nashville.
Six-year-old mSIGNIA has 10 FTEs in Nashville, where "the bulk of our development will occur," said Miller, who added that only he and one engineer are currently based outside of Tennessee.
The company's Nashville headquarters is anchored by mSIGNIA Co-founder and CTO George Tuvell, 35, who told VNC that Nashville's beauty and hospitality were among reasons he and his family waned to locate in the Franklin area.
CEO Miller explained: "We selected Nashville as corporate HQ because it is central to a credit card company / strategic investor and other opportunities we see. Certainly the talent in the area is rich and the costs are lower than Silicon Valley. When I led Symantec's mobile security efforts, I learned a valuable rule-of-thumb: Have sales people in the Bay Area but keep your tech talent elsewhere if you can, because poaching in the Valley is legendary."
An added benefit, said Miller, is the fact that city's hospitality and Music-Entertainment offerings makes Nashville "a great scene to entertain client" and he finds first-time visitors to Nashville "very pleasantly surprised" by the city's attributes, and the lack of a state personal income tax is also appealing.
George Tuvell
Miller added that while Nashville must continue to compete for individual techies and tech companies in Mobile and other hot sectors, it's good for the city to always be "one of the hot darlings at the dance" when relocations are considered. Word about Nashville is spreading and television exposure (as via Lionsgate's "Nashville") must certainly be among factors contributing to the city's rising profile, he added.
Prior to pursuing the current Series A raise, mSIGNIA attracted Angel participation and secured an undisclosed strategic investor active in the financial sector.
He decline to project the value of the Series A. No single entity owns controlling interest in the company and the Series A will also involve minority stakeholders.
Miller said mSIGNIA is essentially a tool provider for trusted webservers. mSIGNIA's focus is currently on the financial sector -- ecommerce, banking and payments-sector players. Healthcare "could be" the company's next big target, he said.
mSIGNIA's solution rapidly executes authentication of device users by relying on continual analysis of anonymized metadata amassed by users within their iOS and Android devices and PCs.
This approach averts many of the user-experience disruptions typically produced by other forms of authentication, said Miller, 50.
With mSIGNIA at work, each user's "digital biometric" presence is continually modified and updated for this purpose. The tech platform works on devices new to the user, as well as via devices the user has long possessed, according to the company's materials.
The technology evaluates anonymized data's conformity with metadata related to the user's typical behavior in accessing music, calendar and wireless LANs, among other things. No personal identifiable data is used, said Miller.
In a press release earlier this year, the company said that rising use of multi-factor user authentication "often includes using a device's serial number or a user's fingerprint; when these are not available, the online service must revert to awkward login processes like passwords or codes sent via an SMS message."
Customers pay mSIGNIA a recurring monthly payment, and the company offers an upfront library and software development kit (SDK), as well as professional services, including, but not limited to security consulting, said the CEO.
Riggs Davie in Nashville is mSIGNIA's corporate legal counsel, while Haynes Boone attorney David Bowls is primary IP counsel.
The company banks with Silicon Valley and is "on the lookout" for accounting and related services in the Nashville area, said Miller.
Asked about intellectual property, Miller said the company has been issued a valuable "no prior art" patent.
Asked about competitors, Miller said, in part, that "since 'identity' is so fundamental in nearly every online engagement, we run into various companies in fraud reduction, healthcare compliance, corporate IT and (increasingly) social media." He acknowledge sometimes facing such incumbents as Threatmetrix and InAuth.
Asked about consolidators in the sector, the CEO said, "It is too early to tell which companies serve as consolidators, which serve as assets for others and which will fail." He confirmed that mSIGNIA has previously declined at least one potential bidder's approach.
Miller declined to comment on any exit preferences the owners might have. He said he confident mSIGNIA is strongly positioned to address demands in the Mobile/Connected economy, and suggested that the clout of a number of once-iconic sector leaders has deteriorated.
Though chartered in California, mSIGNIA is likely to become a Delaware company later this year. VNC
.
---