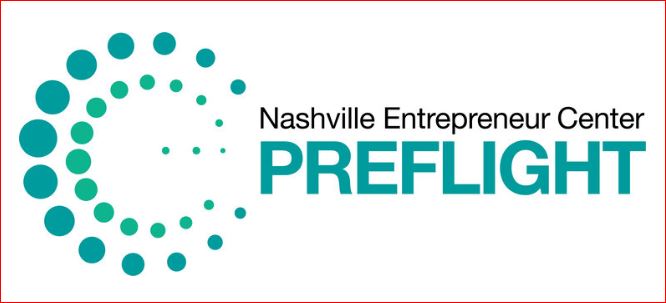 TWENTY-one Tennesseans with business ideas and-or startups just-off the drawingboard signed-up for the latest PreFlight cohort program, now underway at Nashville Entrepreneur Center (EC).
On Jan. 27, the entire cohort began the 14-week program that is designed to help founders translate, morph and-or vet their money-making "ideas" into businesses.
Thus far, eight of the 21 PreFlight cohort members have chosen to divulge their concepts to the general public. Each business concept seems destined to change people, organizations and-or business processes.
The 8 willing entries are shown below. Concept descriptions are VNC adaptations from material provided by the EC). Fuller VNC stories on individual companies will be forthcoming, as warranted.
► ARMSTRONG, Darren - The LivingRoom - Opportunity: Shared interest in craft beer is the focal point for a brick-and-mortar taproom for creative, educational and coworking pursuits, in diverse and inclusive community.
► BIRDEE, Gurjeet MD - Mind-Body Evolution - Opportunity: Creating and leveraging new technologies to deliver traditional mind-body and meditative practices.

► BREEDLOVE, Winter - TRANSlate - Opportunity: Its app helps individuals who are in gender transition access financial literacy, employment and other community resources.
► BROWN, Reuben - Goalable - Opportunity: A software platform that helps to address mentee's personal and individual challenges.
► COLE, Brittany - Career Thrivers - Opportunity: Helping to create more equitable workplaces by enabling organizations to engage, develop, retain and lead diverse workforces.
► DAVIS, Ryan - SampleShelfRx - Opportunity: Its digital solution supports sample-drug distribution among pharma companies, prescribers and patients.
► GRANT, Mallory + Stanfield, Kaitlin - Skip Cosmetics - Opportunity: A beauty brand that aims to help ensure that individual beauty regimens are fashion-aware, time-saving and convenient.
► YARBROUGH, Elizabeth - TALENTality - Opportunity: "Help small businesses turn their people into their competitive advantage."
Other PreFlight coverage here. VNC
. last edited 1736 7 Feb 2020
---