Galen Partners, the Stamford, Conn.-based private-equity firm specializing in healthcare, has become the Nashville Entrepreneur Center's 2012 healthcare sector sponsor. Galen apparently put down serious money for the privilege.
Galen was one of "about 12 large healthcare companies and investment firms" that actively considered the opportunity to be the anchoring sponsor of the first of NEC's four strategic sector programs for 2012, said NEC President-CEO Michael Burcham in response to a VNC query.

Burcham
The magnitude of Galen's sponsorship commitment was not revealed, but Burcham acknowledged that becoming the sponsor of one of the four verticals entails "a significant commitment."
A source familiar with the offering said Burcham's use of the word "significant" was very definitely an understatement on Burcham's part. Galen's commitment will enable NEC to support numerous healthcare startups, said Burcham.

Jahns
Galen Managing Partner David Jahns was in Nashville this week making the rounds, including a meeting with State Economic and Community Development Commissioner Bill Hagerty, as well as attending a healthcare M&A conference, according to sources. Jahns has not yet responded to a request for comment. Jahns' bio notes that Galen invests in "technology-enabled services, medical devices, medical robotics, diagnostics, consumer driven healthcare, telemedicine, clinical decision support, and health information technology and SAS solutions."
Burcham has for a year or so been a Galen special venture partner. In that role, his duties include assisting "evaluating new opportunities, due diligence of potential investments, serve on Boards, advise CEOs," according to his LinkedIn.
Galen was previously an investor in Burcham-led and New Jersey-based ParadigmHealth, which was acquired in 2007 for a reported $230 million by then-Inverness Medical Innovations (now, Alere). (Business focus: providing catastrophic rehabilitation services for complex neurologic cases.) Burcham hosted what was likely Galen's first visit to the Entrepreneur Center in September 2010; the previous spring Burcham participated in Galen conferences in Florida and New York, according to Burcham's online journal.
NEC intends to announce later this fall the 2012 sponsors for its remaining strategic verticals: Digital Media & Entertainment, Technology and Social Enterprise, Burcham said. The NEC board is likely to hear more of all this when it convenes, next week.
The NEC currently lists nearly 40 sponsors on its website. Among unknowns: The degree to which NEC will collaborate with existing sector allies, including the Music City Music Council (MCMC) and Nashville Technology Council (NTC), both of which are developing relevant strategic initiatives. Incumbent NEC industry-vertical sponsors are LBMC, Ingram Digital Content, Tennessee Economic and Community Development and Clayton Associates.
Galen, founded in 1990 by the late William Grant, has invested in more than 70 companies since its inception in 1990, and has more than $1 billion in assets under management, according to its website. The aggregate value of its portfolio companies has surpassed $10 billion and it has been party to two-dozen or more co-investment opportunities, the company says. Its website identifies more than 40 current and past porfolio companies across three sectors: medical devices and technology, information technology and services and specialty pharmaceutical.
None of the active portfolio companies currently displayed on the Galen site is based in Tennessee, although Galen holds a stake in Perigen, which is an ally of Nashville-based DigiChart. Galen also previously held stakes in Stericycle (which recently bought Nashville's NofifyMD) and in PetDRx, which was briefly based here and then sold to VCA.
The Galen news comes close-on-the-heels of the NEC's $2.5 million grant from the Economic Development Administration of the U.S. Department of Commerce. The award was predicated on NEC's promised economic impact and on helping Nashville recover from the Flood of 2010, the EDA said in a release.
That grant, combined with at least $1.4 million in funding previously raised and announced by the NEC, virtually guarantees the NEC's move from Lower Broadway to Rolling Mill Hill. As previously reported, Burcham has long had his eye on "11-11-11" as the date on which he'd consummate that headquarters relocation. In the new quarters, the NEC is likely to be able support as many as 70 in-residence entrepreneurs, simultaneously.
Galen's stepping forward is fresh evidence of NEC's progress in executing an aggressive plan that Burcham sketched-out for the NEC board of directors that chose him among nearly 100 candidates. He assumed the post July 5, 2010. The NEC board is led by Chairman Clayton McWhorter, founder of Clayton Associates (CA) and a former president of HCA.
Conditions for Burcham's appointment and the NEC's subsequent leap forward were partly shaped by the community's earlier work. For example, major studies of Nashville and Tennessee economic-development opportunities were released in the 2000-2006 timeframe. The work was sponsored by Partnership 2010, the Nashville Area Chamber of Commerce, Tennessee Technology Development Corporation (TTDC) and State ECD.
These and many other efforts led to keener awareness of the state's economic and natural advantages; the comparative economic advantages of Nashville and other substate regions; the laggard commercialization of intellectual property by in-state universities and others; and, a clearer view of regional and other flavors of 'parochialism' that had hampered advancement of the state's high-growth sector.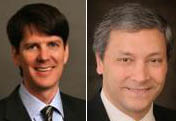 Frist & Shmerling
Later, the Nashville Chamber launched a roughly 75-member entrepreneurship task force led by CEO's and Co-Chairs Mike Shmerling (XMi) and Bobby Frist (HealthStream). Among other objectives, the task force eventually pointed to the need for a focalpoint for local entrepreneurship, and three years ago it set into motion the creation of an online "virtual" Entrepreneur Center, a project led by Joe Kustelski (Rockhouse Partners, now a unit of Etix).
Tennessee's entrepreneurial atmosphere improved sharply in 2009, when a modicum of bipartisanship broke out in the Tennessee General Assembly long enough to create the state's TNInvestco program. TNINvestco uses insurance premium tax credits to trigger capital formation and investment by ten newly chartered funds in early-stage companies. One consequence: Seven of the state's 10 TNInvestco funds are based in Metro Nashville, one is in Tullahoma and two are in Memphis.
Earlier this year, Burcham accepted the role as part-time CEO of Startup Tennessee, an affiliate of StartupAmerica.
Simultaneously, the Haslam Administration's "Jobs4TN" economic-development program had signaled it may rely on Burcham, the NEC and others to mentor and train entrepreneurs residing in nine regional business accelerators throughout the state.

Burcham engages in these and other interrelated activities in full view and has publicly expressed no concern about being stretched too thin. The matter of NEC staffing is under review, Chairman McWhorter recently told VNC. VNC