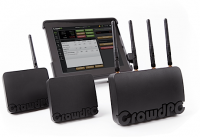 Update 24 July 2014: VNC learned today this entrepreneurial venture apparently ceased operations in July 2013, a few weeks after this story appeared. This story will be updated, as possible. -Ed. 

DISRUPTIVE ventures with "home run" potential are the dream of Tennessee investors who hungrily sift for gold amid the dross that swells their deal-flow pipelines.
Yet, as told by dogged tech innovator Jack Campbell, during the past three years or so many investors here and elsewhere passed on his pitch for about $200K to bring to prototype the potentially disruptive new CrowdPC platform, operating system (OS) and global application marketplace that would target the needs of small and medium-size businesses, which currently strain to pay for more expensive solutions and related services, or go without.
Campbell told VNC that, ultimately, he understood that, although CrowdPC was far along after years of development, many viewed it as a still-risky tech investment.

Alan Sielbeck Sr.
Now, veteran local entrepreneur Alan Sielbeck Sr. , age 59, has confirmed that he is prepared to invest up to $50 Million toward backing startup CrowdPC LLC, which Sielbeck now leads as CEO. Campbell is recognized as the company's co-founder and platform manager.
Sielbeck earned his deep pockets the old-fashioned way: He currently owns Interstate Air Conditioning, Kimbro Mechanical, First Call Ambulance and other Nashville companies, said Campbell.
Earlier, Sielbeck was chairman and CEO of once publicly listed Service Experts (NASDAQ: SERX; NYSE:SVE), a Nashville-based group of HVAC service centers that sold in 2000 for a reported $157MM to Lennox International, after operating four years as a public company.
Asked about his view of CrowdPC's prospects, Sielbeck told VNC, "I have been involved with numerous new business startups and understand the glaring need for an inexpensive, intuitive business management system that can deliver real time critical information to business owners. Most small business owners are not accountants and they need a simple way to organize and manage information, so they can focus on building their business. CrowdPC's computing platform will be a game-changer for the global small business community, and Nashville, Tennessee is proving to be a superb location for our development operations."
Jack Campbell
Campbell added, "This could well be the 'exclamation point' that everybody's been looking for" within the Nashville technology community.
"This is the first all-new computing platform for business in 30 years," he emphasized, adding that it has "100% new" hardware, operating system (OS) code, app-environment code, cloud services code,  connectivity and networking systems, plus an app store to distribute applications. Its cloud resource provides live-data storage, data mining and analytics, and multi-location support.
If the case Campbell makes proves compelling in the marketplace, that long-awaited [!] could hit home this summer.
Early discussions have been held with key technology reviewers among IT media and an initial batch of "seed" developers are being recruited for a pilot run in July. A manufacturing push is slated for November-December, said Campbell. Then, commercialization is the next hurdle.
One local techie who was asked over the weekend for a reaction to CrowdPC's plans said he'd heard only a little. "The idea sounds great," he said, adding that it obviously carries "a high execution risk." The big unknown, he said, is whether or not "they can sell it at a reasonable clip" among customers who might be wary of "a big innovation." Another local tech-sector observer cautioned against "change-the-world" claims.
Those crucial tech reviews that Campbell is now cultivating, and the initial verdicts from developers will presumably be leverageable, igniting a CrowdPC promotional campaign to reach both customers and developers via industry, social-media and trade channels, with no outside help from interactive-media agencies or PR shops, said Campbell.
Sielbeck's play could prove good news for the Mid-Tennessee economy, as well as for the world's Web application developers, who are being invited to develop for the CrowdPC Market, which CrowdPC owns and oversees in its role as value-added reseller (VAR).
At least for now, there is roughly zero chance that CrowdPC's owners will take further outside investment and the dilution that goes with it. "The only scenario is that it could grow so fast, that it could totaly outstrip [CrowdPC LLC's owners' capacity] to fund it, but that is not anticipated," said Campbell, who added, "Alan's pretty deep in both cash and credit."
Thus far, Nearly $800K has been drawn against Sielbeck's $50MM commitment and the company is likely during 4Q13 to call for at least $2.6 Million to support manufacturing scaleup, said Campbell. It currently has 40 full- and part-time workers dispersed globally, and a roughly $35K monthly burn. All its manufacturing is to be done in China, where Campbell has years of personal experience.

Alan Sielbeck Jr.
The entrepreneur's son, Alan Sielbeck Jr., age 34, is president of CrowdPC LLC and he confirmed for VNC Friday that as a result of the recently completed transaction, his father holds majority interest in the CrowdPC LLC, with Campbell-led CrowdPC Inc. holding 35 percent.
The younger Sielbeck is the owner of Nashville-based Safe Network Solutions, was previously an operations manager for APL Logistics (NOL) and earned his B.S. in the School of Engineering of Vanderbilt University.
CrowdPC LLC equity-holders alongside Sielbeck Sr. include son Alan and local signage businessman Bobby Joslin. Campbell shares ownership in CrowdPC Inc. with long-time associate Ryan Quinn, the company's co-founder and software manager, and nearly a dozen friends and family, he confirmed.
Quinn plans to relocate from his current base in Iowa to Nashville, bringing with him a family and an extensive portfolio in web development, said Campbell, adding that he teamed with Quinn more than six years during the germination and evolution of what is now CrowdPC.
It has a strategic relationship with Bank of America, for card-transaction and other services that are part of its business plan; and, it is nearing the end of a vetting process with a national wireless carrier, said Campbell.
CrowdPC's advisors include attorneys with Tune Entrekin and accountants with DGLF CPAs & Business Advisors. It banks with Pinnacle Financial, said Campbell.
The CrowdPC offering is likely to prove particularly attractive for owners of smaller businesses who recognize Mobile and Bring-Your-Own-Device (BYOD) trends that are reshaping how business looks at infrastructure, said 55-year-old Campbell. Offerings currently in the market are often too expensive or complex for smaller businesses, he added.
The new platform allows customers Web/Cloud access to the CrowdPC software suite, via any browser and WiFi-enabled smart device, with no need for third-party IT assistance, said Campbell.
Using the CrowdPC platform means customers have "one computer than runs all their business software, with one database underneath all that software, so that all of the data is in exactly the same format and can be used by any software, with no custom-translation services required," Campbell continued.
The current product suite includes its wireless app server, touch terminal systems, USB wireless connection hub, digital signage module, and such peripherals as barcode scanner, payment terminal, cash drawer and thermal printer. Each CrowdPC wireless app server supports over 60 WiFi connections, linking phones or tablets, point-of-sale (POS) terminals, hubs, sensors and controls, according to the CrowdPC website. Apps and other products will be sold singly or in bundles, and include business-building tools such as data-base marketing, loyalty-rewards program solutions and other applications.
Leave toolkit home
says CrowdPC
The company's offering comes preloaded with basic business applications, as well as access to the app market for add-ons. Its offerings rely heavily on open-source ingredients broadly familiar to its targeted developers, including Linux, MySQL database and LAMP app server stack. Its accounting app is "100%" its own, said Campbell.
Campbell acknowledged that he also consults to other seed-stage ventures, in addition to his estimated 70 hours per week on CrowdPC. 
"I'm a mass production technology hardware specialist," he explained, "I hope to have many other [similar ventures] ahead of me, where I think of or align myself with a great idea, distill it to a practical business system, fund it, erect it, and leave it in the capable hands of others to run," he added.
According to his Linkedin profile, Campbell's prior experience includes several China stints and strategic development posts with several U.S. firms, in addition to having led consumer PC/electronics-oriented DVForge as its founder, president and CEO. That firm was based in Hendersonville.
Earlier this year, Lennox sold the former Service Experts business to American Capital, a private-equity firm based in Bethesda, Md. VNC