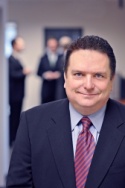 Health IT services provider Cumberland Consulting Group, based in Franklin, announced Jan. 4 that some of its management team have joined with New York City-based Tailwind Capital and local individual investors Stuart and Clayton McWhorter to reconstitute ownership and capitalization.
Tailwind's website indicates it seeks to make "control oriented investments" of $25MM-$100MM in healthcare and in business and communications services. Tennessee Secretary of State records online indicate Cumberland became a Delaware-flagged company at year's-end 2011. The formerly Tennessee-based LLC increased its members from 4 to 7 during 2010-11, according to the online records.
In a release, the owners said that, going forward, Cumberland aims to diversify its offerings to include non-provider customers, while expanding its geographic footprint, organically and via mergers and acquisitions.
Cumberland Founder, Managing Partner and CEO Jim Lewis was previously a partner with Ernst & Young and a VP with CapGemini E&Y, according to his bio online.
The parties said that financing for the transaction was provided by NYC-based Deerpath Capital and by Pinnacle Financial Partners; and CCG was advised by Atlanta-based CHILDS Advisory Partners.
The McWhorters are associated with Clayton Associates, the local VC; Stuart McWhorter is also a founder of Bullpen Ventures, the business accelerator. Clayton McWhorter is a former HCA president, among other distinctions. This story will be updated, as warranted. VNC