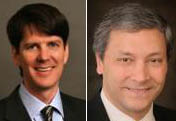 The Entrepreneurship Task Force of the Nashville Area Chamber of Commerce and Partnership 2010 today announced plans to create an online community to help connect local entrepreneurs, investors and other stakeholders, in order to improve the region's capacity for cultivating innovative and competitive companies.
The new e-community - dubbed a "Virtual Entrepreneur Resource Center" - is one of several short- and long-term recommendations finalized today during a meeting of the Entrepreneurship Task Force (ETF), which has been co-chaired the past year by HealthStream CEO Bobby Frist and Mike Shmerling, who is chairman of Choice Food Group. ETF member Keith Gregg, principal in JRG Ventures, chaired the ETF's stategy-development committee.

A Chamber release this afternoon provided comments by the co-chairmen. Shmerling said, "By assembling resources, brainpower, and access to capital in one place, Nashville is demonstrating to the rest of the country that we're serious about fostering entrepreneurial activity in our community." He added, "Nashville is full of smart, creative, independent people, and this Web-based Resource Center will help them achieve their goals as entrepreneurs."

In the release, Frist said, in part, "I believe the health of this region's economy begins with a strong entrepreneurial culture, and the creation of the Virtual Entrepreneur Resource Center will further develop that culture in new and important ways."


The committee's work was supported by Chamber Chief Economic Development and Marketing Officer Janet Miller (at left) and her staff. ETF members are listed at the end of this article.
In addition to the online presence, the ETF calls for:

• Increasing contacts with early-stage capital companies in key cities already targeted by Partnership 2010 and directing more of the Chamber/P2010 branding and public-relations effort toward such those and other influentials. McNeely Pigott & Fox Public Relations was cited as a resource under contract to P2010.

• Supporting other groups' development and outreach efforts, with emphasis on both formal institutional events and less formal events, including, but not limited to those within the technology community.

• and, convening an advisory group that would explore the mission, functions and funding sources for a formal Entrepreneur Resource Center that would be domeciled in Nashville, probably separately chartered and eventually having actual facilities for meetings, mentoring and other activities.

P2010 will explore creating a 501c(3) nonprofit organization to advance the Entrepreneur Resource Center, according to the Chamber's release. The proposed center is envisioned as having a "permanent campus."
Other recommendations include supporting creation of "virtual boards" of Internet-linked executives whose experience and wisdom could be tapped by startup executives and others. Further, the ETF argues for creating new alliances with regional groups for support of the virtual and future physical resource centers, and for conducting a new business-plan competition.

In today's release Chamber President/CEO Ralph Schulz said, "The Nashville area has already proven to be fertile ground for entrepreneurial activity over the years, and the Virtual Entrepreneur Resource Center will ensure that new generations of entrepreneurs have access to the tools they need to succeed."

ETF members apparently generated a myriad of ideas over the months, and their work has prompted discussion in pockets throughout the business community.

Outside the ETF, an idea conceived by Mike Shmerling - and dubbed "Idea 67" in an earlier VNC story - calls for approaching publicly held and locally headquartered companies, with an eye toward identifying ideas the companies think have merit, but which have lain undeveloped. In the "Idea 67" scenario, local MBA students and others would play a role in developing those ideas into viable businesses, with the public companies retaining majority ownership and little risk.

A year ago, the Chamber and P2010 said in a release, "The Entrepreneur Project...will build an agenda that strengthens the growth, retention and attraction of high-growth entrepreneurial ventures; analyzes the strengths and weaknesses of the region's entrepreneurial offerings; and markets Middle Tennessee as an entrepreneurial center..."
A 2005 report by Market Street Services said Nashville needed, among other things, to improve its capacity for innovation and its capital resources. That resulted in the Chamber/P2010 blessing the entrepreneurship project in late 2006. The project became operational in late 2007.

Since then, the economy has nosedived and, while the region added more than 5,000 jobs in the most recent 12-month reporting period, that figure stands in sharp contrast to the 18,550 jobs added during the 12 months that ended in February 2007.

In addition, unemployment has risen to 5.7 percent, - versus 4 percent a year earlier - and once good-news stories have darkened, at least temporarily.

In May, for example, Vought Aircraft's Nashville General Manager Dan Tharp told a Chamber gathering that he had fought to retain the company's Nashville manufacturing facility, despite earlier announcement of its closure, partly because, even though the area is not deep in aerospace workers, he found in Nashville the kind of workforce stability that is reassuring to Vought customers and a "good workforce." Since Sept. 28, Vought machinists have been out on strike, as a result of disagreements over health insurance and other issues.
The Chamber recently reaffirmed its emphasis on serving and retaining existing businesses in the region. On Monday, the Chamber underscored the value of existing businesses by announcing that medical-device manufacturer Amsino Medical will expand its Nashville workforce from 90 to 174 persons, and will investment $3.5 million in capital here. In May, the Chamber said that 43 existing local companies were getting priority attention from the organization's existing-business staff.

Based on a list provided by Chamber-P2010 staff in February, here are the people who have been associated with the project, listed alphabetically by last name, with alternating names boldfaced for ease of reference:
Carter Andrews, Notalone
Murat Arik, MTSU Business & Economic Research Center
Bo Bartholomew, PharmMD
Sam Bartholomew, Adams & Reese
Michael Blackburn, Petra Capital Partners
Germain Böer, Vanderbilt Owen Graduate School of Management
Jim Bradford, Vanderbilt Owen Graduate School of Management
Amy Bunton, Tennessee Valley Authority
James Burton, Middle Tennessee State University
Chuck Byrge, Harpeth Capital
Laura Campbell, Laura Campbell Associates
Ray Capp, Conduit Corporation
Michael Carter, Athena Company
Joseph Cashia, National Renal Alliance
John Chadwick, Claritas Capital
Sid Chambless, Nashville Capital Network
Beth Chase, C3 Consulting
Tom Cigarran, Healthways
Bret Comolli, Asurion
David Condra, Dalcon Communication Systems
Jeff Cornwall, Belmont University
Jeff Costantine, Nashville Technology Council
Eric Cromwell, Tennessee Technology Development Corporation
Mayor Karl Dean, Metro Nashville
Michael Devlin, Pharos Capital Group
Jerome Edwards, Veran Medical Technologies
Kevin Esval, VelocityHealth Securities
Cordia Harrington, Nashville Bun Co.
James Fenton, Cheatham County ECD
Farsheed Ferdowsi, Victor Hope Capital
Bob Fisher, Belmont University
Marc Fortune, Century II
Margot Fosnes, Springfield-Robertson County Chamber of Commerce
Brian Fox, Capital Confirmation
Joe Freedman, American Legal Search
Darrell Freeman, Zycron
Bobby Frist, HealthStream (Co-Chair)
Herb Fritch, HealthSpring
Katie Gambill, Council Ventures
Vic Gatto, Solidus
Keith Gregg, JRG Ventures
John Grzybowski, The Little Clinic
Clint Gwin, Southeast Community Capital
Alston Hamilton, Miller & Martin
Paul Haynes, Nashville Careeer Advancement Center
Joey Jacobs, Psychiatric Solutions
Harry Jacobson, Vanderbilt University Medical Center
Melvin Johnson, Tennessee State University
Jimmy Johnston, Forward Sumner Economic Council
A.J. Kazimi, Cumberland Pharmaceuticals
Drew Kim, Southern Strategy Group
Matt King, Clayton Associates
Matt Kisber, State of Tennessee ECD
David Klements, Qualifacts Systems
Michael Krause, Dolphini Networks
Jim Lackey, PASSPORT Health Communications
Michelle Lane, Metro Government
Bruce Lynskey, Vanderbilt Owen Graduate School of Management
Christine McDonnell, Nashville Area Chamber of Commerce
Stuart McWhorter, Clayton Associates
Blewett Melton, Nashville Area Chamber of Commerce
Janet Miller, Nashville Area Chamber of Commerce
Mark Montgomery, echomusic
Paul Ney, Metro Nashville ECD
Allen Overby, Bass Berry & Sims
Terry Pefanis, Big Idea Productions
Greg Post, Cricket Communications
Marty Rash, nTelagent
Ralph Schulz, Nashville Area Chamber of Commerce
Mike Shmerling, Choice Food Group (Co-Chair)
Chris Sloan, Boult Cummings Conners & Berry
Clint Smith, Emma
Jim Sohr, AIM Healthcare Services
Jim Stefansic, Pathfinder Therapeutics
Lou Svendson, Tennessee Board of Regents
Van Tucker, Avenue Bank
Paul Vanhoesen, cTechnology
Earl Winter, nTelagent
Tom Wylly, Brentwood Capital Advisors
Caroline Young, Nashville Health Care Council
__________________________
Related Articles