PRIVATE EQUITY commitments now total nearly $2BN via the alternative assets investment program of Tennessee Consolidated Retirement System (TCRS).
TCRS recently opted to commit $40MM to Khosla Ventures V, a $1BN early stage-oriented fund being raised by the VC firm led by Vinod Khosla, the co-founder of SUN Microsystems.
This was TCRS's fourth commitment to a Khosla fund, with nods previously to III, IV and Seed B, with TCRS commitments now totaling $110MM to that fund group. Among dozens of holdings, Khosla's Healthcare portfolio -- one of 14 categories, from Advertising to Storage -- includes HealthTap, a Palo Alto-based online medical information repository, Q&A and mobile consultation service.
The Tennessee retirement system also recently committed $35MM to Charlesbank Equity Fund VIII of mid-market buyout investor Charlesbank Capital Partners. This was TCRS's first commitment to Charlesbank. The firm's mid-South portfolio holdings include HVAC player American Residential Services (Memphis); and, Horn Industrial Services (Owensboro), a specialized mechanical services company.
The closing of $1.75BN Charlesbank VIII was announced a month ago. Charlesbank was formed 16 years ago by executives previously associated with the nonprofit Harvard Management Company, affiliated with Harvard University.
As of June 24, total commitments under the TCRS program since inception stood at approximately $1.9BN, ahead of the Charlesbank and Khosla additions. Planned commitments are subject to legal review, as well as, over time, reductions in initial face amount and complete withdrawals. The pace at which commitments are fulfilled as allocations depends largely on the pace of calls from the respective funds' managers.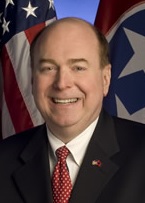 David Lillard
Total TCRS retirement fund assets stood at approximately $42.7BN on June 24. TCRS private-equity program staff -- led by Director Daniel Crews under TCRS CIO Michael Brakebill and State Treasurer David Lillard -- are working against a target of 3% of assets allocated to traditional private equity. The legislation authorizing TCRS's PE investments allows TCRS ample room to raise further the agency's adopted ceiling.
As reported by VNC on June 30, prior to the abovementioned recent commitments, TCRS earlier this year committed to Venrock VII. VNC's Venrock VII story includes a listing of all funds receiving commitments since the private-equity program's commencement in 2009.
No Tennessee fund has yet earned a berth among fund managers docked alongside TCRS. Because TCRS eyes potential investment returns and risk, rather than funds' domeciles, there are no in-state set-asides for Tennessee-based funds. As previously reported, in-state funds' participation in the TCRS traditional private-equity program is not ruled-out and, by all accounts, firms continue to vie for such roles.
A TCRS spokesman confirmed Aug. 1 that no successor has been announced to fill a vacancy in the TCRS Investment Advisory Council, which was reported in the June 30 VNC story. VNC