Updated 20 Aug. 2014: Tennessean reports StudioNow Series B growth round hit $5MM. Earlier: 18 April 2014: StudioNow files $4MM FormD with Claritas and FCA execs named, SEC here. Update 23 Jan. 2013: StudioNow is once again independent as a re-startup, according to this release. Claritas Capital continues to back the firm and AOL retains a minority stake. Our original 2010 story follows-Ed.
The video venture tsunami has reportedly hit Nashville, with AOL scooping-up StudioNow on the crest of a wave that may transform business, itself.
New York City-based AOL Inc. (NYSE:AOL), which spun-out of TimeWarner in December, has paid $36.5 million in cash and stock for StudioNow.
AOL is saying StudioNow's video-production platform will be integrated with AOL's Seed.com content management system; but, reports say StudioNow will continue as a provider of online video creation, management, storage and syndication services.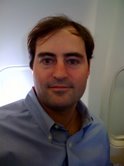 On Jan. 19, VNC requested an interview with StudioNow Co-Founder and CEO David Mason (right), but the company's public-relations representatives said then he wouldn't be available until today. The deal apparently closed Jan. 22. This story will be updated, as warranted.
In a release this morning, Mason is quoted saying, "This new chapter for StudioNow presents a tremendous opportunity for our growing professional creative network to reach new audiences, diversify their assignments and increase their income as the number of projects coming from the numerous AOL properties will create a surge in video assignments." No word yet on the status of StudioNow staff and headquarters, now that it's part of AOL.
As reported by VNC, StudioNow's Mason had been contemplating securing a strategic investor. AOL obviously offered a deal the Nashville team and its investors couldn't refuse.

Under Mason, StudioNow has in the less than three years since its founding attracted at least $4.5 million from such investors as Nashville VCs Claritas Capital and Clayton Associates; plus, such angels as Fred Goad and Jim Kever with Brentwood-based Voyent Partners; Rock Morphis and David McClellan, at Heritage Group LLC; Charles Goldstuck, the former president and COO of Bertelsman Music Group (U.S.) and a private investor at Falconhead Capital; and, investor Wally Loewenbaum.
In addition to Mason, himself, StudioNow Co-Founder and Chief Technology Officer Adam Solesby was a shareholder at the time of our previous report.
AOL CEO Tim Armstrong is quoted in his company's release saying, in part, "AOL also expects to leverage StudioNow's technology and resources to complement the ongoing work of its in-house studios, both for AOL productions, which creates original video programming like AOL Sessions, Unscripted, Moviefone Minute and the Engadget Show, and for its branded advertising and content partners."
Armstrong continued, "The distributed production capabilities offered by StudioNow, combined with our in-house production studio and video resources, help position AOL to capitalize even more fully on the projected growth of video as it establishes itself as a key form of brand advertising in the digital space."
AOL's release notes that analyst eMarketer "projects that U.S. online video advertising spending will increase from $734 million in 2008 to $5.2 billion by 2014. This growth will far outpace any other online format, with a compounded annual growth rate of approximately 39% between 2008 and 2014."

StudioNow will beef-up AOL's Seed.com, a tech platform used in assigning, buying and distributing content work for AOL properties, which reportedly include more than 80 branded and niche-content sites.
StudioNow, chartered in 2007, began operations about two years ago as an online editing resource for filmmakers.

It evolved quickly into a total video- and audio-creation and distribution platform, with robust outsourced and inhouse technology infrastructure, and a nationwide network of creative and production professionals. ♦