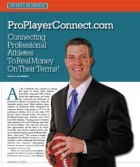 Updates: Nov. 21, 2014: Pitchbook shows round closed at $1.8MM, with Atlas and United Talent now also aboard. Oct. 21, 2014: Overdog files for $2MM raise. LimeStone Fund (a TNInvestco affiliated with Mountain Group), Chicago Ventures join TCVF, et al. Steve Berneman is CEO. August 2012: Pro Player has been reconstituted and rebranded as Overdog. May 26 2012: Jim Lutz advised 25 May that he is no longer with Pro Player. Lutz directed inquiries to Hunter Hillenmyer, a former Chicago Bear player who is apparently now associated with ProPlayer. Our Feb. 26, 2012 story is below.-Ed.
PRO PLAYER CONNECT, pro-footballer Jason Kyle's Nashville-based startup, has a $3MM C-round in its playbook for 2012.
The online service enables pro athletes in virtually every professional sport to review business and professional opportunities and purchase special-offer goods and services, 24x7.
The startup has recruited about $1.75 in an equity and debt B round conducted since the company was chartered in Tennessee 18-months ago by founder, majority owner, chairman and CEO Kyle, the New Orleans Saints player, said President/COO Jim Lutz during a VNC interview.
Jason Kyle
In its earlier seed round, the company raised roughly $500,000 early-on, with investment from some pro athletes, among others; the B round brought in TNInvestco fund Tennessee Community Ventures (TNCV), led by Eric Satz, as reported by VNC in July 2011. Coming out of development stage, ProPlayer's revenue is negligible at the moment, said Lutz. TNCV is likely to participate in the just-ramping C Round, Lutz said when asked.
The new round's proceeds will fund some further online development, but emphasis will be on business development and on broadening relationships with athletes, player associations and other professionals. Spadework on the new round has been underway less than 60 days, Lutz said when asked.
It's too early to tell whether Pro Player might represent the homerun that Nashvillians are perpetually looking for -- locals commented on that issue four years ago here -- but, the venture is positioned in a talkable way and its leadership brings interesting Venture DNA.
ProPlayer serves the athletes who form its coveted consumer base, but its priority paying customers are businesses struggling to grab time and attention from pro atheletes, said Lutz. ProPlayer pursues the most famous athletes, but its bread-and-butter are tied to the "98%" of pro athletes who aren't among the roughly 10 who are regarded by marketers as "move-the-needle" celebrities in the U.S., he continued.
Via ProPlayer, players may view privately 24x7 business offers that involve athletes making compensated personal appearances or endorsements. ProPlayer also serves-up special offers of merchandise and services, often luxury goods with significant discounts, which marketers hope will win player adoption, Lutz said.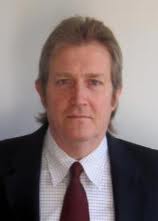 Jim Lutz
On-going development of relationships with ProPlayer constituents has revealed additional opportunities, Lutz continued.
Other services are already contemplated, including an injury-management application that will afford athletes, player associations and others access to a private online resource for tracking injuries, medications, re-occurences, interdependencies and other factors, in the interest of player safety and to provide vital information for dealing with future worker's comp issues, if any arise. The health-related service could end-up being the core of a joint venture with another company, Lutz affirmed.
ProPlayer is identifying a growing list of additional ways to leverage its e-platform. For instance, it is likely to partner eventually with executive recruitment firms for player-placement services, he noted. In its current model, ProPlayer takes a 10 percent markup on appearance transactions and shares revenues from sales of goods and services.
Only after the company's B2B business-development has greater traction and all systems and processes are humming will ProPlayer turn to address consumers at-large. A fan "tab" will soon be introduced on the site, said Lutz. Its currently bare-bones player profiles will be augmented with news feeds, links to the athletes' personal or favorite charitable foundations and other resources, Lutz explained. In future, there'll be player-fan interactive features and support for athletes and fans to raise funds for charities, he noted.
The entire process is "self-serve," with Lutz keeping a close eye on offers uploaded and player reactions to them. Golf, for example, gets strong emphasis among atheletes, and participating brands include Ping and Callaway, Lutz said.
Founder Kyle is very active in the business; employees include Lutz and Brian Vander Mey. Vander Mey identifies himself on Linkedin as a business-development analyst, but he wears many hats, emphasized Lutz. Vander Mey is a 2007 Belmont University graduate and earlier spent a year with Echomusic.
While players from an array of pro sports are already joining-up, ProPlayer has initially focused on leveraging its ties to pro football. After all, highly regarded Kyle has been with a total six NFL teams in his career, thus far.
ProPlayers has roughly 1,100 businesses registered for its site, said Lutz. Its first 1,000 athletes signed-up via word of mouth, he said. Since then, working via the NFL Players Association has helped to bring total registrants to nearly 3,000 individual players.
Athletes are often enrolled via group-enlistment efforts, resulting in registrations by such active and retired franchise players as QB's Eli Manning of the NY Giants, helmsman Tom Brady of the New England Patriots and Titans' stalwarts kicker Rob Bironas and Eddie George, the retired Titans fullback now dba Eddie George Enterprises. All athletes' registrations are verified as authentic, Lutz noted.
With an eye toward broadening the business, conversations have recently begun with the National Basketball Association Players Association and the company is well aware of opportunities worldwide in other sectors, including soccer, cycling, golf, tennis, rodeo, NASCAR, rugby and others. Lutz is also already fielding inquiries about participation from France, Australia and the United Kingdom.
Asked about competitors and allies, Lutz said it is too early in the game to single-out competitors, but he affirmed that Nashville area-based Rivals.com and 247Sports (and 247Vols, both formed by the former Rivals.com founding team) and School of the Legends, plus Knoxville-based Voices Heard Media (led by a former Atlanta Falcons player) are among logical potential partners.
Other partnerships may be forged for support of services, including player-fan chat. Asked about Nashville- and Boston-based Moontoast as a partner, he said there have been only very preliminary discussions on that front.
ProPlayer outsources its technology work, most of which is performed by TeraCode in Buenos Aires, Argentina, Lutz said. Locally, Cabedge contributed to development of ProPlayer's corporate logo. Other advisors include attorneys Morse Barnes Brown & Pendleton (Boston). The startup banks with Avenue Bank and has offices on 17th Avenue South, Music Row.
Kyle began developing the ProPlayer business concept in 2007, according to Crunchbase, and it moved to seed-stage in 2008, winning cash and in-kind tech-development services from tech-venture firm Cali-based Arizona Bay. The Arizona Bay partnership enabled creation of the initial version of the ProPlayer service.
Kyle, soon 40, and Lutz, now 55, connected in 2009 when their networks happened to cross around a Seattle node, not long after Lutz's two-year stint heading strategy and business development with then-Echo (ne Echomusic), the Nashville digital fan-celeb platform that was sold to Ticketmaster.
Lutz was on contract to ProPlayer awhile before suiting-up as president. Earlier, he spent 14 years in senior roles with LogicaCMG, a tech company serving the financial sector; and, among other stops, six years in Boston banks' trade-finance operations. He double-majored at Boston College in psychology and sociology and is an alumnus of Xavier H.S., New York City.
Kyle has been preparing for business quite a while: He studied marketing as an undergrad at Arizona State University (1994), and later attended executive-education programs at Northwestern and Wharton School at the University of Pennsylvania, according to information online. Among other business interests, Kyle owns a minority interest in a Huntersville, N.C., restaurant called Red Rocks, one of Kyle's partners there confirmed for VNC.
Board members, in addition to the CEO, include Scott Kyle, who is a cousin of Jason Kyle. He is CEO and chief investment officer of wealth manager Coastwise Capital Group (La Jolla). Earlier, he and was co-founder of The Active Network (Active.com), a startup success story, and was earlier CEO/Publisher of Triathlon Group North America (TriAthlete magazine); and, previously, publisher of Dearborn Trade, a trade pub that sold to Washington Post Business. Earlier, he was an analyst with Chemical Bank (now JPMorgan/Chase). He holds a Harvard MBA and degrees in economics and international relations from Tufts University and London School of Economics. Noted: In 2008, The Active Network, which Scott Kyle co-founded, bought Nashville-based Automated Licensing Systems and Outdoor Central, and as then-reported by VNC the company had major investment from ESPN.
Also on the Pro Player board: Dave Graham, co-founder and managing partner of Arizona Bay LLC and Arizona Bay Technology Ventures, which has done development work for ProPlayer. He was earlier co-founder of OpenAuto.com and still-earlier ran sales and operations for Autoweb.com, one of the early Web successes, according to information online.
Graham holds a UCLA bachelor's and MBA's from both Columbia University Business School and UC-Berkeley, according to information online. VNC