RentStuff Inc., the Nashville startup whose online platform supports transactions among people who borrow and lend things, is nearly ready to trade some of its shares for seed capital.
A $3 million-or-better pre-investment valuation for the company seems likely, said co-founder and CEO Christopher Jaeger, who added that RentStuff has received an investment termsheet from one investor, and will soon formally seek between $500,000 and $1 million in seed capital.
He expects to finalize terms for the seed round shortly and then close the doors within 60 days, thereafter, with all moneys due-in by Dec. 31, Jaeger said. Informal discussions have been held with most of the state's TNInvestco funds and Nashville Capital Network is another likely target, he said.
Jaeger's also letting friends on Wall Street know about RentStuff and he expects to find interest not only in Silicon Valley, Chicago and New York, but also among such groups as the Auburn Angel Network (AAN), he said. Lightbank, the Chicago-based fund created by Groupon's founders, may be among targets, partly because it has invested in another sector player, Zaarly, Jaeger hinted.
The company is a recent graduate of the JumpStart Foundry accelerator and the venture has picked-up as an mentor and equity holder Michael Burcham, CEO of the Nashville Entrepreneur Center. Jaeger said he also relies on a network of advisors that includes Nicholas Holland of CentreSource, David Corts of AOL/StudioNow and Jozef Nuyens, co-founder of Castle Recording Studios and the Fivestone Partners investment and management group. RentStuff's outside advisors include attorneys with Baker Donelson Bearman Caldwell & Berkowitz; and, the firm banks with Bank of America.
Seed-round proceeds will mainly fuel sales and marketing, building individual and business users on both sides of rent/lend deals, he said. Initial emphasis has been on consumer-to-consumer transactions, and shifting some energy toward building-out RentStuff's B2C-tailored offering has begun, he explained.
By roughly the end of its first 12 months in operation, RentStuff expects to have 8 to 10 full-timers, including one or more developers, a designer and eventually a sales manager. Within that period, it's likely to expand its scope to two other cities, perhaps Chicago and Atlanta, Jaeger said. The company expects to hit breakeven at the end of Year 2 and somewhere over the horizon there's an A-round, he added.
A lead investor for RentStuff's round has not yet been chosen, but the RentStuff team has had preliminary conversations with TNInvestco fund managers and angel-capital representatives, said Jaeger, age 29.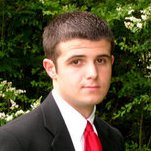 Adam Albright
RentStuff might easily have been a California startup, if it hadn't been for co-founder and CTO Adam Albright's experience at Vanderbilt's Owen Graduate School of Management, where Albright expects to complete his MBA in 2012. (Albright holds a VU degree in computer science.)
Albright won a $15,000 grant through a Summer entrepreneurship competition held at Owen, and then prevailed on Jaeger -- who had already relocated with his wife and brother to California, in anticipation of setting-up RentStuff there -- to enter the JumpStart Foundry accelerator program and base the business here. JumpStart's investor day on Aug. 25 put RentStuff in the spotlight alongside classmates.

Robert Jaeger
Jaeger made clear that, while he might eventually have a hand in other startups, he's intensely focused on RentStuff. The new venture is the sort of startup he had in mind when he left his investment banking career in New York City. He'd joined Bank of America Merrill Lynch there, after earning his Princeton University economics degree. He's also joined in RentStuff by brother Robert Jaeger, who is RentStuff's COO and lead business developer. Robert is also a BoA alum and carries an engineering degree from Georgia Tech.
RentStuff is designed to build a "trusted network of renters and lenders" who use the RentStuff search engine "to find just about anything available for rent in a specific location," the company says. Lenders set up personal profiles, describe the price their offered goods and typically require a security deposit. They pay 10% of the rental fee received to RentStuff. After terms are finalized via the RentStuff messaging system, the parties exchange personal contact information and arrange pickups and returns. Renters pay by credit card after they secure and examine the item. Both renters and lenders render reviews of each other, post transaction.
Since the site quietly went live in mid-August, RentStuff has attracted more than 200 members and will soon conduct a formal launch for the Nashville market. Business customers include Thompson Music Rentals; and, RentStuff expects soon to promote to students who want to rent outdoor gear from the Vanderbilt University recreation center, said Jaeger.
Its competitors include Craigslist, Snapgoods and Zilok, as well as such pure rental shops as RentCycle; some of the competitor startups have attracted investment from the likes of Collabfund, VC Anderson Horowitz, assorted Silicon Valley Angels and others, he said. VNC research turned-up entries in adjacent segments, notably Canada's RentThings.ca, which makes matches but doesn't get involved in payments.
RentStuff's timing is good, said Jaeger. The culture is moving from individual consumption, toward collaboration consumption (ZipCar, NetFlix, RelayRides) and with growing interest in person-to-person sharing, e.g., AirBNB for lodging borrowed from personal owners. Albright recently blogged about related matters here.
Jaeger doesn't claim to have everything figured-out; rethinks will periodically occur: He noted, for example, that the venture was originally named Esymbee, which was meant to be a reference to symbiosis between borrowers and lenders.
The team soon realized that 'Esymbee' was too esoteric. They then succeeded in buying for well under $5K the URL "RentStuff.com," which Jaeger said the owner had held since 1996, planning to build something, some day. VNC