Nashville-centered scientific talent has lured venture-backed Nodality to establish a key research and development facility in Franklin.
Nodality Inc., a South San Francisco company that's in the life-science portfolios of four powerhouse investors, is establishing an advanced product development laboratory at 405 Duke Drive.

The lab is ramping-up quickly, partly because it is being largely staffed by scientists who are all alumni of a Brentwood laboratory-services company.



In the course of its Series A and B rounds of investment, Nodality won backing from Kleiner Perkins Caufield & Byers and TPG Biotechnology. The B Round brought in Maverick Capital and Pfizer Venture Investments, in addition to the A-round VCs. KPCB Partner Risa Stack (left), who holds a Ph.D. in immunology, serves on the Nodality board of directors.

Nodality aims to help newly diagnosed cancer patients by providing physicians "patient management" tests and tools for use in making clinical diagnoses, treatment and monitoring decisions.
Nodality President and CEO David Parkinson told VNC yesterday he intends the 10,000 sq. ft. Franklin laboratory to become

operational in April. It is to be home for seven of the company's toal 40 employees. For the past six months, the company operated from smaller temporary space in Williamson County, but began moving to the new facility, last week.

Parkinson told VNC that while he still has little first-hand knowledge of other players in Nashville's biotechnology community, he's learned "these are world-class people who are in the Nashville area and, in addition, it turns out that Nashville is a great place to have such a facility."

He said the new lab will be in Nashville essentially because he believes "you hire the smartest people you can find," and his Nashville employees are well-rooted in Nashville. He indicated that what he's learned about Nashville through a series of visits has only served to reinforce his decision to locate his product-development lab here.
Heading-up the laboratory here will be Senior Vice President Greg Stelzer, who was previously co-founder and scientific director for
Cytometry Associates, which was acquired by Esoterix Laboratory Services, which has since been acquired by Laboratory Corporation of America Holdings, Inc., also known as USLabs.

USLabs' operations in Brentwood continue and an employee there said this morning that most, if not all employees who left have been replaced, which would suggest a net increase in the two companies' ranks in Middle Tennessee.

Stelzer told VNC yesterday, "all of the Nashville Nodality senior science group were originally Cytometry Associates folks, including Keith Shults who was a co-founder with Dennis [Grimaud] and I. Dennis left the company shortly after Cytometry Associates was acquired by Esoterix, and the core Cytometry Associates science group became the Esoterix Center for Innovation."

A third co-founder, Keith Shults, also moved to Nodality from Esoterix and is Nodality's director for advanced cytometric applications. Grimaud is now CEO of Diatherix Laboratories, which has offices in Brentwood, with R&D facilities in Alabama.
Parkinson said researchers in the Nashville lab will primarily be "taking the information we develop out of our discovery labs" in the Bay Area and will be "working to convert [what is learned] into laboratory tests that could eventually be used to inform patient care."

Parkinson explained that Nodality technology, by helping simultaneously characterize numerous pathways within individual cells, affords physicians and others a better sense of "whether or not a drug is going to work."

In the interest of improving clinical decisions, Nodality technology aims to define signaling pathways within individual cancer cells and to identify and understand patients' individual cancer-signal signatures.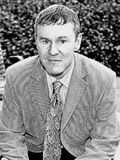 In its work, Nodality employs flow cytometry technologies developed by Stanford University Associate Professor Garry Nolan (at left) and licensed from Stanford.

Flow cytometry is a technique for counting, sorting and studying microscopic particles suspended in a stream of fluid (Wiki).

Parkinson said Nodality is essentially "surrounding" Nolan's technology with standards and bioinformatics technology, which enables professionals to manage and analyze huge amounts of data flowing from analyses of cancer-cell signatures and behavior under variable treatment conditions.

Nodality is now addressing acute myeloblastic leukemia (AML, at right), and is beginning to address other hematological

malignancies, while looking ahead to dealing with solid tumors, as well as eventually pursuing development of therapeutics for autoimmune and inflammatory diseases.

With such ends in mind, the company's website notes that Nodality envisions "powerful applications to the drug development process, and Nodality is entering into strategic interactions with selected pharma and biotech partners."

Asked by VNC yesterday for comment on Nodality's arrival, Tennessee Biotechnology Association (TBA)Chairman Bob Acuff (at left) said, in part, "We welcome Nodality to Tennessee and look forward to the technologies revolving around" Nodality's use of flow cytometry.

Acuff added, "Continuing to attract companies of this quality to Tennessee will provide the state with its own economic stimulus, using biotechnology as the platform." Dr. Acuff is a member of the faculty of East Tennessee State University and holds government-relations responsibilities within the James Quillen College of Medicine, there. This story will be updated, as warranted. Please see our related earlier story on biotech development in Middle Tennessee.-Ed. ♦