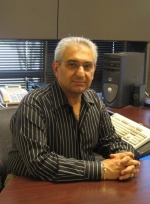 Farsheed Ferdowsi, the Tehran-born, Vanderbilt Engineering-educated, long-time Nashville entrepreneur is failing miserably at what most of us think of as retirement.
Though he's still tight-lipped about the transaction three years ago, Ferdowsi surely reaped enough money to take his ease, following the sale of his PayMaxx payroll-outsourcing company to CompuPay Holdings Corp.

In an interview Wednesday, Ferdowsi confirmed only that he and his fellow PayMaxx investors did "very well" in the transaction. At the time, some observers pegged PayMaxx annual revenue at more than $12 million, and its workforce at nearly 150.

So, Ferdowsi could easily spend his days padding around in his slippers, in the plush new home he's just built in Williamson County. Instead, with little fanfare, he's pursuing a series of new ventures.



Ferdowsi is not content limiting himself to watching the stake he still holds in CompuPay, or simply fulfilling his board of directors and investor duties with two startup companies: nTelagent, the newest Nashville-based player in healthcare revenue-cycle management; and, Dallas-based Xformity Inc., which provides technology services for multisite business operators, including franchisees.

Instead, he's preparing for a new phase of entrepreneurship, and has outfitted a small suite in the office building he owns at 176 Thompson Lane in Nashville. There, he does business as Victor Hope Capital. Victor and Hope are the middle names of two of his children.

Ferdowsi told VNC he has no plans to launch another startup like four-time Inc. 500 honoree PayMaxx. At 53, he
explained, he has "nothing to prove to anyone" and finds that startups - "especially tech startups" - are quality-of-life killers.

PayMaxx was the result of a series of events, starting with Ferdowsi dropping his work toward a Vanderbilt Ph.D. in engineering. At the time, the economy offered few jobs for civil engineers, leading him to use the computer programming skills he gained as an engineering student to serve customers - including a brother who owned a multi-location restaurant franchise.

Ferdowsi recently bought land on Central Avenue in Hermitage and is preparing to raise $1 million to fund development of a new 17,000-sq.-ft. medical building there. In his scenario, two years from now, when he expects the building to be fully occupied, he'll sell it, and start looking for another real-estate development project.

He's well prepared for real-estate development, having earned both master's and bachelor's degrees in civil engineering, a career field to which he's only now returning, after a profitable 30-year sidetrip through information technology.



Ferdowsi's entrepreneurial credentials landed him on the Chamber/Partnership 2010 Entrepreneurship Task Force, which recently reported that Nashville needs greatly improved information, infrastructure and encouragement for those who create jobs. The first fruit of the group's work is likely to be creation of a virtual entrepreneur-support center that would help map the local terrain for entrepreneurs and offer online communities, resource guides and other resources.

Nashville, Ferdowsi said, has come a long way from 1979, when he founded Access Data, PayMaxx's predecessor. In those days, he said, when he traveled to the Northeast, he'd often be asked in jest, "'You got programmers, there in Nashville?'"

Admittedly, he said, Nashville still doesn't have the highly visible tech headquarters that characterize major tech centers, and specialized tech skills are still often hard, "but, not impossible" to find in Middle Tennessee. Nashville, he said, "has come a long way, but still has a long way to go." From his vantage, he said, the Chamber's entrepreneurship initiative seems to be the local tech sector's best hope for advancement.

In addition, he's looking Far-Eastward: Spurred partly by frustrations he experienced while importing carved stone and wrought-iron fixtures for his new home from China, Ferdowsi recently formed Avysta LLC, which will broker import of such goods from the People's Republic. He's making his first trip to China in December.

In his spare time, Ferdowsi is completing the writing of two books. The first is tentatively titled, An Entrepreneur's Journey. Its purpose is to help entrepreneurs grasp how successful businesses - in his case, first Access Data, then its successor PayMaxx - can be created by determined entrepreneurs, even without great resources.

Ferdowsi's second book remains under wraps. For the record, Ferdowsi was willing to say that the book is fiction based on facts about urgent geopolitical issues. He left little doubt the plot involves his homeland, from which he fled with his family after the slaying of his father, whom Ferdowsi described as "one of the elected officials of the Baha'i faith," and thus the target of antipathy and violence by extremists within Iran.


Ferdowsi explained that he enjoys real estate, because it allows him to use the engineering skills he acquired as a young man, and it produces assets that are more substantial than the "phantom assets" he associates with the recent cataclysm in financial markets.

As for writing, Ferdowsi said he sees in it an opportunity for a bit of immortality. He quoted Ben Franklin, another inventive man, who is said to have advised, "Either write something worth reading or do something worth writing." ♦

Related Articles