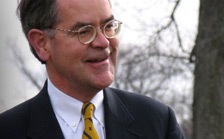 U.S. Rep. Jim Cooper (D-5) has beefed-up his staff for addressing intellectual property and patent issues of interest to the entertainment industry and others, by adding Sam Reed, formerly an associate with Waller, Lansden Dortch and Davis here.
Reed, 29, is a son of Colin Reed, the Nashville-based chairman and CEO of Gaylord Entertainment. As were his parents, Sam Reed was born near London, England, and moved with his family to the United States at age 8.
Reed had previously served two years in the Waller Lansden intellectual-property practice. Prior to law school, he did
marketing for Bass Berry & Sims.
In 2006, Reed (at right) earned a specialized degree in intellectual-property law at Yeshiva University's Benjamin Cardozo School of Law, in New York City. He earned his law degree in 2005 at the University of Tennessee. In 2001, Reed earned a bachelor's in film at the University of Miami.
Reed told VNC today he chose to join Cooper's staff, because the role allows him to pursue two of his passions, law and politics. He said that until recently he had not known much of Congressman Cooper, but during this quadrennial election year he learned that "if everybody in Congress was like this guy, we'd be in good shape. He truly cares, he knows the issues, this is not just somebody who's out to get elected."
Reed added that in dealing with intellectual property, copyright and patent issues, it is increasingly important for Cooper to have access to balanced information from all parties in policy disputes.
The staffing-up may be partly a result of the rapidly growing influence on a broad range of issues of the congressman who was among the earliest to declare himself supporting now-President Elect Barack Obama.
Currently, said Reed, these issues are hotly contested, "with people clamoring for all sorts of information from all sides, and you're kind of seeing a bumping of heads between the technology community and the entertainment community," making complete understanding of the issues more important than ever.
In recent years, Rep. Marsha Blackburn (R-7) has been among the most vocal members of the Tennessee congressional delegation, when it comes to competing music and entertainment issues. In 2003, she founded the Congressional Songwriters Caucus. In addition, Republican Deborah Tate has served during the past five years as a commissioner of the Federal Communications Commission and, earlier, a director of the Tennessee Regulatory Authority, and has often spoken to related technology and rights issues.
Reed said he will relocate from Nashville to Washington, D.C., by early January, to prepare for the next session of Congress. ♦