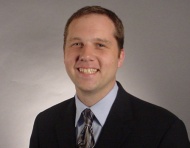 STHS Ventures, a unit within Saint Thomas Health Services, helps accelerate early-stage companies that could transform and improve healthcare delivered by community hospitals.
STHS Vice President Jason Dinger, an executive within parent STHS' strategic-advancement and planning division, recently told VNC that while STHS Ventures' sharp focus obviates the need to cultivate more deal flow than it already enjoys, nonetheless "we are actually looking for social entrepreneurs who are interested in the healthcare space."
It's particularly important, said Dinger, that entrepreneurs who approach STHS share its interest in "ideas to improve the social welfare" of communities served by STHS, with an eye toward creating "the next health system."

He added that, given Nashville is at the center of much that goes on in healthcare, his hope would be that more Nashville companies and healthcare-oriented nonprofits will mobilize to address these same aims. Dinger seemed to welcome the notion that other local companies or institutions might sprout venture arms, as well as healthcare incubators and other initiatives that are beyond the scope of his own charter.
Dinger explained that the local STHS Ventures unit is, at least for the moment, unique among individual health systems owned by parent Ascension Health, the St. Louis-based enterprise that is the nation's largest Catholic and largest nonprofit health system.
However, the parent company's Ascension Health Ventures has about two-dozen companies in its portfolio and is allied with VC funds. At least one of those funds shows an investment in the Nashville's Passport Health Communications.

In addition to its direct mission, Dinger said he believes Ascension Health Ventures views STHS Ventures as affording Ascension a "strategic window" for observing and participating in Nashville's densely populated cluster of healthcare innovators and businesses.
The STHS Ventures unit was formalized about two years ago, with Dinger reporting to STHS Chief Strategy Officer Wes Littrell, who is also president of Saint Thomas Health Services Affiliates. Littrell, in turn, reports to STHS President Jim Houser.
Dinger explained that STHS Ventures is essentially the answer to questions posed by STHS regarding how to improve healthcare delivery and operational performance. Those questions included whether studying STHS operations would illuminate "hidden gems" or opportunities embedded in the enterprise; whether those opportunities related to strategic needs; and, whether or not there were accessible partners available to capitalize upon those opportunities.
Affirmative answers to those questions led to formation of STHS Ventures, with a mission of growing and improving the business in ways that create "long-lasting value" and improvement in healthcare outcomes.
Dinger explained that, partly because limited resources are available, STHS Ventures has adopted the posture of a de facto "institutional Angel" investor seeking to accelerate businesses that hit STHS' "sweet spot," rather than a source of seed capital for a wider array of startups.

Dinger acknowledged that STHS' steady focus on accelerating viable businesses that produce value in community hospitals, rather than accepting riskier or tangential ventures, "makes us different and, in some cases, harder to work with."
The STHS Ventures portfolio includes seven investments:
• Saint Thomas Community Medicine, which now provides 280 employer clients's guaranteed appointments with physicians within 24 hours, a service which Dinger says is proven to improve healthcare outcomes, by averting delays in treatment.
• Saint Thomas Research Institute LLC, which serves researchers studying healthcare and medicine by enrolling subjects in trials. The company is, Dinger said, the largest trials enroller for Medtronics. He sees STRI as exemplary of ways in which community hospitals can create value in partnership with the research community.

• The Corner Pharmacy LLC, A St. Louis-based company with which STHS Ventures partners to serve discharged patients in STHS' markets.

• Dispensary of Hope LLC, a distributor of medications (more than 100,000 prescriptions filled in 2008) in Tennessee, Louisiana, New York and Alabama. The enterprise attracted a widely reported $1 million commitment from the State of Tennessee, and a like amount from STHS. Dispensary recovers sample medications provided to physicians offices and through participating pharmacies helps fill prescription needs for the uninsured, a venture that also enables pharmaceutical companies to improve their prescription-assistance initiatives. The operation filled 27,000 prescriptions in 2008. Dinger said there has been some interest in the service expressed by organizations in other nations, as well.
• Sova Sleep Management Services (Sova Inc.), which builds off the experience of STHS Center for Sleep, which, as a result of the earlier merger of Saint Thomas and Baptist Hospitals sleep centers, traces its lineage to 1982. Dinger said Sova has management agreements with other regional hospitals, which he would not identify.

• Life Therapies Outpatient Rehabiliation Services, which Dinger described as a "hybrid," in that it remains part of Saint Thomas Hospital. He said that Life Therapies and Baptist Sports Medicine, for which he also provides guidance, have collectively "doubled in terms of revenue each of the last two years." STHS outpatient rehab was previously operationally integrated with the Sports Medicine operation.

• Saint Thomas Emergency Medical Services, which includes a specialty ambulance company, which was chartered mainly to ensure safe, timely transportation for STHS patients.
Dinger indicated that STHS Ventures does not have, nor does it plan to have a capital fund of its own, and the unit enters into investment, partnership or joint-venture arrangements, ad hoc, as part of budgeted STHS operations.
Dinger, 34, is pursuing a doctorate in "health care and social cohesion" via the department of leadership, policy and organizations at Peabody College of Vanderbilt University. During his Vanderbilt undergraduate years, Dinger was highly regarded for his numerous civic and public-service initiatives, including efforts to improve Internet connectivity for Native Americans.
Prior to joining Baptist Hospital, which later merged with Saint Thomas, Dinger was founder and eventually chairman of Weberize, the now-defunct web-development and e-commerce firm that was one of Nashville's first web-development companies.

Weberize operated within the portfolio of entrepreneur Joe Freedman's now-defunct incubator, eConception, in Cummins Station. Freedman is now founder and chairman of a group of Birmingham-centered executive-search firms. ♦