FINTECH NASHVILLE at the Nashville Entrepreneur Center on Feb. 13 featured an executive panel that seemed to galvanize an audience of roughly 120, and set the stage for cultivation of the FinTech sector in Tennessee.
Among others, Joe Maxwell, who helped convene the panel and who recently sold his FinTech firm to Ipreo, where he now leads the Alternative Assets Division, continues to encourage a closer look at options for a Nashville-based FinTech initiative, whether freestanding or partnered with existing FinTech accelerators elsewhere, including St. Louis' SixThirty.
Joe Maxwell
Maxwell has no plans to undertake running such a program, himself, he has several times emphasized. Operating in stealth mode, he nonetheless remains a motive force on the issue. This story will be updated, as warranted.
The panelists' discussion a month ago, as well as VNC research before and after, make clear that, in the minds of most, access to and support from major financial institutions would be a critical factor for a specialized accelerator or any related program, not only because of required front-end funding, but because startups need warm introductions to potential customers, close-at-hand.
Among many issues that were not extensively discussed during the recent panel discussion was that of whether or not FinTech and payments-oriented HealthIT are sufficiently convergent or congruent to represent leverage for one another, and for any FinTech-acceleration initiative in Tennessee. Informal discussions with executives in the two fields suggest that the players will remain open-minded, but sentiment on that narrow issue seems to be somewhat polarized.
VNC created and managed the Feb. 13 event, with panelists and respondents listed here, and with co-sponsorship by San Francisco-based FT Partners. An overview of the Nashville-Tennessee FinTech opportunity was previously published here and related coverage is here.
VNC has subsequently recruited volunteers to provide feedback on VNC FinTech coverage and related FinTech issues. The members of that group, thus far, are listed at the end of this story, below.
As for the accelerator option, per se, the world waits for no woman. The regional field is getting crowded, as the clock ticks.
As fate would have it, shortly after the Fintech Nashville event, the Georgia Tech-linked Advanced Technology Development Center (ATDC) announced that, in addition to its existing year-round business incubator program, it would adopt FinTech for its industry vertical accelerator, spurred-on by a WorldPay sponsorship of up to $1MM over a three-year period.
ATDC VP and executive director Stephen Fleming told VNC that the State of Georgia-funded organization welcomes all comers and is agnostic with respect to subsegments of FinTech. Also, it takes no equity stake and aims for its companies to headquarter in Georgia. Separately, the Georgia Tech Edison Fund sometimes makes investments in ATDC's portfolio companies, however.
As previously reported, at least four Tennessee FinTech companies have entered FinTech accelerators in St. Louis, Charlotte and New York: Digital Reasoning, Wealth Access, New Constructs and Cathedral Leasing. More recently, iQuantifi, won admission to the Plug and Play Accelerator, in Sunnyvale, Calif.
The informal and ad-hoc VNC readers advisory group for FinTech includes these volunteers, list alphabetically by surname:
Mario Avila, Emerge Financial Wellness, Nashville
David Benskin, Wealth Access, Nashville
John Casillas, BoardTrust, Franklin
Amanda Cecconi, Punching Nun Group, Nashville
Maura Cunningham, RockTheStreetWallStreet, Nashville
Brian Fox, Confirmation Capital, Brentwood
Pem Guerry, SIGNiX, Chattanooga
Mike Hoffmeyer, Crews Center for Entrepreneurship (UM FedEx Center), Memphis
Lydia Jones, InSage LLC, Nashville
Doug Marchant, Unified Health Services, Memphis
Joe Maxwell, Ipreo, Nashville
Steve McLaughlin, Financial Technology Partners, San Francisco
John Philpott, Court Avenue; Interactive Advisory Software, Nashville
Glenn Saunders, Kraft Enterprise Systems, Brentwood
Stephanie Sawyer, Sawyer|Fletcher Consulting, Memphis
Chris Schellhorn, Capital Confirmation, Brentwood
Peter Scully, BancList, Nashville
Doug Speight, Cathedral Leasing, Oak Ridge
David Trainer, New Constructs, Nashville
Tom White, iQuantifi, Nashville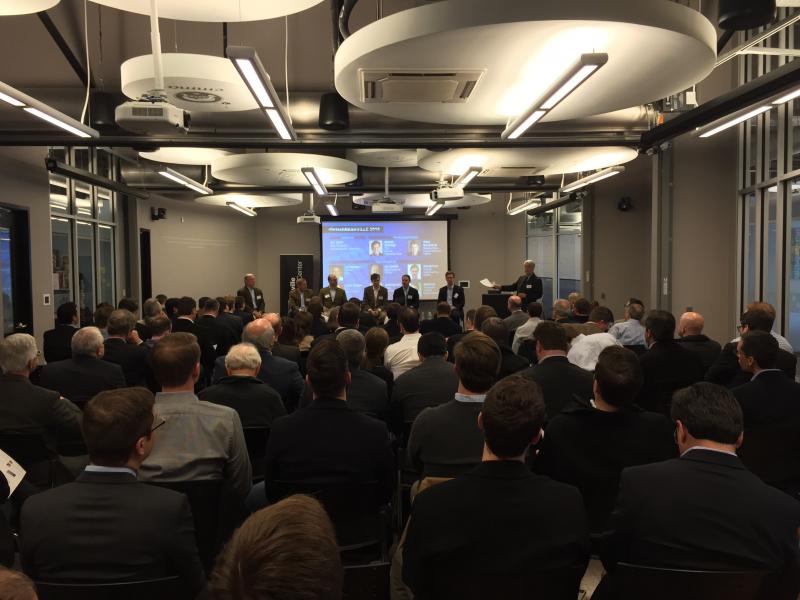 #fintechNashville drew a packed house at the EC on February 13, 2015

VNC
---