This article was originally published by Digital Nashville, Jan. 4, 2010, with VNC's permission.
Nashville's tech professionals may feel they toil in obscurity, but in fact they're often being monitored by those who control the financial capital that can breathe life in a geek's greatest dreams.
For example, Council Ventures General Partner Gary Peat, responding Friday to a query for this story, said his firm and its new sister fund - Council and Enhanced Tennessee Fund LLC - "meet with techies that are working on important (disruptive or not) IT, and we are especially focused on the SaaS business model."

Peat said that as part of a concerted effort to reach out to the tech community, "We also make a point to meet with technology community leaders such as serial entrepreneurs that are often involved with these projects (and their techies) in various ways."

Council also leverages its own CEO Council and Operating Partners group, plus Council's new membership in the Nashville Entrepreneur Center - all as part of an ongoing effort to identify "promising" tech projects that fall within sectors Council has targeted.

A similar approach is used within Burton Hills-based Claritas Capital. On Thursday, Claritas Managing Partner John Chadwick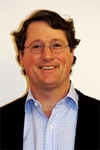 explained that Claritas is generally more focused "on the C-suite executives who will start and run companies."

However, Chadwick (at right) said Claritas executives do routinely meet with "Nashville techies," usually to determine how, if at all, their IT talent might fit into "a business opportunity and team" that Claritas is already creating or preparing to buy into.

A third executive, Vic Gatto, is now a partner in Solidus Company, the private-equity fund based in the Hill Center, in Green Hills.

During an interview Thursday, Gatto said the combination of new state TNInvestco venture funding, plus lay-offs among top-drawer executives with strong skills and credibility has recently produced as much as a 20 percent increase in deal-flow opportunities from entrepreneurs.

Gatto stressed that in the tech arena, his investors expect him to know about everything that moves in the Southeast from Texas to Florida, as well as in Tennessee - and that includes, he said, "the two guys sitting at a kitchen table trying to figure out something."



Gatto (at left) said Solidus will soon announce details of a new investment program to help leaders of software-driven ventures "finish a little coding, get a prototype up and launched, and get a few customers," thereby helping to prepare the business for larger outside investment or bootstrapping.

Within 90 days, he said, Solidus will formally launch a new microcap fund for tech startups. Tentatively, the new Solidus fund (as-yet unnamed) will offer funding of perhaps $15,000 to $50,000 to support development and commercialization of a limited number of embryonic technologies or companies, particularly software-as-service (SaaS) entries.

Gatto explained his job was far different back in 1993, when he was recruited into a Boston-area software startup called Infotech.

There, he said his role was "to be the guy that made the coffee, kept all the developers from killing each other" and who was often responsible for "translating between the business people and the real techies."

Gatto and Infotech Founder Gary Lafave "translated" well enough to take Infotech from zero revenue in 1993 to an $87 million payday in 1999, when the company was sold to an IT-software "roll-up" consolidator, Personnel Group of America, or PGA.

Gatto explained that his experience at Infotech - which attracted capital, board members and advisors from among angel investors and small VC firms -- whet his appetite for startups, which he said he, personally, finds more interesting than a C-suite operating role.

Thus hooked, Gatto spent a year mulling his options and two years securing an MBA at Vanderbilt University's Owen Graduate

School of Management. Afterward, he won places on the payrolls of first Nashville's legendary Massey Burch and then Solidus, his current VC firm.

At Solidus, Gatto explained, the primary focus for investment is information services for the media, entertainment and healthcare sectors. He estimates he'll review perhaps 500 business opportunities in 2010, and invest in two to four.

Gatto's advice to techies contemplating a new product or venture? "If you get excited about the product, or the algorithm or the widget, and you think the thing could be 'big', or 'important' or 'exciting' then you should pursue it."

Gatto stressed that potential financial gain, alone, will seldom be sufficient to pull a developer through the tough slog that comes with product development and business startups. "There are easier ways to make money," he said.

Because of that harsh reality, Gatto said he believes techies should be encouraged to "do something because it's 'meaningful' or 'important' to them."


He continued, "People put different words on it, but [typically] you're doing it because you can't sleep at night or you think it's fun to do" -- and, you want to avoid "being 80 years old, looking back on your life and being disappointed" that you bailed out on your own idea.

Gatto stressed that his words are not intended for "the person in the audience who is still thinking about 'Should I launch this thing, or not.'" Instead, he said, he's "talking to the person who can barely keep their day job," because they believe so thoroughly in their vision.

That said, Gatto also cautioned that while passion is essential in such undertakings, being "thoughtful" and "wise" about how you approach the challenge may create a "better chance of success." ♦

Related Articles