Too few Tennessee-born ideas are translating into start-up businesses, but stronger outreach and collaboration could improve upon the state's "mixed record of entrepreneurial activity."
That's one gleaning from panelists who discussed commercializing inventions and technologies during Friday's session of the Tennessee NEXT Conference, convened by Tennessee Technology Development Corporation (TTDC) and its allies.
Data from Battelle Technology, presented during the event, showed that commercialization of intellectual property developed in Tennessee is "low and falling," with the volume of research spending far outpacing the frequency with which knowledge is translated into investable products or ventures. As a result: In 2010, 491 inventions were disclosed by researchers in Tennessee entities with tech-transfer programs, but the overall effort produced just 7 new start-ups for the year, not much better than five years earlier.
Hampering Tennessee: Substandard tech-transfer and commercialization infrastructure and processes; a "lack of connection" between industry and research institutions; and, uncertain availability of capital for early-stage tech development.
Mike Paulus
Big-picture leaders may also be in short supply: As Tennessee seeks to accelerate innovation and jobs-creation, the state must overcome, among other factors, its shortage of "competent visionaries" among CEO's and its general lack of "a pool of repeat entrepreneurs," said Mike Paulus, director of technology transfer for UT-Battelle at Oak Ridge National Laboratory.
Access to capital is another crucial issue, the panelists agreed. Dollars are "precious," said Paulus, adding that Gov. Bill Haslam's recently announced $50 million INCITE program's co-investment in early-stage companies using federal dollars should "go a long way" toward ensuring sustainability for some emerging businesses.
Ultimately, said Paulus, "Technology transfer only works if you have a strong link with a partner on the industrial side." Prior to joining UT-Battelle/ORNL, Paulus was a vice president in Siemens Healthcare, and at one point took entrepreneurial leave from ORNL to pursue a startup involving CT imaging of mice.
Industry today wants partners, not just patents; thus, tech transfer is increasingly "about reaching out to industry all the time" and becoming more engaged with other stakeholders, rather than merely reacting to industry approaches, according to panelist Alan Bentley. Bentley is to become Vanderbilt University's assistant vice chancellor for technology transfer and intellectual property development (TTIPD), June 1.
Bentley also stressed that resources must be allocated strategically and all involved must be "aggressive" in seeking funding, particularly when trying to sustain commercialization through the development phase. (Link to related story on TTDC grants here.)
Alan Bentley
Vanderbilt's Gordon Bernard, M.D., the associate vice chancellor to whom Bentley will report, recently said the university has been conducting "a 360-degree review of our efforts in technology commercialization across the university, looking at this from the perspective of organizational structure, staffing sufficiency, how the OTTED interacts with our inventors and discoverers, as well as connectivity with industry."
University officials have also said there will be increased engagement with local investors and entrepreneurs through a new external advisory committee, as previously reported by VNC; a VUMC spokesman said details on that will be announced after Bentley's arrival.
Vanderbilt faculty have often called for closer collaboration with industry and community, as when Prof. Janos Sztipanovits told VNC that the long-term competitiveness of the VU School of Engineering's (VUSE) Institute for Software Integrated Services (ISIS), which Sztipanovits leads, depends partly on Nashville and Tennessee become known "a vibrant high-tech area" with a deep appreciation for research and development, thereby reinforcing university efforts to recruit top talent.
VUSE Dean Kenneth Galloway recently told VNC, "The School of Engineering is committed to building stronger partnerships with industry. We are fortunate to have significant research efforts supported by Intel, Cisco Systems, Medtronic, Boeing, and others."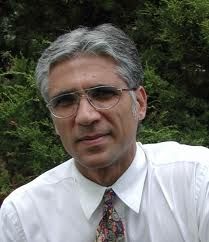 A. Pradhan
One panelist sounded a cautionary note: Improving a state's start-up population requires not simply more patents, but "culture change" that leads "risk-averse" universities to seek many more intellectual-property commercialization agreements, rather than focusing on numbers of patents sought or awarded, or on the overall dollar-volume of license deals, according to panelist Arundeep Pradhan.
Along the way, universities and industry must strategically leverage faculty or researchers' demonstrated expertise and find ways to mitigate risk, collaboratively, said Pradhan, who is associate vice president for technology transfer and business development within the Oregon Health & Science University.
Ultimately, said Phradhan, university and industry partners must "stop arguing over [e.g.] royalty rates and get the deal done, let it go out there, let the market do its job."
One possible remedy, said Paulus, is for universities to get more direct input from potential licensees or customers via corporate research and development agreements (CRADA's) that ensure the tech-transfer process includes "the voice of the prospective licensee or industry partner."
In the absence of a CRADA, corporate input can be obtained through outreach, Paulus noted. More broadly, the situation calls for creating further commercialization infrastructure and support services is therefore essential for Tennessee, Paulus added.
At ORNL, Paulus said, collaboration has been enhanced by creation of a science and technology park, which has 15 tenants, forming an innovation community.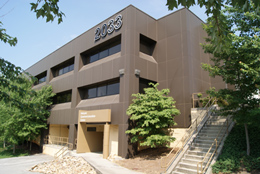 ORNL Halcyon Center
That ORNL park contains the two-year-old Halcyon Commercialization Center, which "targets companies engaged in cooperative research projects at ORNL and that have a need for their employees to be within walking distance of their ORNL collaborators," according to Daniel Miller, an associate in the ORNL partnerships directorate. The Center, said Miller, is also attempting to attract "prototyping and light manufacturing equipment" into the Center, to support joint-development projects.
The Center's build-out will eventually be 30 acres, with more than 300,000 square feet of space, Miller said. VNC