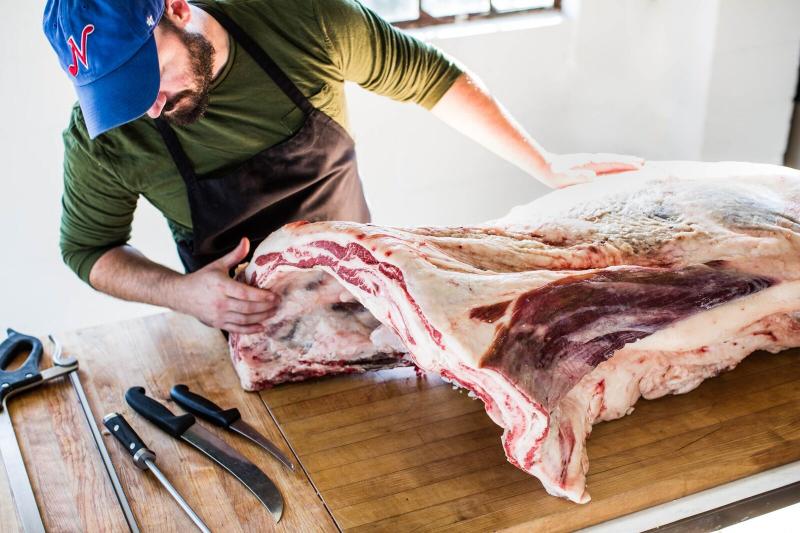 Updated April 27, 2021: L7 Venture Partners led PRB's $10M Series A. TechCrunch coverage. 25 May 2018 0855 - The company today said it completed a $3.7MM Seed raise with Max Ventures, Slow Ventures, BoxGroup, Tribeca Venture Partners, Collaborative Fund, Great Oaks VC and other investors. -Ed.
PORTER Road Butcher's quality meats and profitability may draw hungry investors to a future Series A capital raise for the company's online sales ramp-up.
Whole-animal butchers and Co-Founders Chris Carter and James Peisker confirmed for Venture Nashville that they are well along in a $3MM Seed capital raise, which is being executed in two equal tranches.
The 7-year-old company is profitable and ended CY2017 at a $2MM revenue runrate. It expects to reach $5MM annualized sales by EOY 2018, the founders said.
The Seed capital will fund organic growth during the coming year or so, during which time the owners will determine whether or not the company needs to fund a second production plant for its beef, pork, lamb and chicken cuts.
Based on that capacity decision, a Series A capital raise of as-yet undetermined magnitude might be in order, said the two co-founders.
They became tight friends years ago, while co-workers in the kitchen of the Capitol Grille in The Hermitage Hotel, in downtown Nashville.
Carter and Preisker
Earlier, they earned degrees from the Culinary Institute of America at Hyde Park, N.Y. and Le Cordon Bleu Culinary Institute in Scottsdale, Ariz., respectively. Carter also holds an undergraduate degree in hospitality management from the University of Memphis. Full profiles.
Together, they hold the majority of equity in their business, which is officially registered as Local Eateries Inc.
The company's website asserts that it "provides humanely and sustainably raised, dry-aged, life-changing meat to anyone in the contiguous 48 states."
Local Eateries does business as Porter Road Butcher, which is also the name of the company's only brick-and-mortar store, located in East Nashville on Gallatin Pike, not far from the actual Porter Road.
The company is also a wholesale meat supplier to restaurants. In addition to meats, the shop on Gallatin retails cheese, pâtés, mustard and other condiments, pickles, bread and other items.
The company's processing and shipping plant is Porter Road Butcher & Meat Co. LLC, located in Princeton, Ky., about 100 miles up I-24 from the retail shop.
Though the company's existing major investors may be prepared to satisfy all its near-term capital requirements, the founders said they remain open to conversations with both potential investors and advisors.
The company previously announced that it had attracted investment from a bevy of New York-based investors and one VC from San Francisco.
The New Yorkers include VCs Max Ventures, Box Group, Collaborative Fund and Great Oaks, while the lone SFO-based investor is Slow Ventures.

Its NY-based Angel investors include Joanne Wilson of Gotham Gal Ventures, and Taylor Green, who recently joined Collaborative Fund from Lerer Hippeau Ventures.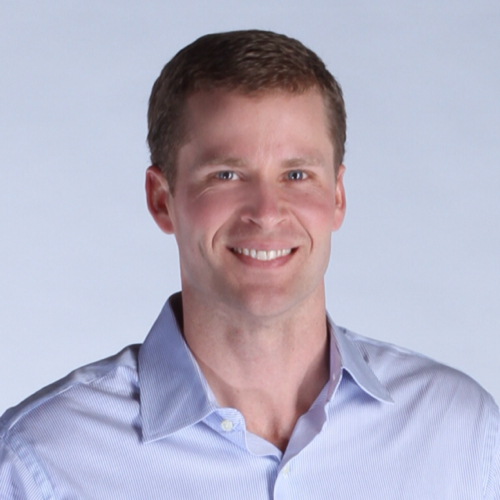 Ryan Darnell
The founders said Max Ventures' Ryan Darnell has been key to recruiting the majority of its investors and is a member of the company's 3-seat board of directors, along with the co-founders. Kevin Colleran of Slow Ventures is a board observer. Colleran's LinkedIn notes that he was one of the first 10 employees of Facebook.
According to Darnell's Angel.co listing, he's also been associated with investments in at least two other Food plays, Newark-based GrubMarket and Cambridge, Mass.-based Platejoy.
Darnell, 36, holds an MBA from Vanderbilt University's Owen GSM and an undergrad degree from Middle Tennessee State University. His LinkedIn is here.
Both Carter and Darnell mentioned they had been sports teammates during their high-school years in Hendersonville, near Nashville.
Darnell told Venture Nashville today that he and others believe Porter Road has the potential to reach 9-figure revenue within five years. He added that at least two of his firm's other investments Box and GrubMarket have surpassed that milestone.
Darnell said that while about 60% of his firm's investments are made in companies in the New York Area, with much of the rest going into the Bay Area, the company has also made investments in Seattle, Boston, Nashville -- all cities that have in the past five years or so become known as active participants in the nation's venture economy. He said he's been associated with 37 early-stage investments in the past four years.
Porter Roads' founders told VNC they focus on growth, rather than on exit options. Yet, they confirmed they remain open to interest from potential strategic bidders that could help advance the company as a meat-industry innovator that demonstrates concern for human health, the environment and related consequences of meat production and consumption.
Porter Road's online-retail competitors include Omaha Steaks, which traces its lineage back 100 years. Other competitors include 3-year-old CrowdCow of Seattle, which in 2016 raised $2MM; and, North Dakota-based Butcher Block Meats.
Ryan McIntyre
Asked about their technology lead, the founders stressed the pivotal role of their GM for all things Digital, New York-based outsourcer Ryan McIntyre. The company has some workers and coworking space in Brooklyn's DUMBO.
In Nashville, the company's outside advisors include banker Jim Ward of 2nd Generation; attorneys Chris Caputo of Baker Donelson and sole practitioner Nancy King Crawford Esq.
Its insurance advisor is George Anderson of Anderson Benson. For accounting, it relies on Lucy Carter CPA, with KraftCPAs. Carter is the co-founder's mother.
Porter Road advisors also include NY-based Gunderson Dettmer and Boston-based OutsideGC. The company has also used LegalZoom resources for some assignments.
The company relies for marcom and media relations services on staff of the Nashville office of Atlanta-based Phase3. Its branding has been supported by Brooklyn-based Red Antler.
Under one scenario, eventually the company could add three production facilities serving additional regions anchored in such states as California, Wisconsin and Pennsylvania. If its e-commerce push meets sustained strong demand in the South, as it has initially, then Georgia might also become another site for production.
Porter Road's half-dozen livestock suppliers are currently all based in Tennessee or Kentucky, and they have identified additional producers to enable them to meet growing demand.
In addition to e-commerce players, Porter Road Butcher inevitably competes for consumer meat dollars with more traditional butchers and grocers.
VNC research turned-up a number of local entrants, including: Bare Bones Butcher, located in The Nations and founded by former Porter Road associates; and, The Butcher Block, based in Franklin. Currently, neither shop engages in e-commerce and shipping.
During 2013-16, Porter Road owned and operated a second retail store on Charlotte Avenue, in the Nations-Sylvan Park area. Though the founders told VNC that shop was "moderately successful," they attributed their decision mainly to the difficulty of maintaining Porter Road standards at more than one retail site.
Chris Carter, 35, is a Hendersonville native. He and his wife reside in the Nashville area.
James Peisker, 32, was California-born and St. Louis-reared. He now splits his time between Nashville and Chicago, where he and his wife, Marta Peisker, reside with their 5-month-old child.
Notes: The founders joked that they are unlikely to open another retail location, unless they learn to "clone" Kyle Colvard, who is general manager of their Nashville store.
That remark prompts us to share that VNC research also turned-up Memphis Meats -- which is, of course, based in the Bay Area and produces "meat" from living animal cells, without slaughtering animals, all in the interest of honoring what it describes as "the rich food traditions of the American south."
And, finally: Metropolitan Historical Commission staff told VNC that their documents indicate Porter Road in East Nashville was named for a Porter family that owned land in the vicinity during 1829-1859. The road's name was affixed in 1941, during subdivision development. VNC .
. last edited 1213 27 April 2021
---